Ruination of The Standard Trust of Cleveland
see also Banker Murder and Suicide
| | |
| --- | --- |
| | |

The largest investment of the bank was the Florida development of Venice.
7/15/1933 Farmer's Trust Company, John Burns, Zina Burns, William A. Burns, Mary Burns, Clarence F. Kryder, George Hodson (Later STAR BANK), Lyda M. Hodson, Judge C. Kirkpatrick, Martha M. Kirkpatrick, and Minnie V. Kryder Quit-Claim Lot (20) in the Amended Plat of S.C. Evans Addition to the City of Fort Wayne to THE FORT WAYNE INVESTMENT COMPANY. Clarence Kryder was Trustee for the former Farmer's Trust Company (later Indiana National Bank which also maintained the assets of United Mutal Life, by Charter) as well as a Grantor/owner of its realty including 133 acres of Waynedale, Kryder's Additions 1, 2, & 3, and blocks of Fairfield Terrace Sec A and B, Wayne Township, Allen County, Indiana.
10/16/1933 United Mutual Life Insurance Company, Inc. redomiciled in Indiana.- Note that United Mutual Life has a "double" that made its way to the Bahamas in 1936 when the Indiana UML merged with American Central Life to form American United Life. The double made its way back to the U.S. for a merger into MetLife 3/25/1993.
WORTHINGTON STATE BANK, Became a failed Indiana Bank WORTHINGTON, INDIANA. Insured deposits transferred to First Farmers State Bank, Sullivan, Indiana. FDIC outlay $1.8 million ; 10/16/1933 Inactive Date: 8/23/1995
10/28/1933 "Fort Wayne Bank" Chartered, however see 1865
1934 03/01/1934 N.Y., Chicago & St. Louis Railway (Nickel Plate Development Corp a subsidiary) bonded debt March 1, 1934
LINCOLN NATIONAL PENSION INSURANCE COMPANY : 1300 SOUTH CLINTON ST , FORT WAYNE, IN 46801: Merged: Creation: 03/01/1934 Inactive : 12/08/1988
First Bank & Trust Co. Became a failed Oklahoma Bank 923-925 Main Street Duncan,OK 73533 FDIC Certificate #: 4080 Est: 10/1/1893 Inactive : 12/08/1988 : Merged with Financial Assistance into Acquiring institution: First Bank & Trust Co. - (27394)

It is important to note that until 1960, Duncan, Oklahoma was the headquarters of HALLIBURTON
Articles of Incorporation 10/02/1934 CENTRAL SOYA COMPANY, INC. : 1500 NATIONAL CITY CENTER , FORT WAYNE, IN 46802 : Status: Active Creation : 10/02/1934 : Other Names 10/02/1934 TYNER ELEVATOR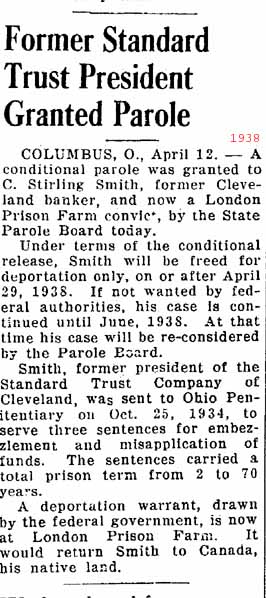 12/31/1936 Merger of United Mutual Life Insurance and the American Central Life Insurance Company to form American United Life
REPUBLICAN FARMERS OF INDIAN : 194001-090 Status: Revoked Date: 4/12/1938 Inactive Date: 1/1/1970
SEBRING FORD COMPANY Filed 12/19/1947 State FL Effective NONE Last Event DISSOLVED 04/13/1956
VENICE HOUSES INC Filed 05/23/1934 State DE WITHDRAWAL12/18/1947
Florida Profit BANK ONE, FLORIDA 1320 VENICE AVENUE VENICE FL Date Filed 09/28/1995 State FL Effective Date 09/30/1995 CONVERSION 11/16/2001 Effective Date 08/23/2001Agent HASKIN, MARK H 1320 VENICE AVE. E. VENICE FL 34292 Officer/Director MCCULLEN, RICHARD J 100 E. BROAD STREET COLUMBUS OH 43215 D ROBINSON, ALEXANDER C JR 1111 POLARIS PKWY. COLUMBUS OH 43240 D WALKER, SANDRA K 1320 VENICE AVE E VENICE FL 34292 SD GRAVELLE, FREDERICK H. 3399 PGA BLVD - STE 100 PALM BEACH GARDENS FL 33410 D HASKIN, MARK H 1320 VENICE AVE. E. VENICE FL 34292 PDC CARTER, JEFFREY M 13051 UNIVERSITY DR. FORT MYERS FL 33907 D
CANADA SOUTHERN RAILWAY COMPANY : 916 Vine St , CONNERSVILLE, IN 47331 Status: Active Creation Date: 9/28/1995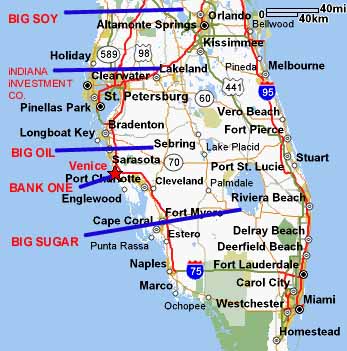 (Venice) TRONEX CORP. 2007 CASEY KEY NOKOMIS FL 34275 Filed 04/07/1978 State FL DISSOLUTION 10/09/1992 Agent SHOAFF, III, FRED BARNETT. 2007 CASEY KEY NOKOMIS FL 34275 Address Changed: 06/29/1988 SHOAFF,III, FRED BARNETT. 2007 CASEY KEY NOKOMIS FL PD SHOAFF, THOMAS M. 2400 FT. WAYNE BANK BLDG FT. WAYNE IN Central Soya Director 1985
Florida EWING ENTERPRISES, INC. 1720 S MCCOLL RD UNIT D ENGLEWOOD FL 33533 DISSOLVED 11/04/1988 EWING, PATRICK M. 28 INLETS BLVD NOKOMIS FL 33555 Officer/Director EWING, EDWARD J. 28 INLET BLVD NOKOMIS FL D EWING, PATRICK M. 28 INLETS BLVD NOKOMIS FL (Venice)
Florida JUSTICE INDUSTRIES, INC 2007 CASEY KEY NOKOMIS FL 33555 Filed 08/30/1984 DISSOLVED11/04/1988 Agent GREGORY, WILLIAM P. 715 SWANN AVENUE TAMPA FL 33606 Officer/Director SHOAFF, FRED BARNETT). 2007 CASEY KEY NOKOMIS FL PST (employed Thomas M. Moorhead, attorney for the Estate of Minnie V. Kryder) SHOAFF, FRED B. 2007 CASEY KEY NOKOMIS FL D HARTZOG, ARNOLD D. 2007 CASEY KEY NOKOMIS FL VD