Kryder's Additions:
Original Deed Lot 11 Hough's Subdivision of the NE1/4 of Sec13 Twp30N R12E
from Fitzmaurice 09/11/1922
Allen County Deed Book 278 Page 375: On December 9, 1922, Clarence F.Kryder and Minnie V. Kryder, purchased with $12,000 "gold coin in hand" Lots 1-60 in W.H.Simons Addition, from Mary L.Meyer widow, Willie H. and Emma J. Johnston. The land was re-platted as Kryder's 1st Addition of three to the City of Fort Wayne.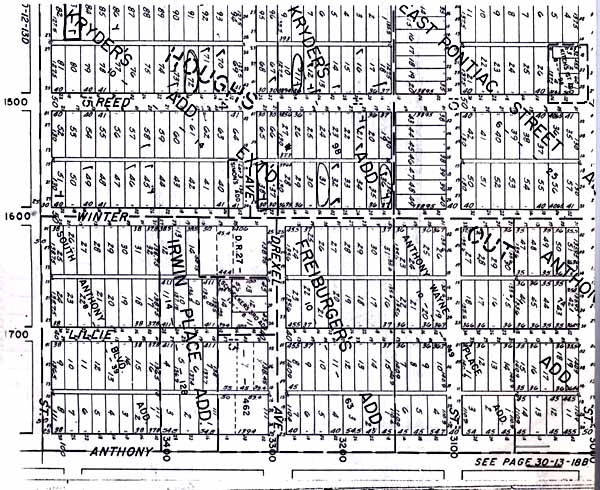 Kryder's Second Addition:
Allen County Deed Book 279 Page 7: On January 6, 1923, Martha Ida Bockhoff and Ida Louise Bockhoff conveyed to Clarence and Minnie Kryder, Lots 1-2-and 3 in Laselle Place Addition, subject to paving assessments on Colerick.
C.F. and Minnie V. Kryder answered this ad: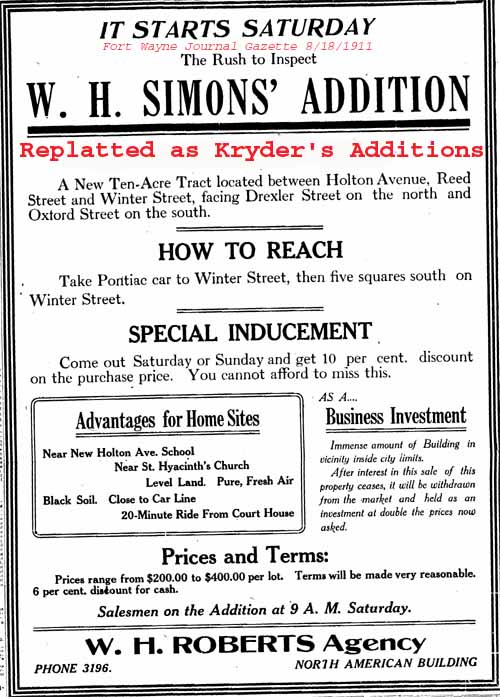 Streets through Kryder's Addition, Fort Wayne, Indiana. The Kryders were some of the very few investors who risked their personal capital to build houses in Fort Wayne following World War I. No one really wanted to take a chance, but without housing for soldiers returning from the War, there would have been no new growth for the City of Fort Wayne.