Thomas M. Moorhead
Attorney for the 1960-1963 Estate of Minnie Kryder, Intestate
Vice-President of The Kryder Company, Inc., 1962-1970

When the Kryders' granddaughter first contacted Thomas M. Moorhead in 1994, he denied having been an estate lawyer in 1960, and denied knowing any of the Kryder family.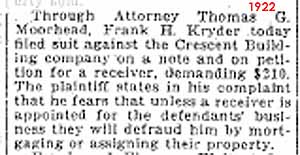 The PR had to travel a great distance to Fort Wayne, Indiana to discover that Thomas M. Moorhead was not only an estate attorney in 1960, but the attorney for Minnie V. Kryder's Estate and later the Vice-President of the Kryder Company,Inc until 1970. His father, Thomas G. Moorhead had been an attorney for Frank H. Kryder since Frank's active days in real estate.
After the PR mailed copies of Minnie's Estate work to Moorhead with additional questions, whereupon he did admit to being the estate attorney,having no choice really, he still continued to not have any recollection that he had also been an Officer of The Kryder Company until 1970, filing Annual Reports even after the death of Frank H. Kryder.
Details of the 1995 Letter of Thomas M.Moorhead regarding Trust F.S. 58070