Letter from Thomas M. Moorhead,
Successor Vice-President to Minnie V. Kryder of The Kryder Company,Inc., and the Attorney for her Estate
After having to travel to Fort Wayne,Indiana to determine that Thomas M.Moorhead had lied in 1994 on the phone about his knowledge of the Kryders, the PR asked a number of questions in several lettters which were eventually answered thusly:

(Note: FWNB REALTY INC (Legal) Current Information Entity Legal Name: FWNB REALTY INC Entity Address: 2400 FT WAYNE BANK BLDG , FORT WAYNE, IN 46802 General Entity Information: Control Number: 197405-005 Status: Voluntarily Dissolved Entity Type: For-Profit Domestic Corporation Entity Creation Date: 5/1/74 Entity Date to Expire: Entity Inactive Date: 12/30/87)
Trust F.S. 58070
Blah, blah, blah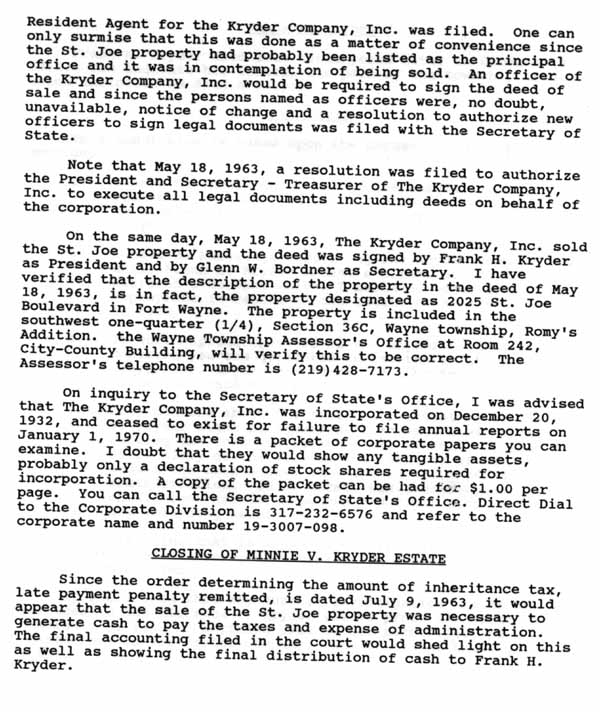 Moorhead goes on to explain that the significance of the 1963 Resolution was to transfer the Title to 2025 St.Joe Boulevard. However, the Title was given to Thornbury, with a mortgage from Colonial Mortgage Company of Indiana, and the PR discovered another ramification of Bordner's powers to encumber assets...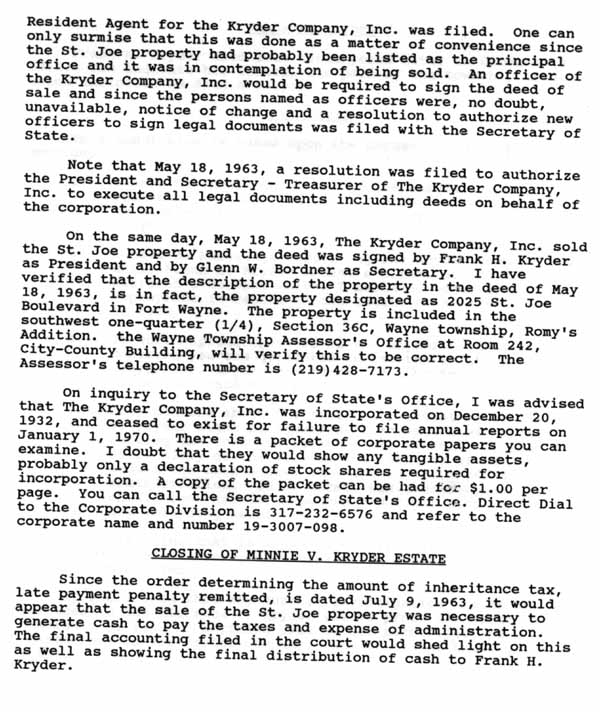 And so according to Moorhead's records filed in Allen County, there exists a complete contradiction of the many records filed verifying owned real estate of the Kryders before he was born, and before he was a lawyer, and up to the death of Clarence and after. According to the filings of Moorhead nothing was left of this family's efforts at all, and $47.85, with Melvin A. Azar County Auditor, was the total inheritance tax paid the Estates of Clarence Frank and Minnie V. Kryder.