2019
Who Is Frank Kryder? Who is B. Edward Ewing? Who is James Bond
?
Who is Loren M. Berry? What is the Truth?

8/1/2018 The Revenge of Onassis -A new perspective of FBI vault files on Aristotle Onassis, 1946-1961 with special attention to the details of the Fraud Against the U.S. government by North American Shipping and Trading, et al.
Part II. Skimming The Flamingo (amended 10/13/2018- see Maxfield)
If you still think Lincoln Road in Miami was named after Abraham, consider the 1960 advertisement for Bank of America Travelers Cheques, commencing the period of 1960-1967, Meyer Lansky skimming $36,000,000 from The Flamingo in Las Vegas, in order to pile up some "tax-free money."
In 1966, Barnett Bank began acquiring its hidden subsidiaries around Florida, rescued after the Crash. It later serviced Student Loans through Indianapolis. Ten years after the Lottery came the final merging of the Barnett Bankers with Sons of Italy, Bank of America. (Charlotte's Web- "Some Pig").
Bank of America was orignally a subsidiary of Pepsi Bottling Co.
The pink flamingo, non-native to Florida, believed imported from Cuba, is now the poster bird on the Florida Lottery Ticket. Institution of the Florida Lottery in 1988 ended a half-century political struggle against relaxing restrictions on gambling in the state.
Here I can add a personal account, growing up through the Cuban Missile Crisis in the very clean part of Fort Lauderdale, in Broward County. We kids never knew a thing was wrong, not until Thanksgiving 1963.
I have never entered a casino or attended a horse race. My Florida family's position was anti-gambling developments. They were always voting about it, and as part of the hospitality industry, were in a faction whose goal was to preserve a wholesome resort atmosphere in the town, for the nice people. The ongoing struggle of the pioneers against hoodlums evolved into Lottery opposition with the argument it exploited the poor. By the opposition who knew South Florida, the Florida Lottery was recognized as an extension of earlier Flamingo-branded relationships forged to pave the way for legalized gambling in the state.
We lived provincially in those days. I seldom saw the seedier part of the county on U.S. 1 where Gulfstream Racetrack (officer then, J. Myer Schine, David's father) was almost next door to Lansky's illegal casino, Colonial Inn. Gulfstream, the Home of the Derby Daiquiri, had a particular relationship with Rums of Puerto Rico.
A little further south was Lansky's Greyhound Race Track. To the north and east, at the terminus of Hollywood Boulevard, Lansky ran the book from the Hollywood Beach Hotel to Cuba. A little further north in Dania, was and still is Jai-aLai. So the dogs, the horses, and Jai-aLai squeaked into the southern part of Broward County, but casino gambling was blocked, until a way in was found on the Indian Reservations.
Therefore losing the Batista casino enterprise was not catastrophic compared to the opportunities and futures in Las Vegas and other prospects; what is important about Meyer Lansky and the Kennedy Assassinations is the amount $36,000,000, skimmed from The Flamingo 1960-1967 for the purposes of concealing tax-free money.
Hidden money generates more hidden money, but without a bank it can make no major acquisitions.
The bigger losers in Cuba were U.S. interests who helped fund the CIA's secret attack. Pres. Kennedy ordered them to pay Cuba $53,000,000 in food and medicine, aside from the permanent losses.
Just a sneak peek at the Evidence Board shows we must look at the 1947 associations of Trump, Sr., G.David and J. Myer Schine as they culminated in 1989 when Frank Kryder's North American Cousin, K.W. Maxfield sold NAVL for the second time (the first time being to Pepsico in 1968).
1985 Maxfield sold North American Van Lines to Norfolk Southern for $369,000,000
Maxfield increased 7,000,000 in 1977 to 50,000,000 in 1985

1988- Florida Flamingo Lottery Established
1989- Maxfield retired
G.D. Schine transferred The Ambassador, LA to Donald Trump.
The Deed to 411 Elm Street, Dallas, originally an International Harvester property, transferred to The City.
The following year, Mutual Security Life Insurance, Indianapolis, went into receivership, unable to meet $369,000,000 in obligations. Mutual Security Life was formerly a Brotherhood of Quakers protevtive society which was born and died in the bank of Maxfield's father, Orange W. in Grabill, IN.
Why did the titles to the Ambassador Hotel, LA and the Texas School Book Depository both transfer in 1989?

**************************************
7/28/2018 The Revenge of Onassis -A new perspective of FBI vault files on Aristotle Onassis, 1946-1961 with special attention to the details of the Fraud Against the U.S. government by North American Shipping and Trading, et al.
Part I. Just the Facts
The concealed Kryder REIT crossed paths precisely with the dates of the Kennedy assassinations, propelled by historic events of 1947, climaxing 4/23/1997 with Ambassador Financial and National City Leasing, 110 East Berry Street, Fort Wayne, IN., now the new Old National Bank.
(The end of this 50- year arrangement on 4/23/1997 was pre-cast, and broadcast in the 11/16/1959 DuPont Hour with June Allyson Episode S1(8) "The Lost Child," by none other than little Ronnie Howard, his father an actor, writer, and producer at the time. This episode can be accessed on You Tube; its focus is the number 42397 CA.
Recapping the child actor's important cryptic associations written into a script over time, there is 1962 Winthrop (National City Bank) where he also appears with Wells Fargo and '05, Gary, Indiana, correlating the 1905 founding of the German American National Bank; Opy to Richie Cunningham, Cunningham being an old drugstore chain; Potsy also in the cast).
G. David Schine acquired The Ambassador Hotel, Los Angeles in 1947. He was related by marriage to Lester Crown, his brother Henry Crown then majority stockholder of General Dynamics.
C0221514 TRUMP BUILDING AND CONSTRUCTION COMPANY Registration Date: 10/27/1947 Jurisdiction: CALIFORNIA
Onassis was pro-axis, the FBI was informed. He was denied the privilege of purchasing U.S. war ships sold by the government in 1947. He constructed a "silent American" association to acquire a fleet of tankers, including S.D. Bechtel and John McCone, who when interviewed claimed "no knowledge" of Onassis being involved. Financing was attributed to Onassis, National City Bank and Metropolitan Life. Several areas of the file indicate criminal indictments are needed but one or two critical parties (censored) can not be called to testify. Thus the American portion of the suit was reduced to civil judgements. Onassis received 6 criminal convictions, forfeited 17 ships, $7,000,000, and $160,000 in fines. Onassis paid $1,000,000 at the time, with $6,000,000 guaranteed by National City Bank, to be paid to the government by 1959. (FBI File)
In 1952 McCarthy states his sub-committee men Kennedy bros. and Wm. A. Leece achieved agreement with Greeks to not supply Russia. (FBI File)
Schine was refused admittance to the CIA but was picked by McCarthy as first boy for the Hearings. (FBI File)
4/23/1954 McCarthy Hearings
In 1954 Bill Liedtke, John Overby, George H.W. Bush, formed Zapata Offshore Oil Company.
Onassis met Jacqueline Kennedy on his yacht in 1958. (FBI File)
1959 Goldfinger was published.
from 1954...Onassis paid 1 million at the time, with 6 million guaranteed by National City Bank, to be paid to the government by 1959. (FBI File)
(The 1964 FBI File on Ian Fleming states the book had sold 7,000,000 copies by 1964. )
When in Greece in 1961, JFK instructed Secret Serviceman Clint Hill not to let his wife encounter Onassis. (FBI File)
*********************************************
7/8/2018 Scrapbooking
Ante- Script: Do I digress with historical to present details of banking and real estate? Because the Kryder Estate is one big fat REIT, always was, and always will be if they are not stopped. Indeed, ye shall know them by their Deeds.
The original Ambassador Hotel System was headed by S.W. Straus, Chmn., whose real estate trust underwrote a lot or two.
(see below, Ligonier Straus Bros. w/ Bechtel directing 19th century Indiana banks)
**********************************************
Clipped from Santa Ana Orange County Register 1/14/1990:
The Associated Press From left, LA Mayor Tom Bradley, Trump associate Robin Power and Donald Trump discuss plans for the Ambassador Hotel at a news conference.
Ambassador will be razed, Trump says
His first complex on West Coast will bear his name
By Rick Orlov
Los Angeles Daily News LOS ANGELES -- New York financier Donald Trump has announced plans to raze the landmark Ambassador Hotel to build a world-class hotel-commercial complex that will come to be known as the "Rockefeller Center of Los Angeles." It will be the first development on the West Coast for Trump, the flamboyant owner of hotels, a casino, an airline and even his own board game.
Trump said Saturday that the complex would bear his name and probably combine residential development with commercial and office space and a new hotel.
"We are in the process of interviewing architects five of the top architects in the world and 1 can tell you it will be a world-class facility," Trump said. "It will have a park in the front and beautiful vistas. When we're done, people will be calling it the Rockefeller Center of Los Angeles."
Asked whether his plans included attempting to build the world's tallest building, Trump said it would depend on what Los Angeles city officials allow. "Hundreds of people have sent letters to us asking us to build the world's tallest building," Trump said. "As to whether the people of Los Angeles would like to see it built, that's something up to the people. "it's my feeling the people of Los Angeles would want the world's tallest building, but I don't know if we will propose that."
Bill Chandler, a spokesman for Los Angeles Mayor Tom Bradley, said the mayor has already told Trump privately that Bradley has strong reservations about constructing the world's tallest building. "In fact, the mayor told Mr. Trump it was not a good idea and was entirely inappropriate for the area," Chandler said.
Citizens concerned about vanishing cultural heritage had clamored for preservation of the hotel, and school-district officials wanted to buy the site on Wilshire Boulevard for a new high school Trump said he is sensitive to the historic significance of the Ambassador Hotel, where the Coconut Grove nightclub was once a playground for Hollywood stars.
Sen. Robert Kennedy was assassinated in the hotel after he had won the California primary election.
Trump said the most he will be able to retain of the historic pink stucco structure, however, is part of its name. "Just from an earthquake point of view, this building wouldn't stand up," Trump said. "It is dilapidated and deteriorating. There are water spots and stains everywhere." He said there might be a new Coconut Grove in his development.
"We want to build a huge ballroom, and on the way here Mayor Bradley suggested we call it the Coconut Grove." Trump said. "I think that's a great idea." The largest ballroom now in the city is about 25,000 square feet, he said, adding he would build one at least twice that size.
Trump, whose involvement was rumored a month ago, was announced as the new managing partner of what is now Trump Wilshire Associates. "I'll be investing substantial amounts of money in this project over the years," Trump said, estimating the project could take five years to complete. The 23.5-acre Ambassador Hotel site is the largest piece of commercially zoned land in the city in an area linking downtown Los Angeles to Beverly Hills. The Metro Rail subway is scheduled to run directly in front of the property. While the Ambassador Hotel project is his first development on the West Coast, Trump made it clear it would not be his last.
"I've wanted to come out here for a long time," Trump said after a news conference in the Palm Bar of the 69-year-old landmark hotel, which was closed and sold last year for S64 million after years of financial problems. Trump said Las Vegas and other parts of California also hold an interest for him. Whatever is built on the Ambassador Hotel site will bear his name, Trump said.
"When I started off, I wanted my name on all my buildings," Trump said. "Now the people I'm involved 'with want my name on it. "You saw in Atlantic City what happened. Trump Plaza finished No. 1, ahead of Caesars. So there's a value there."
Bradley, City Councilmen John Ferraro and Nate Holden and officials of the Wilshire Center Properties, which bought the land last year, joined Trump in making the announcement Saturday. Accompanying Trump were his wife, Ivana, several security personnel and nearly a dozen other aides, associates and advisers. Bradley, Ferraro and Holden all pledged their cooperation in a project Bradley said could lead to a rebirth of the mid-Wilshire area. But the mayor cautioned the cooperation would come only if the plans coincide with city projections for the use of the land . Trump's involvement in the project came through negotiations with Wilshire Center Properties, of which he bought a part interest. "
7/5/2018 Four Kennedys Plus Two Barretts
Hence begins the great sorting.
It could be something for someone who is no relation-
Justice Kennedy (SCOTUS)
D.M. Kennedy (COMSAT-via JFK, 1962; Chairman Continental Bank of Illinois, 1964, failed into Bank of America/Barnett)
or something very relative-
J.F. Kennedy
R.F. Kennedy
Jesse M. Barrett (Assistant Attorney General, Northern District of Indiana. m. Amy C Barrett, SCOTUS?)
James M. Barrett (James Bond's estate lawyer; Barrett & McNagny, Phil McNagny, 1976 Attorney General, Northern District of Indiana);
The Kryder "missing" federal securities, converted or exchanged for "death tax" securities in 1976;
G.H.W. Bush head of CIA, 1976 trombones.
Given the smallness of the world, after all, how many Barretts and Barnetts are too many, especially in banking and law?
The Answer is in Moody's Bank & Finance Manual, John Moody, 1964. This is an indispensable reference for all inquiries into the political assassinations of the Kennedys within five years of each other, as the taking down from the inside of our highest-rank government officials for the purpose of changing power. Too much like the CIA-ordered important sibling assassinations in Viet Nam.
Five years is just one Municipal Bond Cycle.
Following the money was never an approach of the Investigation Committees, that we heard of, when what could cost more than orchestrating assassination of the President of the United States and The Attorney General, brothers in a powerful family? Get on the duPont Ball, already!
It is Time to put up the Board, connecting persons of interest via Moody's 1964 and two illegal bank transfers of the Kryder Estate in 1983 between Lincoln National Bank and Trust, Fort Wayne, Indiana, and Fort Wayne National Bank, two Berry Street institutions, and Frank Kryder's Berry Street tax lawyer, who encumbered the entire Estate of Minnie Kryder in 1963 using the corporate seal of The Kryder Company, Inc., before the estate closed in August.
The Manual in 1964 is publication of the status of the banking entities and their principals in 1963, with Addendum up to March 1964. I have spent 25 years following Kryder's Money in either direction timewise from this benchmark.
I will show on the Board cities and banks, with two dates following a bank entity, like 1889-1961. These are the Charter Date and the Last Date of change, such as consolidation, merger, assumed name, takeover. Many pertinent banks underwent re-organizations in 1961.
In the Assassination decade :

1960 Death of Minnie

1961 Bank changes

1962 Kryder Company, Inc. "reactivated"

1963 Minnie Estate Closed

1964 MOODY Reference
Last authorized exchange by Frank Kryder, Tr. for "death tax" Treasury Notes of 1976, originating from HOLC bonds registered in 1934;

1965 Frito-Lay, Inc. and Pepsi-Cola Company merged to form PepsiCo, Inc., Purchase, NY.;

1966 Death of Frank, Jr.; FW Bank Bldg. transferred to Cities Service Directors on Pepsico Place, Tulsa;

1967 Annual report filed for the Kryder Company, Inc.;

1968 Last meeting of the Kryder Company, Inc. shareholders (Frank owned all shares) at FW Bank Building;
North American Van Lines sold to Pepsico by Frank's cousin in-law;
1970 Kryder Company, Inc. administratively dissolved.
The Barnett Bankers with their less than pristine history as a banking family working the grid across America, organized power for the ultimate Sons of Italy/Bank of America. In the 1950's, as Zapata Oil was coming to life, Bank of America in Los Angeles sold stock in The Continental Bank of Illinois, Chicago (1964 Chairman, D.M. Kennedy.) Later in time, the Continental failed and was taken over by Bank of America, but not before the Continental had sold Chicago Title & Trust Company to Lincoln National Corporation in Fort Wayne. In the next generation, as war-time estates were liquidated, properties conveyed to CT &T, Tr. never transferred by the deceased owners, were claimed by Bank of America without documentation and transferred to charitable trusts run by independent accountants, out of the reach of named legal heirs. (Estate of Franklin Schultz, Barrington, IL, Master Machine and Tool, Inc.).
Thus the amazing chronicle we have in Moody's of where everyone was in 1963: Barretts, Barnetts, Strauses, Kennedys, Bonds, and, yes folks, J.S. Rockefeller, heading up First National City Bank of New York for the oil train. After twenty-five years pounding the Kryder trail, Moody's is akin to using a phone book or city directory to me.
Who needs another five mile file of testimony and opinions of committee members to decide whether or not anything has happened? Follow the money, and start with McCulloch and Bond and the Lincoln Treasury. Things spun out of control once family banks were allowed to engrave and print their own money.
Until hearing there was new information sparking a fresh RFK inquiry, I had noted three major acts that weakened and detracted from the Secret Service as devised by Lincoln to get counterfeiting under control.
Remember, it was McCulloch from the Bond bank in Fort Wayne who headed the Lincoln Treasury long enough for Lincoln to complete the Secret Service legislation. Then- Chitty Chitty, Bang Bang. The very next day McCulloch weakened the Secret Service, intended by Lincoln as protection of the Treasury, by ordering it also a protector of the President, after the evil deed, conning a stunned and grief-stricken public, blinded by tears as the death train rolled past. McCulloch promptly returned to his post at Fort Wayne National Bank. Does no one get this, James Bond, Rosemary's Baby, my North American Half-Cousin, Ian Fleming, The Saint, Goldfinger?
A second and third castration of Secret Service power I noted as Prescott Bush's CIA, financially unaccountable, and George W. Bush's Department of Homeland Security. But I missed one. Homeland Security was the fourth hit on the Secret Service. The third hit came after the RFK assassination- Secret Service was then extended to protect Presidential candidates and their families. In the late 1960's, this was described as putting further strain on the already over-burdened enforcement agency.
So who has time for Treasury crime, now that candidates drag their extended and adult families all over kingdom come through the campaign and into the White House?
What happened to the original bank families and their engraving equipment, printing enterprises and newspapers, and what estimate reports have we had this last half-century on the percentage of counterfeit paper in circulation, which includes any sort of asset on paper in any sort of bank?
Coming up in clean table form.

7/1/2018 "Proverbs Help Us All to Be Better Mouseketeers"
"A whip for the horse, a bridle for the ass, and a rod for the back of fools."
Let's talk about the phrase, The Rod of Jesse, minus Roman genealogical artistic embellishment, this persisting through Protestantism, the heart of Mormonism, the mystery of mysterious societies, simply done to death- as if Rods had anything to do with genetics, and less to do with microbiology. Various writers attempted softening Rod with Stem. Stem crosses over into horticultural realms, to support the Church's iconic Tree. In which case the more accurate genealogic interpretation of the prohetical phrase employs the words Scion and Branch (of the family.) That frees the Rod to be something wieldy, like wielding the Law.
Now let's talk about why Law doesn't matter when you know ahead of time how to break it, use it for personal gain, bend it, shape it, any way you want it, with almost Certain-teed immunity.
Jesse M. Barrett is an Assistant U.S. Lawyer for the Northern District of Indiana, appointed by G.W. Bush. This covers Allen County where the estate of Frank Kryder and his parents remains at its usurpers' disposal, shamelessly concealed from all the right people. According to the conditions of the 1934 Homeowners Loan Corporation Bonds, a large chunk of special condition federal securities registered to Clarence Frank and Minnie V. Kryder, recorded with real estate, has been repeatedly exchanged for like securities over the years by a trustee which avoids the heirs, the U.S. Comptroller and ultimately IRS.
Jesse prosecutes white collar crime. My research has established the white collar crime prosecuted in Northern Indiana is that of those who are stitched up time to time as a distraction, such as Blaich, Schrenker, David Heath Swanson.
Jesse works in South Bend, not far from my North American half-cousin Richard Ewing Bond (Rosemary's Baby) who admitted that Barretts and Bonds are related, and James M. Barrett III authored James E. Bond's estate work. Do we think it an accident that James Bond married Frank Kryder's first momma baby, Rosemary Kryder? Money marries money is what I heard.
And in the case of Frank's second momma babies, who weren't around when he died, for Barretts and Bonds in and around Fort Wayne, it would have been like taking candy from two oblivious female babies, goodies which could be put to better use by Barrett-Bond male babies. So- motive and opportunity in 1972, when Katherine was found dead after six years of stalking by an Army-trained MK-ultra psychiatrist from Fort Wayne,IN and Duncan, OK, respectively.
"Phil McNagny was nominated by President Gerald Ford to a seat on the United States District Court for the Northern District of Indiana vacated by Judge George N. Beamer. McNagny was confirmed by the United States Senate on May 6, 1976, and received his commission on May 7, 1976.[1] McNagny served in that capacity until his death, on March 28, 1981, after a long illness.[2]"-
Here we should reflect upon the official close of the Homeowners Loan Corporation in 1954 coinciding with the origins of Zapata Oil, later merging with Pennzoil and Stanolind, as Fort Wayne Bank was later to merge into PNC.
In 1976 G.H.W. Bush was our CIA guy.
In 1976, a chain of special condition federal securities exchanged into Treasury Notes, registered to Clarence Frank and Minnie V. Kryder, originally purchased in 1934 when their corporate offices occupied 215 East Berry Street (until 1967), then The Standard Building, now and formerly The Elektron Building, were exchanged by a Trust Company or authority able to avert the Office of the Comptroller which notifies IRS of tax due, or what later came to be called "death tax," not to be confused with "estate tax."
Sit up and listen what they have done to the law in your mind: "death tax" is a term attached to U.S. special tax condition securities, mostly issued for the World Wars and The Great Depression, which has been twisted and turned to give an impression of unfairness or whatever. Death tax was a guarantee of the United States Treasury to the investor in low-yield federal instrumentalities, that NO ONE could steal the estate without leaving records with the Comptroller and IRS.
The offices of (James M. Barrett) & McNagny are located at 215 East Berry Street,Fort Wayne, Indiana, last known addresses for Kryder Real Estate Hotel/Motel Builders, Kryder Insurance, The Kryder Company, Inc., and Hoopingarner Construction Company, Inc., Clarence F. Kryder incorporator.Though it's a youthful new day at Barrett &McNagny, LLP, a few of the old beagles are still around. One of these being the lawyer to whom the Elektron Building was transferred for a song, out of the charitable trust of an heirless miser, by another pillar of the community Fort Wayne lawyer, as President of a 1930 defunct corporation, conveying a corporate title. They know what happened in the town.
They can die off one by one with the secret on their lips, but it won't do Fort Wayne any good, and it won't stop the Truth. It's already Recorded. Ye shall know them by their Deeds, you know. Good real estating is so important.
6/25/2018 Nation in Despair
I want to start a British-style evidence board demonstrating the coincident trail of Fort Wayne concealed money, along with three coincidences of the Kennedy assassinations :
1. The number of shots heard is disputed in both murders.
2. Swift real estate transfers of both the Texas School Book Depository and The Ambassador Hotel occurred less than a year before each shooting.
3. On each date of death, significant financial transactions of National City Bank took place within Fort Wayne National Bank, or vice versa.
When it comes to murder, there are no coincidences, every good detective knows.
But, "Not yet!" the Pemiscot County Step Hens insist.
To be a Step Hen, one must possess a rare foot, sensitive to vibrations beneath the step surface, whether it be marley, wood, or ESL. A really good step dance session is concerned both with receiving sine waves from correspondents elsewhere, and stomping the farm loan report out to the real underground.
The choreography for "Draggin' in the Sea," a feverish step dance performed to "Burning Ring of Fire," isn't perfected, and the earth is rolling below the upper crust, like an infuriatingly slow boil batch of Katherine's fudge. The sacred character of Pemiscot County mud the natives foretold is its contiguousness throughout a very old geological formation.
Double Trouble
Soil and Rubble
We are waiting for the Soft Ball Stage. Or is it, the Wells Fargo Wagon?
I can hardly wait to see.
Then shall the eyes of the blind be opened and the ears of the deaf unstopped.
5/2/2018 To Steal a Birthright
Since we are right here on Berry Street where everything is tidy and legal, let's go directly to legal definitions:
per stirpes Hereafter shall refer to a Superior Court Filed Birthright Bequest of an estate whose interest is "held by generation" of direct descendancy, as designated by the first Trustor(s) in recorded documents attached to real estate owned in fee by the Trustor(s).
That is the nature of my birthright in the Superior Court Records as it exists in Fort Wayne, Allen County, Indiana. Armed with paper, I may speak out too on the issue of molestation, interference, terrorism of women, for purposes of keeping money out of their hands on the world stage. My mother, Katherine Ann Kryder, born May 25, 1931 in the Vital Records of Indiana, was stalked from the 1966 death of her father, Frank Kryder, Jr., to her death in 1972, the day Lincoln Financial Corporation was conceived in Cuyahoga , Ohio.
Keeping money out of the hands of native women in the 19th century was but a facet of the work of estate and trust company lawyers, bankers, and politicians, long engaged in cultivating their moguls and tycoons to devise an estate so that women would not have to shoulder the burden and reponsibility of great wealth.
Flipping through the Allen County Bar list of those who structured the Kryder Company, recorded their Trust, and entered Frank, Sr.'s Will to Probate, we have Vesey & Vesey, Lloyd Hartzler, and Charles E. Dare, an impeccable team. The late Judge Vern Sheldon wrote that Frank, Sr. taught his father, Vern, Sr., "everything he knew about insurance and real estate."
I will not now go into Frank, Jr.'s black mass of bloody bent counterfeiting lawyers who took over after the senior Kryders died, them what stole the life of me mum, and hence my share which was Ordered to sustain a direct bloodline.
Instead I will jump to my compelling 1994 meeting with Frederick R. Tourkow whose face did undoubtedly "wax pale" when I handed him a paper copy of my stolen birthright. At the time, I had no knowledge of B'Nai Jacob, the early financial organization of Ligonier Strauses, Hitlers, Pancakes, and Bechtels, and surely no clue I had walked into the heart of the Temple.
The Lord promised the House of Jacob, despite Jacob's former trespasses, if the covenants were kept, their faces would never wax pale.
In the autumn of life, Mr Tourkow was a virile man, and straight. He saw straight through to a Stolen Birthright belonging to a line which had done right in the eyes of the Lord. Elsewise he would have hemmed and hawed like so many of his peers and tried to make me seem a silly girl. He could have controlled his countenance.
A Legal Birthright has been stolen in the House of Jacob, and a strong man's face waxed pale before my eyes. I think this ends the deal with the Lord as long as secrecy perpetuates the offense, especially after the offense has been brought to the attention of the Congregation by a Methodist.
To Steal a Birthright is like killing a mockingbird, right, Atticus?
Until next time, from the Pemiscot County Step Hens Dance Club, KAK and me, "Here's liquid mud in yer eye."

2/25/2018 "Lives Will Be Ruined!"
What do we know about Law, age to age?
We know that Law and Order are not consequential.
"Order" has limited human jurisdiction.
It is just as possible to have Law and Chaos, as it is for the truth to be stranger than fiction.

2/3/2018 (Ligonier Leader, 1923 )
He Looka Like a Ligonier Straus to Me
On 1/4/1923 Clarence Frank and Minnie V. Kryder recorded their 1922 Deed for Lots 1-60 W.H. Simons Addition, re-platted as Kryder's Addition for $12,000.00 from Mary L. Meyer, Willie H. Johnston and Emma J. Johnston; gold coin in hand.
In those days, this type of purchase noted an exchange for payment of gold mortgage bond principal or interest in exchange for railroad lands being held by county judges.
On 1/24/1923 Kryders Addition Extended Plat and 1/26/1923 Kryders 2nd Subdivision Plat were recorded for Wayne Township.
Five days later, was the filing of corporation articles for The STANDARD BUILDING COMPANY INC., 215 E Berry Street, FORT WAYNE, IN 46802
According to its Articles, The Standard Building Company, Inc. was incorporated to hold Title to Lot 95 Original Plat and to lease the building on Lot 95, Original Plat, or 215 E Berry St.. The original paid in capital was $350,000.00.
There are no Annual Reports or any filings after 1967 with the Indiana Secretary of State. The 60-year corporate rental account was unaccounted for in 1983 when Walter P.Helmke paid off stockholders. It was hidden from IRS in the accounting of the Evans Estate Tax.
The majority of the Standard Building stock shares were said to be owned by an expired 1931 corporation which was then said to be owned by Walter P. Helmke, accountant Clem Drees and Lincoln National Bank Trust Department. Though the corporation was liquidated in 1983, it did not dissolve till 1987.
The Standard Building was sold to attorney Robert S. Walters by Walter P. Helmke for about $250,000 in 1982.
In 1923, The Ligonier Leader published and admired the first official photograph of Adolph Hitler. This must have related to the clear resemblance to the mighty Straus Bros. who established themselves in Ligonier in the mid- 19th century.
An assortment of Hitlers in Ligonier had settled and married prosperously in and around Noble County about thirty years prior to the banking Straus migration there, in the 1850's. Although, Mina Straus, wife of M. Straus, was born in 1828 Ligonier.
"A Jewish synagogue was established in the Hostetter building in 1867 by the election of the following officers: Mathias Straus, President; Isaac Ackerman, Vice President; Jonas Decker, Treasurer; H. B. Faulk, Secretary; Solomon Mier, Leopold Schloss and F. M. Straus, Trustees. A small building was erected in September of the same year. Mr. Jacob Straus presented the society with a Jewish Bible valued at $200." - from History of Noble County, 1882, Goodspeed and Blanchard, editors
These bankers and merchants in the temple became so huge in little Ligonier, they came to Fort Wayne and their particular enterprise was folded into into the German American National Bank with Allen Hamilton's Indian Deeds of treachery, which became the forgotten Lincoln Trust Company (1910-1975), folded into Lincoln National/Wells Fargo Bank.
This makes perfect sense when one sees this relationship originates with Warren Bechtel, Stephen Bechtel and other Bechtels, Hitlers married to Pancakes, Isaac D. Straus and so on placed as directors throughout the first banks of Indiana.
1/24/2018 EXPLAINING FAINTING vs " WHITE AS A SHEET"
How does the expression " turn white as a sheet," distinguished from physically "fainting," and Mr. Fred R. Tourkow, totally explain Fort Wayne?
The theatrical faint, once occurring in refined ladies who have had a terrible shock, is not seen much anymore, because now we know, fainting is caused by physiological events, not by surprises or assaults upon the psyche. If you are looking at a person on the verge of fainting, it is a good description to say, "I saw the blood run out of her face before she went down," with respect to the weaker sex.
This pallid skin tone heralding a dead faint appears maybe a minute or more ahead of time, sometimes with disorientation and cold sweat, before the afflicted drops. It is caused by blood leaving the head and pooling by gravity lower in the body. I have seen it a time or two, especially on hot days.
Mr. Tourkow showed me the difference between loss of facial color due to fainting, and what makes a pale face turn literally white as a sheet due to the Great and Terrible. I think Mr. Tourkow was not the sort of gent many people ever saw turn white as a sheet.
I moseyed over to Mr. Tourkow's office from the Allen County Courthouse one day, after hours in the basement, my heart racing likely. I came through his door as he happened to be on his way to something. Surprise and curiosity, maybe, caused him to stop what he was about, and meet with me.
This is remote sensing. I came to Frederick R. Tourkow directly without foreknowledge or contact, from 2,000 miles away.
I asked him to explain the meaning of per stirpes in Clarence Frank and Minnie V. Kryder's Trust F.S. 58070, since in my stacks of copies I had not yet sorted, that doc seemed to have the most realty devised in one place.
"Let me take a look at what you have," Mr. Tourkow boomed. He told me he had been in Fort Wayne a long while and worked for Solly Frankenstein, buying up tax deeds.
"Perfect," I thought.
If the Kryders were paupers, as their estate and federal tax lawyers/corporate officers insisted, a good start is to verify the fiduciary alibis by digging up the proof the Kryder Company land was lost in tax sales, bankruptcies, lawsuits- the kinds of things that leave a paper trail in one's county. A lawyer who worked in tax deeds would know the history and the territory. You can lose paper assets off the record, but real estate has to obey the Law of Conservation of Mass-Energy.
And so, I handed the distinguished lawyer a copy of the Kryder's 1943 and 1950 Recorded Trust, which did not include lateral kin or institutions or banks or foundations, and in three seconds at the most, for the first and maybe only time ever, I saw a man turn White as a Sheet. It is a stunning thing to see- something I always thought was just an expression.
"This is most unfortunate."
He knew.
I sort of knew, but Mr. Tourkow knew something more.
"Lives will be destroyed," I believe was his next comment.
Not because of me- but by what worse treachery brought me to Fort Wayne. It is the why of the why which is so deeply buried.
"And if a house be divided against itself, that house cannot stand."

1/22/2018 DEAR MR. TOURKOW (FRT)
P.S. Dear Mr. Tourkow,
I knew I needed America's Best to get Frank Kryder's estate open in Allen County. But I came to you in your golden days...a time for enjoying the harvest. The afternoon I walked into your office, your wife was getting an award at a dinner.
Once the paperwork was done, it would not have been polite of me to come from out-of-town and dump my old pile of rotten junk on your desk.
Thus I changed counsel outside of Allen to one lawyer who resigned from the bar, then to another who absolutely disappeared along with my court notifications.
Now, these many years later, I de-classify the file you returned to me with my communications to you about my mother's family and their enterprises. I am sure this was your gift in return- in your hand, with your pencil, direct from Fort Wayne, Indiana, original FRT graphite code:
Thank you, Mr. F.R. Tourkow for circling these items so that I could wonder for 22 years why you would commit to doing this for a stranger. No one else had the grace to do so.
Shalom.
10/12/2017 BOTANICALLY, A GRAPE IS A BERRY
"I have read His fiery gospel writ in rows of burnished steel!
As ye deal with my condemners, so with you My grace shall deal!"
As promised in the upper left column, the Will is now being written about in real Time, us having all examined the hundreds of arrangements of time lines and so forth describing that portion of the Will which was that of Clarence Frank Kryder, which part Berry Street has concealed much too long, and those portions of other Wills, Patents and Grants which Berry obfuscates, failing to heed or even humble themselves to the physical consequence of OBSTRUCTED INTENT.
All Wills of the righteous come under the umbrella policy of the world's most powerful insuror- the one which keeps its promises according to the original Will.
I might have made an entry or two earlier, about Houston and Minnie's Funeral records, or Cudjoe Key, where two Fort Wayne shaded estates crossed paths, but I held back, 'til now.
Rums of Puerto Rico has washed away. (see Restaurants of Puerto Rico 1961 written by Kay Daniel Picot aka Katherine Ann Kryder, available on Amazon). Former things which made me sick, daiquiris, Hefner, Hollywood shame, sucked into a vortex lined with the pleas of dirty old men and cigarette butts, are dissolving like old nylon in a Kenmore.
The vineyards are burned to the ground. Nothing to swill in the Baccarat! Ah, sinful nation! Alas for you lawyers!
This is the foretold trampling, ye Berry Beagles. Come clean! Or are you willing to take a chance none of this has anything to do with you, thwarters of truth, art and nature for counted generations, every hair upon every head counted? Will you stand by idly mute till San Francisco and the City of Angels fall ? How many more must suffer for your dark deeds and dank bank charters?
This is your Vintage. Consider each drop of gall you have served a century and a half of Allen orphans, widows, and feeble-minded defectives, not to mention the heirs of Frank Kryder, when the Cup passes to you.
8/1/2017 OBSTRUCTED INTENT: Granny and the Poor Farm
Hal Roach dressed Granny in Minnie Kryder's make-up (see 1935 photo below left column) in an episode of Li'l Rascals. Granny was being sent to the Poor Farm by her step son-in-law who concealed her fortune in old shares of Imperial Steel he told her were worthless. The Gang had to rescue Granny from this terrible fate, as she was their best playmate, and Stymie, whose Pappy was always in jail, showed her the truth through the lens of a goldfish bowl. Granny was loaded- $150,000.
In 1960 when Minnie Kryder died, Frank, Jr. used the same 1935 photo, with Katherine cropped, for Minnie's newspaper obituary. It wasn't as if he chose her most flattering picture, but to me it is the dearest in existence, along with the photo of Frank Sr, holding Katherine. These and Minnie's original signature in Katherine's Baby Book are all I have.
Because in 1963 Fort Wayne lawyers, bankers, securities traders, and auditors sent Katherine's precious Granny to the Poor Farm, on totally bogus paper, and proceeded to ravage the lives of orphans they never knew, in terrible ways, while obstructing the intent of Clarence Frank, Minnie V., and Frank H. Kryder for their lineal descendants, that we might have security and sustain good and proper careers and enterprises in the paths of our forefathers.
For the bitter sacrifices the senior Kryders bore throughout the Great Depression and world wars, in a lost dream of completing the beautiful city planned by creative genius and high-minded men of yore, their children were robbed on Berry Street, and the children of others had the Kryders' Day. That is an example of Obstructed Intent.
Other examples of Obstructed Intent are The Hoover Dam and the Lake Okeechobee levee in Central Florida, and the Cedarville Reservoir, those dogs. Oh I have the whole story as to how such environmentally insensitive junk is tied through the Barnett Bankers to the basic Continental Illinois/Lincoln organization, aka Wells Fargo and Bank of America, Morgan, Chase, and Fleming, one and the same under the covers. When you track a large pool of missing assets for twenty-five years you learn a thing or two. Because, ho ho ho ho ho, we're Farmers!
Now has come a new book by Pulitzer Prize winning author Jessie Eisinger. My girlfriends in the Pemiscot County Step Hens Dance Team over near Carruthersville are having a good cackle over the title, The Chickenshit Club. In the first place Pemiscot means "liquid mud" in native language, which just gets our imaginations going when we think what that book is about.
There are many of the Eisinger-type "revolving doors" in Fort Wayne which have existed since before the formal incorporation of Allen County. Forget history. Let's live for now. One revolver is North American Van Lines to Allen County Treasurer to Indiana State Treasurer.
But we won't get boring with exact details of things. This is the age of surfactants. The question is, how long can the tensile strength of an un-natural obstruction hold back the Will of Nature?
I do not want to go to the Poor Farm. This is not what was intended. I started selling loomed potholders at age six, became highly educated, and have toiled ever since, falling lower and lower down the ladder each decade till now. Things just couldn't be more wrong. Kryder's children are penniless renters low on food. Hopefully Honesty is a Policy that pays off when you really need it, since it kills your career these days, a Policy to balance today's aggressing financial products built on ill-gotten gain.
Berry has become arrogant, disavowing Who is mightiest in Land, Air, and Sea and claiming it as their empire. They are my Goldfishfinger. They have done this thing in The City of Churches, building publicly paid-for self-enriching institutions over time from the Poor Farm, The Orphan Home, to the Home for the Feeble Minded, a masterwork of architecture from without, a bare institution within. These great things were built by contractors who were the officers of Fort Wayne National Bank etc. This is the money, along with Indian robbing, fraud, bankruptcy, and war which has obstructed a mighty intent.
Somewhere, obstructed, swirling in stemmed and surging tides, is that large fraction of my life which against the Will was estopped, Stymied, if you will. And with it is mingled a noble community plan of the once upon a time Fort Wayne Board of Realtors. An intention for Fort Wayne is Stymied, too. Lawyers controlling Allen County's famous biggie-sized Charitable Trusts and Estates perpetrate a revised version of a well-planned city, founded on Obstructed Intention. This has been going on a long time. A noble man works, builds and constructs something to leave his town, like its own electric company, and after he is dead his wishes are ignored, his trustees pass his property amongst themselves. The name of the Trustor's original Trust might even be changed decades after death, or left without successsor co-trustees.
Ironically, on 2/25/1999 an Imperial Steel Corporation was formed in Elkhart, IN where my North American half-cousin son of James Bond lives.
On 2/25/1999 Homeowners Loan Corp. formed in Little Rock, AR. Is this a clue? What happened to the Homeowners Loan Corporation Bonds for Waynedale Gardens Second Addition is another big question. Well, not to me- but the issuer of the bonds won't answer it.
and other stuff like 'at.
continued...
7/17/2017- PAY-SON. Me TONTO, You Pay SON, Berry Street
On 7/17/1942, 75 years ago, F.H. Kryder, the only child and son of Frank Kryder, Sr., aka C.F. Kryder and Minnie V. Disler Kryder, applied for a Social Security Number on the same day that the FDIC incorporated an active field office in Indianapolis, IN which was still active on Knue Road when the Frank H. Kryder Estate was opened in 1995.
On 7/17/1942 Frank Jr. was then 47 years old. His parents never had tax payer identification numbers. Nothing strange about that for the pre and post-war major developers of family housing in Wayne Township.
On 7/17/2017, 9 persons were swept away in a river of mud and ash in the Tonto National Forest, 18 miles from Payson, Arizona. Tonto Creek runs through the Hellsgate Wilderness Area ending in Theodore Roosevelt Lake. Kind of like Re-Maxfield and Rob Morrow living in Devil's Hollow in Fort Wayne while Heavensgate swept though Ewing's California Rancho Santa Morgan LeFay neighborhood. Erin for Katherine, Bernie, and don't you forget it.
We return to the pediment of the magnificently restored Allen County Courthouse on Berry which the officers of the court and law in Allen County might take the time to read once and a while.
The Word is with you know who and the Great Spirit controls the weather. Read it here, proven chronicles of real Time, as the reins of Conclusion to the heinous injustices to the orphans and widows of Allen County are taken over by that which is greater than that in which Berry Street has put its trust.
I am the blood that never forgets. I knew the story before I was born. Frank, Jr. and I are partners. Born a dyed-in-the-wool Methodist, uncorrupted by Moorhead Episcopalianism, I already know Frank, Sr. wins in the end.
Pay Son.

2/28/2017 "Those who betray a man's Trust are no better than common criminals." - The Lone Ranger

Summary and Analysis continued:
1/22/2017 Not One of the Berry Cluster?
One thing for certain is that men love to build towers, rightly called erections, in the building business.
continued...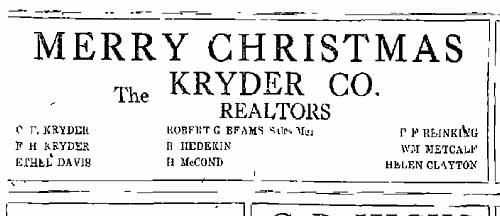 Fort Wayne Journal Gazette December 22, 1923
Merry Christmas from The KRYDER CO. REALTORS: C.F. Kryder, F.H. Kryder, Ethel Davis, Robert G. Beams, Sales Manager, Bernard Hedekin, McCond, F.F. Reinking, William Metcalf, and Helen Clayton.
To all who rob the children of Clarence Frank and Minnie Kryder, and their only lineal descendants to whom all rightfully, legally, and equitably belongs now and forever, God Rest Ye Berry Gentlemen.