Where is Kryder's Money?

Dates link to the Main Indiana Time Line | Assets in Allen County, Indiana Financial Institutions | Fort Wayne National Corporation:Historical Phases | Pepsico | cocacottonbank |pepsybank |beerbank|The Lincoln National Bank Heist | Abraham Lincoln Biography reprint |
---
The Westward 'Ho- Exploits of the NW Bankers

---
(First Bank of North Dakota is now U.S. Bank National Association 425 Walnut Street Cincinnati,OH 45202 FDIC Certificate #: 6548 Date Established: 7/13/1863 Date of Deposit Insurance: 1/1/1934)

THE BISMARCK TRIBUNE
BISMARCK, NORTH DAKOTA, SATURDAY, SEPTEMBER 29,1934

"BANK OF N.D. TAKES UP 140,000 ACRES OF LAND PER YEAR
---
Startling Picture of Activities, Despite Moratorium, is Revealed
---
501 FORECLOSURES IN 1933
---
Bank Will Acquire 405 More Farms in 1934; Average 282 Acres for Each Deed
---
What has happened to North Dakota's people in recent years is the story of what has happened to North Dakota's land- and some startling pictures are available to anyone who takes a look at the records in the Bank of North Dakota where the history of some 17,000 farm mortgages is recorded.
The same records also contain some astounding facts. For example, it is the plain and bitter truth that the Bank of North Dakota still is acquiring land at a much faster rate than it is disposing of it.
In 1933, despite the moratorium on foreclosures, the Bank of North Dakota acquired deeds to 501 separate pieces of land totalling 141,350 acres, an average of 282 acres per deed.
Of this number(almost 10,000) acres were acquired on 42 direct deeds from the owners. The remainder came through foreclosure or some other legal process.
To Get 405 Farms in '34
In 1934, the bank will acquire 405 more farms, various kinds of legal action looking to that end having been started in that number of cases. These will put title to more than 140,944 more acres in the hands of the bank.
In short, the Bank of North Dakota is acquiring land at the rate of 140,000 acres a year.
All of it is being removed from the tax roll as title passes, raising the taxes on land still in private hands."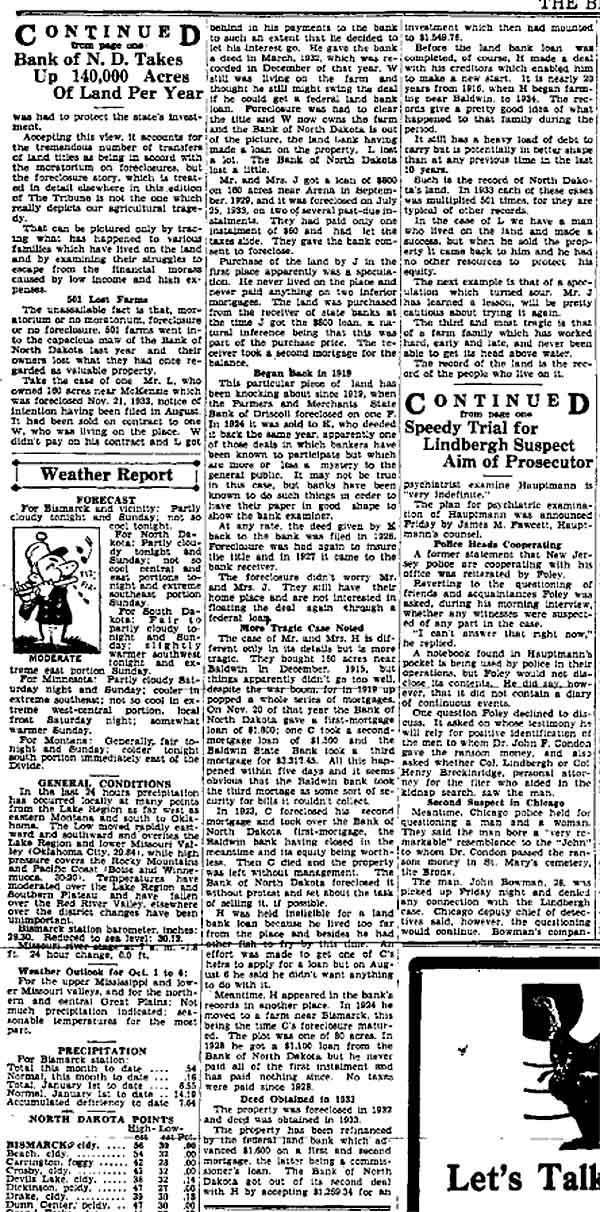 Opinion Column in the Bismarck Tribune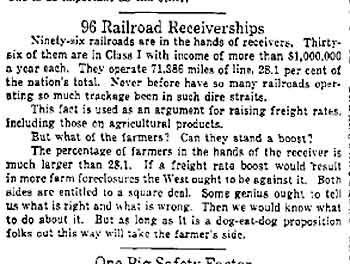 "96 Railroad Receiverships
Ninety-six railroads are in the hands of receivers. Thirty-six of them are in Class I with income of more than $1,000,000 a year each. They operate 71,386 miles of line, 28.1 percent of the nation's total. Never before have so many railroads operating so much trackage been in such dire straits.
This fact is used as an argument for raising freight rates, including those on agricultural products.
But what of the farmers? Can they stand a boost?
The percentage of farmers in the hands of a receiver is much larger than 28.1. If a freight boost would result in more farm foreclosures the West ought to be against it. Both sides are entitled to a square deal. Some genius ought to tell us what is right and what is wrong. Then we would know what to do about it. But as long as it is a dog-eat-dog proposition folks out this way will take the farmer's side."
---
in 1953

Three years following the death of C.F. Kryder, but a few months before his Will was illegally admitted to Probate, a great-granddaughter was born. His fiduciaries buried his name and usurped her interest, but over her DNA they had no control. (see below)
---
2005

What is Wrong and What is Right?

Farmers of 1938, and thousands before them, had neither the technology nor vantage point to attribute what amounts to national exploitation by elected officials, to the highway robbers and tyrants of the International Harvester, whose scientifically engineered cycle of railroad receiverships, bankruptcies, and depressions created the Archer Daniels Midland Company.
A 'Ho of a draperied bank belongs to those who were given the privelage of being government servants in 1862, and instead served themselves up The Union Pacific Railroad and numerous other useful franchises designed to eventually attain an everlasting grip and toll on the earnings of the countryfolk. What a mob. Considering it may represent to date the most corrupt corporation and Congress in American history, it is surprising that anyone in the present era even admits an association with the UP, particularly in writing or on film. They may as well say for their permanent record, "I'm a son of a gun who eats the sacrifices of the dead."
The public never suspected that government servants were busy doing such wrong things at the height of the Civil War. And later, farmers never suspected that the Farm Loan Act was an intentional spring in a trap.
Increasing taxes, interest rates, freight rate boosts, increasing cost of equipment (Harvester) and increasing cost of fertilizers and fuels (controlled by the UP), fire and crop insurance (them also) and storage cost heaped upon what would ordinarily just be natural disaster, mathematically guaranteed a high percentage of farm loans were going to be foreclosed. Or that the capital strength of individuals would be undermined in the attempt to hold onto property.
In 1908 The Realty Trust Company of Atlanta was organized with Asa G. Candler on the Board of Directors. (Banks of the northwestern divide included: the beerbank, concerned with wheat, and the sugar and soy pepsybank). Candler, of the southern section, was president of the Coca-Cola Company, and of the cottonbank, Central Bank & Trust Company of Atlanta. His exploit was lending freely to the cotton farmers while building storage warehouses. The cotton had to be stored till the price was favorable enough to cover the loans already made to the farmer. The warehouses were built on railroad easements owned by the Union Pacific in a veiled central system of stockholding. In Georgia this eventually resulted in "cotton distress," but similar situations of distress festered along a nationwide grid.
When Prince Franz of Liechtenstein died 7/25/1938 the 7/29/1938 Central Liquidating Corporation incorporated in Indiana. But the 1938 farmers had no way of connecting this to the funneling of funds to Liechtenstein in 1970 when the Pennsylvania Railroad became the biggest bankruptcy in U.S. history while in Indiana CENTRAL STORAGE & WAREHOUSING INC was incorporated 9/28/1970 (inactive 1/1/1978.)
So what is there to do about the fact that in 1862 American pie was sliced and wholly consumed by the whiskey-and-rye boys of the thirty-seventh Congress? The only right in any of it is that it is becoming right clear what fun and jokes and hay-days they have been having the last century in Washington and in the FDIC at everyone's expense but their own.
---



Frank Kryder Sr., Indiana farmer and real estate man, with his granddaughter Katherine the Gypped:
---
Back to the HOME PAGE
Where is Kryder's Money?
Site by Leigh M. Fulghum, Personal Representative
estate@frankkryder.com
2001-2009