Ten Years After
The 1976 Filing of a Blank Warrant
State of Indiana vs. Frank Harry Kryder, deceased in 1966
Walter P. Helmke Prosecutor
R.David Boyer Deputy Prosecutor

The PR was startled to find this bit of documentation filed in the Allen County Court Records and there are several curious aspects to this warrant:
1. This case is indexed in the Official Records of Allen County,Indiana in 1976, 10 years after the death of Frank Kryder. The Warrant is marked "Cancelled/Deceased."
2. The Warrant was never signed.
3. In the PR's state of residence, records concerning minor children are as a rule sealed.
4.The complaint was filed by the mother of the child seven days after the alleged assault.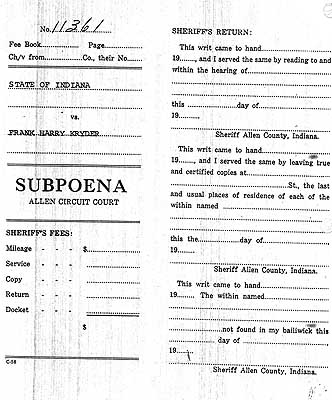 The PR wrote to a Carl Mason on Bradford Drive in Fort Wayne for information. Thereafter the PR received a phone call from someone claiming to be Carla Jean Mason during which the PR obtained the following explanation:
Carla Jean Mason was taken by her mother to Frank Kryder's apartment to handle some sort of secretarial duties in the afternoon. He immediately assaulted her. Carla claims she never spoke to the Police and everything was handledby her mother. She also claimed her mother died in 1973 when according to the SSDI it appears she may not have died until 1983.