In The Wake of C.F. Kryder: Clarence Frank Kryder (third from the left) examines blueprints for the proposed Fairfield Avenue Elevation of the Nickel Plate Railroad, Fort Wayne, Indiana, June 2 , 1942. Inextricably tied to his missing real estate and insurance fortune through North American Properties, Inc., are (left to right) the Fort Wayne International Harvester and Magnavox Companies, Lincoln Tower, and the Fort Wayne Bank Building.
U.S. Pipelines Links, Press Releases, and Notes gathered on the internet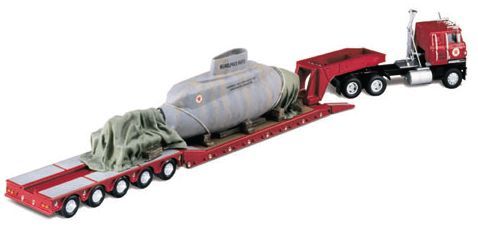 International Transtar w/ Submarine Load Texaco Pipeline
(model for sale at http://www.trinketstotreasures.com/truck65.htm)
---
Pipelines and Van Lines Main Time Line
Other Time Lines Tri-State| Standard |National/International| North American | Middle East | The Carlyle Group|Transtar|PepsiCo
---

ANR Pipeline Company
CNG Transmission Corporation
Columbia Gas Transmission Corporation
Columbia Gulf Transmission Company
Crossroads Pipeline Company

Duke Energy Corporation|Algonquin Gas Transmission Company|Trunkline Gas Company
For The Years Ended December 31, 1997, 1996 and 1995 Note 1. Nature of Operations On June 18, 1997, Duke Power Company (Duke Power) changed its name to Duke Energy Corporation (the Corporation) in accordance with the terms of a merger agreement with PanEnergy Corp (PanEnergy), pursuant to which the Corporation issued 158.3 million shares of its common stock in exchange for all of the outstanding common stock of PanEnergy (the merger). PanEnergy was involved in the gathering, processing, transportation and storage of natural gas, the production of natural gas liquids, and the marketing of natural gas, electricity, liquefied petroleum gases and related energy services. Pursuant to the merger, each share of PanEnergy common stock outstanding was converted into the right to receive 1.0444 shares of the Corporation's common stock. In addition, each outstanding option to purchase PanEnergy common stock became an option to purchase common stock of the Corporation, adjusted accordingly. The merger was accounted for as a pooling of interests and, accordingly, the consolidated financial statements for periods prior to the combination were restated to include the operations of PanEnergy. Operating revenues and net income previously reported by the separate companies and the combined amounts presented in the accompanying consolidated financial statements for the years ended December 31, 1996 and 1995 are as follows: In Millions Duke Power PanEnergy Adjustments Combined -------------------------------------------------------------------------------- 1996 Operating revenues $ 4,758.0 $ 7,505.6 $ 38.8 $ 12,302.4 Net income before extraordinary item $ 729.9 $ 361.1 $ -- $ 1,091.0 Net income $ 729.9 $ 344.4 $ -- $ 1,074.3 1995 Operating revenues $ 4,676.6 $ 4,967.5 $ 50.6 $ 9,694.7 Net income $ 714.5 $ 303.6 $ -- $ 1,018.1 -------------------------------------------------------------------------------- The adjustment to operating revenues reflects a reclassification of PanEnergy's equity in earnings of unconsolidated affiliates from other income to revenues to be consistent with the Corporation's financial statement presentation. The Corporation is an integrated energy and energy services provider with the ability to offer physical delivery and management of both electricity and natural gas throughout the United States and abroad. The Corporation provides these services through its four business segments: Electric Operations – Generation, transmission, distribution and sale of electric energy in central and western North Carolina and the western portion of South Carolina. Duke Energy Corporation (doing business as Duke Power) and its wholly owned subsidiary Nantahala Power and Light Company serve this area. These electric operations are subject to the rules and regulations of the Federal Energy Regulatory Commission (FERC), the North Carolina Utilities Commission (NCUC) and The Public Service Commission of South Carolina (PSCSC). Natural Gas Transmission – Interstate transportation and storage of natural gas for customers in the Mid-Atlantic, New England and Midwest states. The interstate natural gas transmission and storage operations of the Corporation's wholly owned subsidiaries Texas Eastern Transmission Corporation (TETCO), Algonquin Gas Transmission Company (Algonquin), Panhandle Eastern Pipe Line Company (PEPL), and Trunkline Gas Company (Trunkline) are also subject to the rules and regulations of the FERC. Energy Services – Comprised of several separate business units: Field Services – gathers and processes natural gas, produces and markets natural gas liquids and transport and trades crude oil; Trading and Marketing – markets natural gas, electricity and other energy-related products; Global Asset Development – develops, owns and operates energy-related facilities worldwide; and Other Energy Services – provides engineering consulting, construction and integrated energy solutions. Other Operations – Real estate operations of Crescent Resources, Inc., communications services, corporate costs and intersegment eliminations.
El Paso Natural Gas Company |Florida Gas Transmission Company |Koch Gateway Pipeline Company|Colorado Interstate Gas Company
Date: 11/1/1999 Contact: Mary Beth Jarvis 316-828-3756 jarvism@kochind.com Printable Version | Send this page to a Friend Florida Gas Transmission and Koch Gateway Pipeline Company Announce Mobile Bay Lateral Deal HOUSTON - Florida Gas Transmission Company (FGT) announced today it is acquiring an undivided interest in the Koch Gateway Pipeline Company (KGPC) Mobile Bay lateral. Subject to Federal Energy Regulatory Commission (FERC) approval, FGT will own 300 MMcf/day of capacity and KGPC will continue to operate the lateral. The sale is expected to close in the spring of 2002 to coincide with the in-service date of FGT's proposed Phase V expansion. KGPC is measuring shippers' interest in a potential expansion of KGPC's capacity in the Mobile Bay lateral. FGT's Phase V expansion, designed primarily to meet the growing electric demand in Florida, is expected to add 375-425 MMcf/day of new capacity to the FGT natural gas pipeline network at an estimated cost of $400 million. FGT plans to file the project application on Dec. 1, 1999 with the FERC. As part of the Phase V expansion, FGT plans to construct approximately 28 miles of new pipeline and add compression and other facilities necessary to connect the Mobile Bay lateral to FGT's mainline near Citronelle in Mobile County, Ala. "This lateral will provide direct access to additional natural gas supplies in the Mobile flay area, resulting in increased reliability and flexibility for our customers on the FGT system," said Rockford G. Meyer, president of FGT. "With this transaction, Koch Gateway continues to provide the growing North American market access to diverse Gulf Coast supplies," said John Gibson, president of KGPC. Koch Gateway Pipeline Company operates the largest gas pipeline system in the Gulf South with more than 10,000 miles of interstate pipelines and more than 120 interconnects. KGPC facilities are strategically located throughout the Gulf States to provide gathering, transportation, and storage services to cities, utilities, major industrials, and other customers. KGPC is a subsidiary of Wichita, Kansas-based Koch Industries, Inc. Koch Industries and its subsidiaries employ 16,000 people worldwide and are involved in virtually all phases of the oil and gas industry as well as in chemicals, plastics, energy services, chemical and environmental technology products, asphalt products, metals and mineral services, agriculture, financial services, and ventures. For more information on Koch, refer to Koch's home page at www.kochind.com on the internet. Florida Gas Transmission, a wholly owned subsidiary of Citrus Corp., operates an approximately 4,800-mile interstate natural gas transmission system from South Texas to South Florida. Citrus Corp. is owned jointly by a subsidiary of Enron Corp. of Houston and El Paso Energy Corporation of Houston. Detailed information is available on the Internet at www.fgt.enron.corn.
Great Lakes Gas Transmission Limited Partnership
"Serving the energy requirements of the United States and Canada since 1967, Great Lakes Gas Transmission Company transports over 2.2 billion cubic feet of pipeline quality natural gas per day through 2,100 miles of dual, high-pressure pipelines. Our pipeline provides the most direct, cost-effective link between western Canada's abundant natural gas basin and major industrial and market centers in Minnesota, Wisconsin, Michigan and eastern Canada. It extends from the Minnesota-Manitoba border at Emerson to the Michigan-Ontario border at St. Clair. Headquartered in Troy, Michigan, Great Lakes has regional offices in Petoskey, Michigan and Duluth, Minnesota."
Kern River Gas Transmission Company
"During the spring of 1999, Aspen Products Pipeline LLC (a joint venture of Williams Pipeline Company and Equilon Pipeline Company) submitted an application to transport a variety of petroleum products from Northwestern New Mexico, through Western Colorado, and Utah, using a network of existing and proposed new underground pipelines. During the same time, Questar Pipeline Company (Questar) proposed to increase its system capacity by installing a new 102-mile natural gas pipeline loop from Price to Payson, Utah and to build a new pipeline from Payson to Lehi, Utah. On April 28, 1999, the Bureau of Land Management and U.S. Forest Service issued a Notice of Intent to Prepare an Environmental Impact Statement on construction and operation of two underground pipelines. Public comment was gathered through the issuance of a scoping document, followed by public meetings in May and June 1999. Since last year, the pipeline companies have revised their proposals and changed their pipeline alignments. A third company, Kern River Gas Transmission Company, also submitted an application to build a pipeline. The Proponents Three companies, known as the proponents, have filed applications to build pipelines and associated facilities: •Williams Pipeline Company •Questar Pipeline Company •Kern River Gas Transmission Company "
Michigan Gas Storage Company
Mississippi River Transmission Corporation
National Fuel Gas Supply Corporation
Directors:Eugene T. Mann 3,5,7 Retired Executive Vice President of Fleet Financial Group, a financial services company. Board member since 1993.
"A Brief History of National Fuel Gas Company The history of National Fuel closely parallels the history of the natural gas industry in the United States. Beginning in 1821, its predecessor companies were involved in many historic firsts. Today National Fuel Gas Company is managed with the same innovative and entrepreneurial spirit of its past. The following chronicles some of the historic firsts in which National Fuel and its predecessor companies participated. The first documented commercial use of natural gas in our country occurred in 1821 in the Village of Fredonia, New York. Local citizens drilled the nation's first gas well to a depth of 27 feet and later laid lead pipe along the main street to illuminate 100 street lights. Not far from Fredonia is the hamlet of Barcelona, located on the shores of Lake Erie. In 1830, the Barcelona lighthouse became the world's first navigational beacon lighted by natural gas. In 1870, a company in Bloomfield, New York bored pine logs and banded them together with iron, creating the industry's first natural gas pipeline. It stretched 25 miles to Rochester, New York. Then, in 1872, the first metal natural gas transmission line was constructed carrying gas from a well in Newton, Pa. to Titusville, Pa. In 1886, United Natural Gas Company, which later became a subsidiary of National Fuel Gas Company, constructed an 87-mile wrought-iron gas transmission line from gas producing areas in McKean County, Pennsylvania to Buffalo, New York. This was recognized as the world's longest natural gas pipeline and was considered one of the construction marvels of the time. In 1899, the world's first 1,000 horsepower gas engine-driven compressor was installed by United Natural Gas Company. These compressors were able to effectively raise and lower gas pressures and control gas flow, allowing gas pipelines to handle increasingly large quantities of gas. By the early 1900s, natural gas had proved to be an ideal fuel for cooking, heating water, heating homes and lighting and many communities had developed independent gas systems to supply the demand of local citizens. However, when the original wells were exhausted or when the demand for gas became greater than the local wells could supply, troubles began. The need for a coordinated gas supply effort became apparent. In 1902, National Fuel Gas Company was formed. It eventually merged with or acquired assets of many companies. These subsidiaries laid interconnecting pipelines, tying the many isolated systems into one big network. In 1916, Iroquois Gas Corporation, a National Fuel subsidiary, proved that significant quantities of natural gas could be stored in tight formations of depleted gas reservoirs. The first underground natural gas storage reservoir in the United States was therefore developed by National Fuel at Zoar Field, just 40 miles south of Buffalo. The development of underground natural gas storage in depleted gas fields became a significant economic asset of National Fuel. After World War II, in order to accommodate the skyrocketing demand for this economic fuel, the gas pipelines in the east were connected with the vast gas reserves being discovered in the southwest. Companies like National Fuel with storage capacity could buy southwest supplies to supplement locally produced gas, inject some of this gas into its storage fields and pull it back out during the winter when gas demand peaked. This allowed National Fuel to maximize the efficiency of its pipeline system, increasing the economics of an already economically attractive fuel. Other firsts followed: the first gas-fired generator to produce electricity for pipeline protection; in 1973, the first meter-order system to provide computerized scheduling and routing; in 1993, operation of one of the first state-of-the-art computerized one-call centers to increase the efficiency of customer responses by telephone. Today, natural gas is the most popular, environmentally sound and economic fuel choice of homeowners and businesses in the country. National Fuel is proud to have been an innovative leader in the development of this industry."

Natural Gas Pipeline Company Of America
"Kinder Morgan, Inc. operates approximately 25,000 miles of pipelines in the following 12 states: Arkansas, Colorado, Illinois, Iowa, Kansas, Louisiana, Missouri, Nebraska, New Mexico, Oklahoma, Texas, and Wyoming. Our gas pipelines provide transportation and storage services, and in the case of intrastate pipelines, gas purchase and sales services to industrial, electric generation, commercial and local distribution customers."
Midwestern Gas Transmission was acquired by Northern Border Partners, L.P. in April 2001. The pipeline system consists of 350 miles of 30" natural gas transmission pipeline with a forward haul design capacity of 650 MMcf/d and a backhaul capacity of 350 MMcf/d extending from an interconnection with Tennessee Gas Transmission near Portland, Tennesee to a point of interconnection with several interstate pipeline systems near Joliet, Illinois. There are six compressor stations capable of generating over 70,000 horsepower. Midwestern Gas Transmission is configured to receive gas volumes at both ends of its systems. At the north end, serving the Joliet/Chicago market hub, Midwestern can receive gas volumes from ANR Pipeline Company, Northern Border Pipeline Company, Natural Gas Pipeline Company of America, and Alliance Pipeline. Midwestern also has interconnections with four interstate pipelines in Kentucky, Indiana, and Illinois.
Northern Border Pipeline Company
Northern Natural Gas Company
Northwest Corporation
Panhandle Eastern Pipeline Company
PG&E Gas Transmission
Questar Pipeline Company
Reliant Energy Gas Transmission Company
Southern Natural Gas Company
Tennessee Gas Pipeline Company
Texaco Pipeline International
TEXACO CREATES TEXACO PIPELINE INTERNATIONAL Global Unit To Seek and Manage Pipeline Opportunities Outside U.S. FOR RELEASE: THURSDAY, FEBRUARY 9, 1998. WHITE PLAINS, N.Y., Feb. 9 - Texaco announced today the formation of Texaco Pipeline International (TPI), which will be responsible for identifying and optimizing worldwide pipeline transportation opportunities. The new organization, which reports to William M. Wicker, Texaco Inc. Senior Vice President, Corporate Development, will pursue projects in new business areas and utilize pipeline activities to enhance Texaco's international upstream and downstream businesses. In announcing the new venture, Wicker said, "There are increasing opportunities for Texaco in the creation, ownership and operation of crude oil and refined product pipelines around the world. We are confident that TPI will produce strong returns from independent pipeline activities, while also providing an additional revenue stream for key international upstream and downstream projects, thus enhancing their financial returns." TPI will assume immediate responsibility for Texaco's interest in Canada-based Gibson Holding Ltd. Petroleum. In the near-term, it will also seek to identify appropriate opportunities in the Caspian region, Poland and Russia. Felix C. Spizale has been named General Manager of TPI, which will be headquartered in Houston. Daniel R. Mihalik will head Europe/Eurasia operations, to be managed in London. Anwar A. Gopalani will manage activities for the Latin America, Middle East, Pacific Rim, West Africa and Asia regions, and will be located in Houston. Spizale will manage potential projects in Canada. Spizale joined Texaco in 1969 as a petroleum engineer in the Offshore District, Morgan City, La., and subsequently held a variety of professional engineering positions of increasing responsibility in drilling, reservoir and production assignments. In 1988, he was named Division Manager-Ventura, Calif. Spizale was named Senior Vice President, Central Region Marketing and Pipelines for Texaco Trading & Transportation Inc. (TTTI) in 1993. Mihalik joined TTTI as a Senior Research Associate-Production at Texaco's Houston Research Center in 1982. He was appointed Manager-Gaviota Terminal Company in Santa Barbara, Calif. in 1988. In 1997, Mihalik was named Operations Coordinator for Texaco International and relocated to London. Gopalani joined Getty Oil in 1978. He was named Manager, Mechanical Engineering for Getty Trading and Transportation in 1985. In 1993 he was appointed Manager, International Engineering for TTTI.
Texas Eastern Transmission Corporation - Duke Energy
Texas Gas Transmission Corporation
Transcontinental Gas Pipeline Corporation
FOR IMMEDIATE RELEASE FRIDAY, FEBRUARY 1, 2002 WWW.USDOJ.GOV WWW.EPA.GOV ENRD DOJ (202) 514-2007 EPA (202) 564-7818 UNITED STATES SETTLES CASE WITH NATURAL GAS PIPELINE COMPANY Transco To Conduct Environmental Tests And Cleanup Along Its 10,500 Mile Pipeline Crossing 12 States WASHINGTON, D.C. -- The Justice Department and the Environmental Protection Agency today announced a settlement with Transcontinental Gas Pipe Line Corporation (Transco), under which the company has agreed to test for and clean up soil and groundwater contamination related to waste disposal at numerous compressor stations along its natural gas pipeline, which traverses 12 states from Texas to New York. In addition, the company will clean up polychlorinated biphenyl (PCB) contamination, complete a storm water monitoring program, conduct storm water sampling at several compressor stations and pay a $1.4 million civil penalty.... "This settlement resolves Transco's past illegal disposal practices..." The company is a subsidiary of The Williams Companies, Inc., which is the largest volume-transporter of natural gas in the United States...From the 1950s to the mid-1980s, Transco disposed of pipeline condensate and other materials in unlined earthen pits and debris areas at its compressor stations...Transco historically discharged commingled storm and process waters from its compressor stations without a permit. The contamination at Transco's metering stations arose from past use of mercury in the meters. Historic mercury disposal practices contaminated soils near the surface at the metering stations with elevated levels of mercury. ...The Transco settlement is part of a long history of EPA enforcement activities in the natural gas industry related to PCBs and hazardous wastes. Past enforcements were brought against Texas Eastern Gas Pipeline Company; Transwestern Gas Pipeline Company; Tennessee Gas Pipeline Company; and Columbia Gas Pipeline Corporation. These settlements also addressed PCB and hazardous waste cleanups along natural gas pipelines. Today's settlement will be filed with the United States District Court, Southern District of Texas, Houston Division, and is subject to a 30-day public comment period and final court approval.
Williams Gas Pipelines Central, Inc.- Williams Companies|Transwestern Pipeline Company|Northwest Pipeline Corporation
TRANSWESTERN PIPELINE COMPLETES PURCHASE OF IGNACIO TO BLANCO PIPELINE FOR IMMEDIATE RELEASE: Friday, August 30, 1996 HOUSTON - Transwestern Pipeline Company, a subsidiary of Enron, announced today it has completed the previously announced purchase of a 77.7 percent ownership interest in Northwest Pipeline Corporation's (Northwest) south end mainline extension La Plata facilities. The 33-mile 30-inch pipeline system, which extends from Ignacio, Colorado to Blanco, New Mexico was acquired at a cost of $21.9 million. "This is a strategic fit for Transwestern's future growth in meeting our customers' needs," said William R. Cordes, president of Enron Transportation & Storage (ET&S) which provides services to Transwestern Pipeline Company and Northern Natural Gas Company. "This project adds access to incremental San Juan Basin, Rocky Mountain and Canadian natural gas supplies without affecting the rates of our existing shippers." As a part of the purchase, Transwestern has contracted 75,000 MMbtu of the capacity of the La Plata facilities, excluding La Plata B Compressor Station. Of that amount, 60,000 MMbtu also continues down the San Juan expansion, which is expected to be in service in early December 1996. Northwest is retaining 23,811 MMbtu of south flow and approximately 213,000 MMbtu of northbound capacity for its existing system-wide customers. Firm contracts for the remaining 201,000 MMbtu of capacity on the Ignacio to Blanco system are being assigned by Northwest to Transwestern. Existing Section 284 rates for transportation will apply to Transwestern's portion of the La Plata facilities. The companies executed a Purchase and Sale Agreement and an Ownership and Operation Agreement on November 3, 1995, agreeing to the disposition of a 77.7 percent interest in Northwest's mainline facilities. Since then, both companies have received Federal Energy Regulatory Commission approval -- Northwest for abandonment of that portion of its line and Transwestern for expansion of its line. Northwest Pipeline Corporation, one of the The Williams Companies, owns and operates a 4,000 mile natural gas transmission system in seven western states. Williams' companies include the nation's largest-volume system of interstate natural gas pipelines; one of the nation's largest natural gas gatherers and processors; a full-service energy marketing and trading group; a Midwest petroleum products pipeline; a national business-telecommunications equipment sales and service company; and a nationwide fiber-optic video services provider. (NYSE:WMB) Company information is available on the Internet World Wide Web at http://www.twc.com.
Enron Corp., one of the world's largest integrated natural gas companies with approximately $15 billion in assets, operates the largest natural gas transmission system in the Western Hemisphere and the second largest system in the world; is the largest purchaser and marketer of natural gas and the largest non-regulated marketer of electricity in North America; produces and markets natural gas liquids worldwide; owns 59 percent of Enron Oil & Gas Company, one of the largest independent (non-integrated) exploration and production companies in the United States; owns 59 percent of Enron Global Power & Pipelines L.L.C., which is owner and manager of operating power plants and natural gas pipelines around the world; and is one of the largest independent developers and producers of electricity in the world. Enron Corp. is traded under the ticker symbol, "ENE." For additional information please contact: Transwestern Pipeline Elaine Thomas (713)853-6814 Northwest Pipeline Susan O. Flaim (801)584-7077 John K. Nicksich (801)584-6346
3/16/98 Williams, Texaco project to add Gulf Coast petroleum pipeline link TULSA -- A unit of Williams has signed an agreement to connect its Midcontinent refined products pipeline system with a Texaco Pipeline Inc. project, providing a new pipeline route for Gulf Coast refined products. In the first phase of the project, Texaco will construct a 12-inch pipeline from outside of Wichita Falls, Texas, connecting to Williams' pipeline near Duncan, Okla. Williams' petroleum services unit will: Construct a new pump station to increase throughput capacity between Duncan and Wynnewood, Okla.; Utilize a 12-inch line already under construction from Wynnewood to Oklahoma City. The line is expected to be in service by July 1998; Add a 35,000-barrel storage tank at Williams' Reno terminal in Oklahoma City; Reverse and upgrade an 8-inch line to flow from Oklahoma City to Drumright. The first phase is expected to be in service during third-quarter 1998. During the second phase, Williams will add pumping capacity at its West Tulsa pump station and build pump stations near Skiatook, Okla., and Cedarvale, Kan. This phase will increase throughput capacity between Tulsa and El Dorado, Kan., by 45,000 barrels per day. The second phase is expected to be in service by fourth-quarter 1999, although the exact completion date has not yet been determined. Financial terms were not disclosed. "This project links Williams' petroleum pipeline system with a new Gulf Coast pipeline route, and secures a significant marketing and pipeline throughput commitment," says Steve Cropper, president and chief executive officer of Williams' energy services group. "It also provides an opportunity for us to increase throughput out of Tulsa -- something our shippers have desired." Williams owns and operates a 9,300-mile Midcontinent petroleum pipeline, plus petroleum product distribution points throughout the Southeast and in the Phoenix and Dallas markets. Texaco Pipeline Inc., whose assets will become part of Equilon Enterprises L.L.C., is a wholly owned subsidiary of Texaco Inc. Texaco wholly or partially owns a 30,000 mile pipeline network and has trucking operations spanning 31 states and Canada, transporting more than three million barrels of oil a day. Williams, through its subsidiaries, is the nation's largest-volume transporter of natural gas and provides a full range of traditional and leading-edge energy and communications services. (NYSE: WMB). Company information is available on the World Wide Web at http://www.williams.com. Portions of this document may constitute forward-looking statements as defined by federal law. Although the company believes any such statements are based on reasonable assumptions, there is no assurance that actual outcomes will not be materially different. Additional information about issues that could lead to material changes in performance is contained in the company's annual report or Form 10-K, which is filed with the Securities and Exchange Commission.
14:19 2002-08-01 WILLIAMS RECEIVES $1BN NEW FUNDING TO STAVE OFF BANKRUPTCY Williams, the second biggest US natural gas pipeline company, has obtained more than a billion in financing from a group including Lehman Brothers Holdings Inc. and investor Warren Buffett to stave off bankruptcy, people familiar with the matter said. The money allowed Williams, which had reported a second- quarter loss of $498 million from trading and selling gas and electricity, to pay $300 million of floating rate debt that was sold last year and matured yesterday and $350 million of 6.2 percent notes sold in 1998 and due today. Williams Chief Executive Steven Malcolm, who did not return telephone calls for comment, pledged assets, including some of the company's 26,450 miles (42,560 kilometers) of interstate gas pipelines, as security for the loan, the people said. "It certainly eases pressure for the rest of the year," said Jake Dollarhide, chief operating officer at Frederic E. Russell Investment Management "It helps buy them some time."
08/02/101 Energy Services Williams Completes Merger With Barrett; Announces Management Team TULSA, Okla. and DENVER -- Williams (NYSE: WMB) and Barrett Resources Corporation (NYSE: BRR) announced the completion of their planned merger. Barrett stockholders approved the merger at a special stockholder meeting today in Denver. The certificate of merger was subsequently filed with the Secretary of State of Delaware. Williams will begin distributing the materials necessary for Barrett stockholders to effect an exchange of their Barrett shares for Williams shares within the next five business days. Williams signed a merger agreement with Barrett on May 7. Terms of that agreement included a cash tender offer by Williams for 50 percent of the Barrett shares at $73 per share net in cash, which was completed on June 11. Through the merger, each remaining share of Barrett common stock, other than shares held by Williams, was converted into the right to receive 1.767 shares of Williams common stock. Barrett stockholders will receive cash in lieu of fractional Williams shares. As a result of the merger, Barrett merged into a wholly owned subsidiary of Williams. As of the end of trading today Barrett shares will cease trading on the New York Stock Exchange and thereafter will be delisted from the NYSE. "We are very excited about the completion of the merger for a variety of reasons, one of which being Barrett's talented work force and its expertise in the Rocky Mountain natural gas basins. Barrett's assets are a complementary fit with Williams' existing assets and goals companywide. They offer synergies to Williams' horizontal assets as well as a natural hedge to our growing power portfolio. We are also very pleased to be able to announce the new post-merger management and forge ahead," said Steven J. Malcolm, executive vice president of Williams and CEO Williams Energy Services. The new management structure for Williams' exploration and production group consists of Ralph Hill, senior vice president and general manager; Bryan Guderian, vice president Tulsa region; Joe Jaggers, vice president Denver region; and Neal Buck, vice president commercial operations and gas management."
---
Back to the HOME PAGE

Where Is Kryder's Money?
http://www.frankkryder.com
Site by Leigh M. Fulghum
estate@frankkryder.com
2001,2002, 2003