Where is Kryder's Money? | Main Time Line | Big Sugar Big Soy | Pepsico | pepsybank | Sitemap
---
Pepsi Lies
---
Healthful Refreshment
Fine for the kiddies too-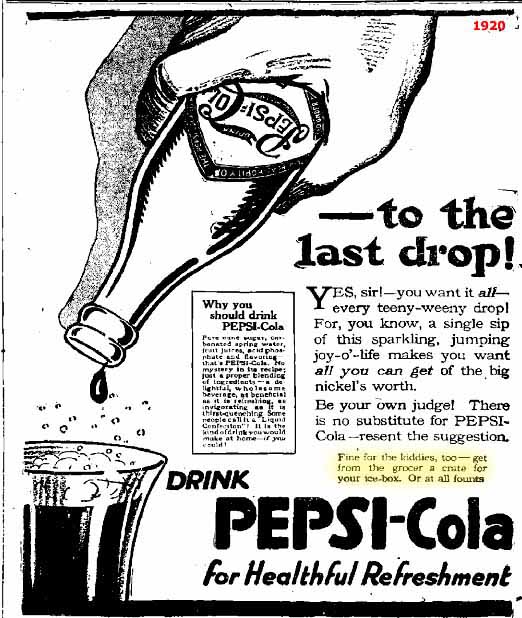 Why You should drink PEPSI-Cola

Pure cane sugar, carbonated spring water, fruit juices, acid phosphate and flavoring- that's PEPSI-Cola. No mystery in the recipe: just a proper blending of ingredients- a delightful wholesome beverage, as beneficial as it is refreshing, as invigorating as it is thirst-quenching. Some people call it a "Liquid Confection." It is the kind of drink you would make at home- if you could!
Pure, unadulterated joy in every glass.
The thing the system needs to endure and enjoy midsummer days.
Does away with the discomforts of heat and fatigue. Makes you really enjoy your meals.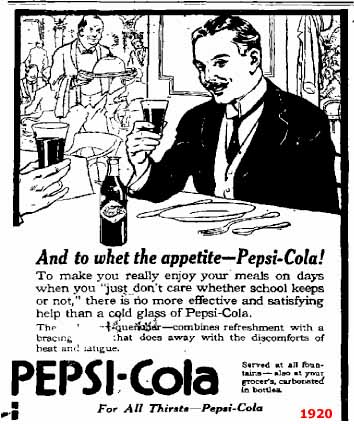 Clears your mental decks for action- exerts just the embracing and invigorating effect needed to start the day right.
Here's Health!
There's nothing in it to harm you.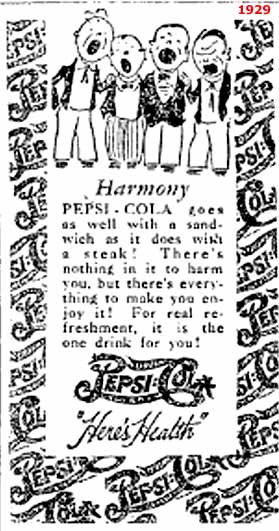 Drink it for your health's sake
---

Home