Frank H. Kryder at Cree Lake, Indiana, around 1939
Frank H. Kryder's grandmother was a beautiful full-blooded North American Indian Chief's daughter, Mary Ann Treace. She died at 39 and the subsequent family of Harrison Kryder did their best to hide the Indian Blood which entered the Kryder line. There is no correct genealogy for Mary Ann Treace in any of the find your ancestors databases. The most likely story is that Mary Ann was Cherokee, pulled out of Waynesville, NC, in its Mad Anthony Wayne Days, and Pottawatomie. It is argued it is not the same Mary Ann Treace, but Mary Ann Treace and Luiza Treace are on the Cherokee Rolls, and that is where her birth date aligns with what Harrison Kryder put on her tombstone in Old Leo Cemetery.
Frank at the Kryder Summer Cabin on Cree Lake.
1917 High School Principal
1921 Kryder & Berry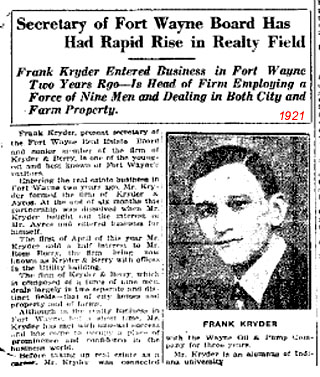 Frank Kryder, Secretary of Fort Wayne Real Estate Board
was previously connected with the Wayne Oil and Pump Company for three years
Kryder Company 100% Club 1922