Single largest customer after Tiffany's?
Leonce bought more crystal than all the major department store chain customers in the United States which had Reidel Crystal featured for Bridal Registries. The crystal for decades was and is heavily advertised by these other single customers in existence up to 2000 A.D., whose needs Leonce exceeded: he bought more Reidel Crystal than Saks Fifth Avenue, Macy's, Gimbels, Bloomie's, Bonwit Teller, Lord and Taylor- all single customers with multiple stores to fill.
Great clue, Daddy-O. Could this have something to do with
W.L.. Borchers
and his spooky Austrian Princess wife? Employees who served her whispered she was Nazi gold.
Lincoln Financial Corporation was organized in Cuyahoga, Oiho on 9/15/1972, the Death Record date of Kay Picot.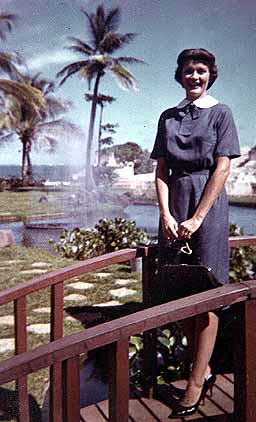 Frank H. Kryder's daughter, Katherine Ann 0834 IN Vital Statistics, aka Kay Daniel Picot seen here wearing tasteful linen in Puerto Rico, 1960, to research her text for Restaurants of Puerto Rico.
Published January 1961
7/3/1902 Central Trust Co. of Ill Merged Bank of America Chicago
In 1911 The American Banker's Association designated Chicago, Illinois as Reserve City 2, and 2-9 was the original designation for Harriman's Union Trust, in Chicago.
In 1929 there was Bank of America, Chicago, originally Greenebaum Sons Bank & Trust. This was said to merge with Central Trust of Chicago. But Bank of Italy was actually Bank of America, San Francisco, we find out later in time. "Bank of Italy" was selling to Continental Illinois customers, shares in Continental National, Salt Lake City. CN had a correspondent in Indianapolis. CN ended up part of Continental Illinois Company.
08/01/1941 Thyssen fund frozen- in funds of Union Banking Corp., Prescott S. Bush and E.R. Harriman Directors.
In 1955 Bank of America N T & SA organized Continental Auxiliary Company shares held in NY Trust, for the benefit of the bank
As of 7/28/1955 to 9/15/1955 Zurich Insurance Co. purchased 98% of shares Continental.
Continental (Agency Corporation of Dayton 4/16/1957 ) Later merged with W.L. Borchers Insurance
Charter 262850 filed 7/10/1957
6/2/1960 Continental Insurance Agency, Dayton, Ohio - later merged with W.L. Borchers Insurance.
Continental Illinois Bank stock was sold by Bank of America in Los Angeles until such time as Chicago Illinois Bank Chicago was Bank of America which began transferring its Trust Company's real estate titles to the next generation of heirs as Bank of America.
Meanwhile, Lincoln National Corporation of Fort Wayne sold Chicago Title and Trust to Bank of America. Underlying this was the long intermarried relationships of Barnetts, stationed in various city banks around the country especially after the Crash, with Arthur Fletcher Hall, wartime president of Lincoln National Life Insurance noted for aggressively recruiting the industrial essentials of war to Fort Wayne. Barnetts were intermarried with Frank Kryders lawyers. (Moorhead goes to a Barnett/Shoaff firm, Shoaff becomes Baker and Daniels)
An incestuous marriage of the Lincoln Trust was created to Norwest Bank as Allen Hamilton's Numbered Box of Indian Land Grants obtained contrary to the orders of grantor, George Washington, became the FDIC Certificate Number for Norwest Bank.
So whether you bank at Bank of America or Wells Fargo, you are inside the Northwest Bancorporation, like Leonce's Picot's Northwestern Mutual Life Insurance Policy.
Both his Policy and his mortgage bear the same old Federal Reserve Continental Bank prefiix as Michele's Birth Certificate designated as being in Florida State File 109- followed by her Exchange Bank Certificate Number.
(109) was also the earlier Federal Reserve Prefix for RSSIDS of Fort Waye National Bank, Fort Wayne, and the German American National Bank. Thus because of the Barnett relationship, (109) prefixing an RSSID is found on Barnett Banks and Bank of America entities. (109) followed the Barnett Bankers when they moved into Florida.
Does anyone remember their Barnett Bank of Florida student loan which was serviced through Indianapolis?
*
1001 Nob Hill, where Leonce Picot was taken down, is around the corner from Union Trust in its present form,
a Branch of Wells Fargo National Association
Bank + ATM
UNION TRUST 2 GRANT AVE SAN FRANCISCO, CA, 94108 415-396-2404
a Branch of Wells Fargo National Association
A note on the next 8.0 magnitude California shaker:
Prediction models indicate though loss of life may likely only be in the thousands, the structural damage and complete losses will be in the billions or higher.
Fire damage is unpredictable.
That is a lot of insurance claims waiting to happen.
by Michele Picot on the Edgecot

Please begin with PART I, the Road to CYPRUS

Here for the Asset Hounds is PART II of two 98 digit families of Federal Reserve issued RSSIDS/de factos which reveal the conclusion. Comparing the two branches side by side reveals missing links between related organizations. This makes it EXTRA hard for anyone to but the schism together.

The same method is used to define this branch for what is at the bottom of the haystack. It is a 98-digit SORT out, the complement to the PART I 98-digit sort out.


1518883 Conill Bank A.G.Vienna, Austria 12/31/1959
1230091 Continental Holding Corporation MO 12/17/1969
1317554 Continental Illinois Leasing Corporation, Chicago 5/30/1972
1317563 Continental Illinois Delaware Limited 8/01/1972
1090174 Continental Illinois International Investment Corporation Grand Cayman, Georgetown 12/31/1977
1552971 Continental Illinois Investment Advisory Corporation, Geneva 12/31/1977
1090222 Bank of America Capital Corporation 1979
1174319 Continental Overseas Finance Corporation N.V. Curacao, Willemsted, Bonaire etc. 6/16/1980
1582567 Continental Illinois Leasing Canada Limited , Toronto 2/28/1982
1601833 Continental Cablevision of Cook County, Inc., Boston 5/06/1985 (1985-BCCI)
1680669 CIC LIMITED; Continental Illinois (Cayman) Grand Caymn, Georgetown 5/01/1988 .
1938360 The Puerto Rico Sugar Coporation, San Juan 1/1/1992
3314696 Edgemont Assets Limted, Road Town, British Virgin Islands 11/04/2004 cf Edgecot/Monterey 10/14/2004-11/04/2004
* note coincident formation STI-CANADA, LLC : 5001 U.S. HIGHWAY 30 WEST, FORT WAYNE, IN 46818: 2004101400251 Status: Active Creation Date: 10/14/2004 North American Van Lines HQ
4293622 Continental Escrow Company, Seattle 4/01/2001


The Whopper

1518883 1230091 1317554 1317563 1090174 1552971 1090222 1174319 1582567 1601833 1680669 1938360 3314696 4293622

What is this number and what does it mean? Why can't the Secret Service, The Financial Crimes Network, The SEC, The FBI, The ABA, or IRS figure this out? Geez.

The SORT

0 (9)
1 (22)
2 (7)
3 (13)
4(5)
5 (8)
6 (10)
7 ( 6)
8 (7)
9 (9)

Cancelling the repeated digits yields a Unique Number, its digits taken from the odd columns.

023489.

What does this mean? Why can't anyone answer?

First, they would have to go to extensive trouble to obtain the actual Birth Certificate of Katherine Ann Kryder from Indiana Vital Records in order to discover her Birth Certificate Number. This is not information available on ancestry or anywhere. A Birth Certificate is a de facto id, and they are closely guarded in every state of the union, whether the person of concern is living or deceased.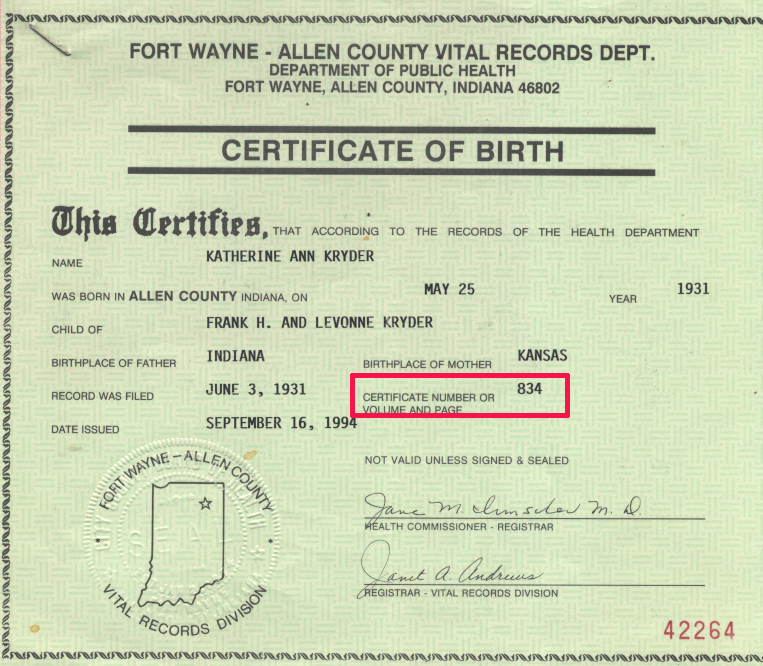 ALTERNATELY, 0834 should be also considered as 3480, the SIC for ORDNANCES.
In PART II. Katherine's Certificate of Birth, in the form 0834 links her forever to (PART I) Frank Kryder as his Social Security Number *3612 is forever linked to the names of his parents, owners of the original asset pool, as Frank's lawyers in the Fort Wayne Bank Building are forever linked by Superior Court Document *5789 referring to Frank's Property assigned by generation this number emblazoned on the Resolution is the identical id portion Thomas G. Moorhead's SSN *5789.
Removing 0834 from the Unique Number 023489 we are left with 29.
This is the very vault, 2-9, Union Trust, a branch of Wells Fargo National Association, only a quick stroll from the former site of the 1001 Nob Hill Restaurant.

Thou shalt not tempt the Lord your God.
Go Fish.
Get off your fat Continental Cans and pay all the Clarence Frank and Minnie V. Kryders' heirs, per stirpes lest you invoke that certain rain of bricks upon your tectonically challenged heads.
The forefathers are getting a little ticked off and your hour glass is almost empty.
Above: Panoramic destruction of Nob Hill in 1906. In the background, San Franciso burns.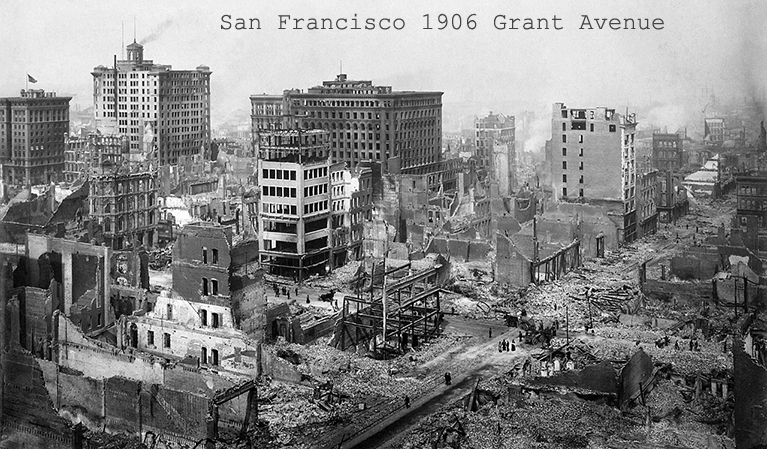 Above: Grant Avenue in 1906. A conservative prediction is that by 2043 The San Adreas fault will experience an 8.0 magnitude or worse quake in addition to various tsunamis from undersea volcanoes erupting anywhere offshore from Alaska southward. The Big One is an inevitable natural event, and recent studies indicate especially along the Hayward Fault, which is many years ripe for its 150 year event, critical mass has been reached. The most recent science states the San Andreas or whole faultline system could experience a major tectonic slide any minute.
As it is written, "No one knows the day or hour of the Coming."

Most all of Google Scholar agrees with the Bible on this point regarding the next major San Francisco and Los Angeles area shaker. No one knows if the inevitable will happen a minute from now or at the latest by 2043. That is 21 years from this year. So careful which restaurants you decide to open from here till then, you may not be as lucky as Leonce and Dave.
*
Michele Picot-Strawberry's fee for a phone consultation with an attorney is $50.00/minute.
Please e-mail for reservations. Please estimate the time needed for your consultation. You will be pre-invoiced, and all calls must be pre-paid. Your call will be terminated once you have reached the limit of your payment. You will then have to make a new reservation and repeat the process.
Reservations: estate@frankkryder.com
Michele Picot-Strawberry 4/11/2022