My personal history with the notorious team, the Burger Boys, Daddy Leonce and Uncle Dave, goes back to 1953, the year I was born and Mr. MacLamore invented The Whopper and joined up with David Russel Edgerton, whose father, a metallurgist, helped him invent the flame broiler. Young Dave was a good lookin' divvil, but he dropped out of Cornell and Ohio Northwestern, so his Daddy had to do something for his directionless son.
But we can talk about all that on another day. This page is to create the Foundation for how at least 1/3 of the Kryder Securities belonging to Katherine Kryder were maintained unredeemed as various parties have utilized the concealed interest which was last in legal possession of Frank Kryder in 1966.
With all that the Frank Sr. Kryder family accomplished through two world wars and The Great Depression, in a county where robbing the natives had built industrial fortunes, they were hardly foolish enough to leave their life's work and sacfrices in the hands of their enemies. No amount of Estate planning will guarantee the intended distribution of property if it is under control of a trust company and lawyers. They change laws constantly to confound heirs. This has been the way in the Chronology since the beginning of American Banking.
Misers do not leave their treasure chests unguarded after recording with real estate the lineal descension of their interest. They leave a MAP.
All this is now put together in one WITNESS and Proof. Had I not began chronologizing bank routing numbers of the Federal Reserve since1993, this scheme could not be shown today. Because it is a massive money laundering operation and the whole point is to escape detection.
Since 1993, many Federal Reserve Member Banks and the record of their RSSID have been removed from the NIC database. This is not a consistent practice as there are other banks in the database which though they have been closed, their data and assigned RSSID remains.
Especially between 2010 and 2022 a number of Continental Illinois entities dropped out and appeared in other locations globally, with slightly altered names with new RSSIDs.
Concealed money cannot "safely" enter legitimate commerce without a Federal Reserve RSSID at the placement stage. It cannot be transferred around into legitimate bank accounts of business as legitimate funds without the RSSID.
It can be held in havens and then deposited into a Federal Reserve Member Bank or entity for placement when the opportunity arises.
Fort Wayne National Bank et al. is a Tower of Plutocratic Confidence in its own ability to get away with anything and not be seen.
What they failed to account for was that Frank Kryder's grand-daughter, Katherine's daughter, was scientifically adept at gathering, sorting, and ranking data for purposes of obtaining a conclusion.
As seen, compiling the correct asset trail and linking it to its origin is not possible without supporting historical facts, official documents, the roots of why and where assets went "off the books," an in depth look into the lives and businesses of the original pool owners, their associates and partners, banks and lawyers, their Offical Records. This must all be wedded to Moving Money through a real Chronology.
For a direct descendant, this can be excrutiating, which is something trustees and lawyers bank on. They can either wear out your financial ability to sue them, to hire detectives, forensic experts, handwriting experts, or they can make it too unpleasant emotionally to find the truth. Many an heir has been robbed blind in the time of grief.
The movement of money from tax havens or other unseen places from non Reserve Member banks into banks which open the way to legitimacy with transfer into a Reserve Member or FDIC insured bank then has to be linked to the origin asset pool and someone has to prove they are the legal owners of assets which are being laundered.
In the eyes of the Fort Wayne people, who on earth would ever do all that?
Though regulatory action and law enforcement tracks current, or not more than five years old illicit pools of money, these are pools whose owners are not going to come forward and claim ownership.
The Fort Wayne Group doesn't have to worry about being caught with illegal drug or weapons money, they don't need it. They have concealed United States Instrumentalities of dead clients. Nobody here but us ghosts.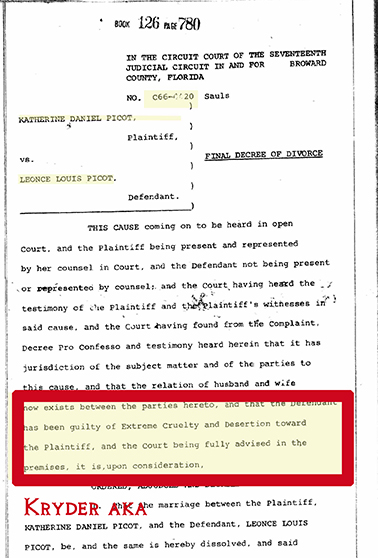 Lincoln Financial Corporation was organized in Cuyahoga, Ohio on 9/15/1972, the Death Record date of Kay Picot. Kay's DOD was 9/15/1972.

Leonce had taken possession of Kay's house, furniture, legal papers. Michele was 19 and could have been her mother's PR, or should have least been advised to obtain her own legal counsel, but Leonce did not tell her that. He gave Michele an inheritance of $1700. That was her half of what Kay had left for her daughters, Laura and Michele, after having to sell Leonce her car and her one valuable, a Tiffany lamp shade, left over from the Restaurant trips. He claimed after he sold the house that was all there was left of Kay, except the furniture he and Carolyn stole for themselves.

Ex Mrs. Leonce Picot was so improperly provided for in her divorce her lawyer and the judge made her situation worse and brought her and two young girls to the brinkmof poverty from which there is no escape, unless you are Laura Picot-Sayles who followed the money and denied being her own mother's daughter.

Between 1966-1972, though Kay continued at free-lance articles when she could get the work, she could not even afford her frugal way of living. She was beaten down psychologically and within those last six years of her life she struggled desperately to keep writing, but she had been hobbled permanently.

Leonce was salivating over her Tiffany lamp shade.

"You need money," he said to his discarded wife, "sell me the lamp shade."

*

This is the way interest-free Death Tax Securities work-As special condition federal instrumentalities, the whole 1930's or war time marketing campaign was based on that they can only be exchanged by the registered owner for a "LIKE" type of federal security, or they can be redeemed and taxed. They bore the ":unconditional guarantee of The United States Treasury to the Registered Owners."

You can live on tax-free interest as the Kryders did, but the principal is taxed at death-

Over time, after the Treasury marketed the early securities with that condition to protect registered owners, as were Frank, Sr. and Minnie V. Kryder, the U.S. Comptroller accepted exchanges of registered securities THROUGH a Trust Company on the presumption that all securities being presented for exchange were in the legal custody of the Trust Company, deposited by the owners.

Leonce was promoted several times in Indiana Newspapers following the 1976 exchange by an unknown unauthorized party of the Kryder Treasury Notes of 1976. This particular security originated with the last exchange opportunity for HOLC bonds which was made by Frank Kryder in 1964 for Treasury Notes of 1976.Leonce did not have stockholders in LaVieille Maison, and where he came up with the money for it as an owner with Al is a great question as well as what happened to the 3.1 million received by Leonce when the Restaurant was sold (Al was deceased by then).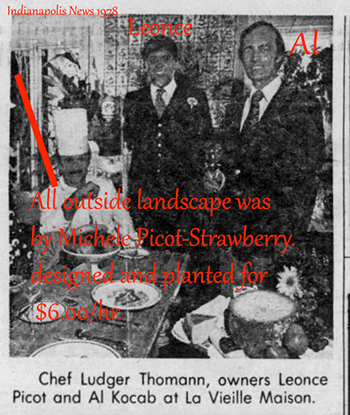 Above: Al raises another glass.
Michele Picot liked Al except for the fact he dumped the wife of his youth, like Kay had been dumped. And, Al kept silent when Leonce broke Kay's jaw right in front of him in New York City during The Restaurants of New York tour. Maybe he was afraid Leonce would punch his lights out too.
Fortunately Mrs. Jack Thornton was in town and saw Kay the following morning, her face covered in scarves, or the kingdom of chauvinists would have had another victory, another secretly abused woman on their Las Olas belt notches.
Mrs. T. in later years said Leonce and Al had never been any of her "favorite people."
Leonce had waited till their dining "research" was complete to put Kay in her place in front of his partner. She was not going to be mistaken for Mrs. Kennedy at any more Great Restaurants of New York with a bruised and swollen face. She looked as a woman looked who been punched in the face by a man twice her weight.
Leonce used to say, "Al's (first) wife is Al's little cross to bear."
Michele found her to be a lively, prettily plump, fun and effervescent woman, a former Sweet Adeline. Luckily the couple never had children to leave in the world to grow up as tortured souls of the Molokai and womanizing.
Once the original Mrs. Kocab had given Carolyn and Leonce a set of finely cut and embroidered linen placemats and napkins from Italy for Christmas. Carolyn sneered at the gift and threw it in a bottom shelf of her pecky cypress bar.
"I just hate this Italian stuff she keeps giving us."
Al remarried a girl Michele's age. He threw a little Mai-Kai catered luau afterward where Michele pointed out,

"Mr. Kocab, if I knew you were interested in girls my age, you could have marrried me and kept everything in the family." A long time female acquaintance of Michele's had told her Al had been hitting on her at the Down Under.
Many bleached blondes divorced or stll single in their 30's hung at the Down Under bar like little cougars, looking for the next dude. However, in that girl's case, she wanted a younger man who would take on her three kids. That would never have worked for Mr. Kocab.
Nothing worke actually. He marrie a cute kittle nurse andd died shortl after of liver cancer.
Raise another glass for Al, seen here in the fabulous Wine Room of the raized Down Under Restaurant.
*

Frank Kryder made the last authorized exchange himself in 1964 of the remaining HOLC bonds, for Treasury Notes of 1976. This made perfect sense with the orchestration of a generation-skipping transfer by Bordner. Frank died just six years after Minnie Kryder. Had he "inherited" in 1963, the estate would have been cashed out and death taxed, with an upcoming estate tax and inheritance tax his children would have had to pay. It would have diminished years of the Kryders' toil.
Having Glenn Bordner file the 1963 Resolution was one permanent record he left which located the property and the corporate seal, because Frank had no reason to believe his estate would become anything but typical Berry Street plunder.
by Michele Picot on the Edgecot
Here for the Asset Hounds is PART I of two 98 digit families of RSSIDS/de factos which conclude with the Four Witness Documents linking the laundering of Kryder Securities since 1966 to their irrefutable owners. The numerical resolution of this historically conjoined money routing scheme of Continental Illinois (Bank of America/Barnett Bank) and the original Fort Wayne National Bank of Charles D. Bond and Hugh McCulloch is four documents which are irrefutable.
In PART I, the Asset Pool is reduced to Glen W. Bordner's Power to encumber every asset of the Kryder Company linked to Frank H. Kryder's Application for a Taxpayer Number in 1942, in order to work for the Hannan Company in Ypsilanti, MI.
PART I

Linking Frank's Taxpayer id to His Tax Lawyer in Control of the Kryder Company as of 1963
U.S. to Cayman Islands, Curacao, and other components are being refined and translated on a separate chronological SORT)
1584075 Northwestern Mutual Life Insurance 1914
1518922 Continental Illinois Bank Switzerland 12/31/1959
10967681 Fort Wayne National Bank Realty 1974
1527652 Templar (original CYPRUS Credit Card Processor) 1975
1545320 Continental Illinois Bank Realty 1977
1172614 Continental Illinois Bank became Continental Illinois Bank Canada 1981
120859 First Merchants Corp., Muncie, IN 1983 (Nabanco through First Data Merchant Services- Western Union-Contel- First Merchants)
1573435 Continental Illinois Bank Leasing Brazil 1984
1588710 Ramada (*9381 c/o Jimmy Starr) 1984
Edgecot-1984
4017163 Burger King Holdings 2009

3017081 Northwestern Mutual Life Wealth Managemernt
4846493 EDGEPOINT CAPITAL LLC ROTH 401(K) PLAN 2015

109503408 Leonce Picot Homestead Mortgage- net value of realty, tangible and intangible property at death, $0.00. 2018
3460753 Global Pay Card ( new name for CYPRUS Credit Card Processor+) 2019
TSYS CARD TECH SERVICES LIMITED changed to the new name GLOBAL PAYMENTS CARD TECH SERVICES LIMITED. Cyprus
Now let's crunch a Whopper. Make a sandwich of those de factos.
What is this number? What does it mean?
1584075151892215734351588710109676811527652154532011726141208594017163301708148464931095034083460753
The Sort.
000000000000 (12)
1111111111111111111 (19)
2222222 (07)
333333333 (09)
4444444444 (10)
55555555555 (11)
6666666 (07)
777777777 (09)
888888888 (09)
99999 (05)
The Tally.
We have 98 digits in these 14 unevenly digited ids, which end up distributed evenly as 14 X 7 = 98. That's pretty strange, but the mission is to discover The Unique Number left at the bottom of this pile of malarkey.
Numerals of even digits cancel out. So we look at the digits remaining which are unique because they have no match. Though the unique number contains two id's, the two are one, both numbers which prove the deliberately concealed Estate of Kryder.
12365789.
(or, 3612; 5789- showing that which has to remain hidden)
*3612 Estate of Frank Kryder untaxed

Allen County, Indiana Superior Court 5789 Recorded Document Stating Frank H. Kryder owned all shares of the Kryder Company, Inc. and that Bordner was in Possession of The Corporate Seal with Power to Encumber All Assets of the Corporation.
5789
225 Standard Building is an Office Number. The Standard Building is now the Elektron Building after having been the Original Lincoln Life Insurance Building in Fort Wayne. The address is 215 East Berry Street. The founding law partners there now were Barrett and McNagny. They gave themselves the building from a client's Charitable Trust Estate, that of James Irwin Evans, 1983, aided by Walter P. Helmke, father of Judge Paul Helmke. Barrett III who incorporated Fort Wayne National Corporation as a multi-bank holding company in 1969 also did his relative James Ewing Bond's estate work. James Ewing Bond is the father of Rosemary's Baby. The Bonds originally and always controlled Fort Wayne National Bank.
Now folks, you just can't get around the arithmetic. The chances of the Strawberry Girl coincidentally pulling this arrangement out of her sunbonnet are impossible.
QED
*5789 is additionally the last for digit identifier of Thomas G. Moorhead, a Canadian attorney who worked many years in Frank, Jr.'s office. Frank saved Moorhed, Sr.'s life when an irate client appeared in their Carrol Building Office to shoot Moorhead. Later, Thomas M. Moorhead, son of Thomas G., was Minnie Kryder's Estate Attorney and last VP on record of The Kryder Company, Inc., Frank H. Kryder president, filing an annual report as such in 1967. Frank had died in 1966.
Thomas Moorhead denied ever hearing of any Kryders in Fort Wayne.
A Small Discussion.
As neither Minnie Kryder nor Frank Senior ever had social security numbers, and were never issued taxpayer numbers at death, the Official record of their Death Tax Securities securing real estate establishes that NO TAX has ever been paid on U.S. Government guaranteed to the registrant securities which can be exchanged by a Trust Company, but can never redeemed without triggering a Notice of Tax Due from the U.S. Comptroller to IRS. The registrants wre Clarence Frank and Minnie V. Kryder.
Frank Jr. inherited the Kryder Company as no par shares, but HE DID NOT CASH OUT. His SSN and no Probate records in Allen County, Indiana where he died in 1966 proves that. As well, his lawyers filed annual reports after his death for The Kryder Company until the sale of North American Van Lines.
Leonce Picot had no qualms stepping in and taking Katherine Kryder's remaining material goods as her PR, including ALL of her personal paperwork, but her SSN*6781 did not get cancelled.
Therefore, since 1966, though the securities have been adversely held, likely never having left their local vault, they have earned tax-exempt interest all these years which has to be concealed.
Of Deed Record, Kryders Additions in Fort Waye were purchased in fee simple by Clarence Frank and Minnie V. with gold mortgage interest; you'd have to say their foundation was gilt-edge. Their other federal securities included investment in the Federal Farm Loan Bank, Louisville, and the Federal National Mortgage bonds issued by their associate R. Earl Reasoner, head of the Association in Indianapolis.
That is a lot of interest 1966-2022 for someone to play with, plus the hidden principal which in a network of banks can be said to exist in any given vault in any country as needed.
***
Addenda
*****2006 (Restaurant Brands) Burger King forms Cyprus Joint Venture for Russian Franchise
4/17/2006 CYPRUS NABANCO LIMITED Reg. Number ΗΕ 175178 Type Limited Company SubType Private Name Status Current Name Registration Date 17/04/2006 Organisation Status Dissolved Status Date 11/01/2016
see Leonce Picot in original organization of Nabanco in 1976-