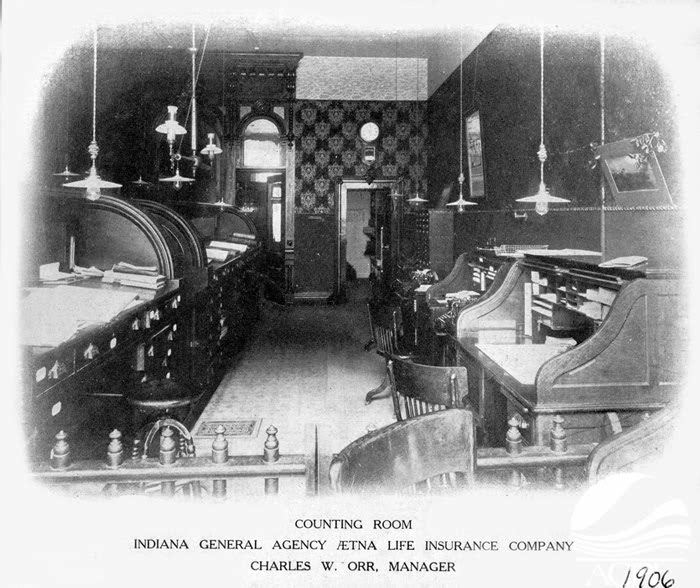 Allen County Public Library Digital Image Collection
Photo ID: 00002533 Collection: Historic Photos Notes: COUNTING ROOM, INDIANA GENERAL AGENCY AETNA LIFE INSURANCE COMPANY, CHARLES W. ORR, MANAGER, 1906.
Photo ID: 00002518 Collection: Historic Photos Notes: 1. OFFICE OF CHAS. W. ORR-INSURANCE. THE AETNA LIFE INSURANCE CO. OF HARTFORD, CT IS THE SECOND OLDEST LIFE INSURANCE CO. IN THE U.S., HAVING BEEN CHARTERED IN 1820. FOLLOWING THE OLDEST CO., THE PRESBYTERIAN MINISTERS, FOUNDED IN1759. THE AETNA HAS PAID POLICYHOLDERS THE SUM OF $233,131,650. ON JANUARY 1, 1913, THE COMPANY'S ASSETS AMOUNTED TO $110,523,775. THIS COMPANY WAS A PIONEER IN THE PRACTICE OF LENDING MONEY TO INDIANA FARMERS, AS WELL AS TO THOSE OF THE MIDDLE WEST, THUS HELPING TO DEVELOP THE COUNTRY, IT NOW HAVING MORE THAN 8,000,000.00 INVESTED IN THE STATE OF INDIANA, WHICH REPRESENTS ABOUT $800 OF INVESTMENTS TO EACH $1000 INSURANCE IN FORCE IN INDIANA. THE AETNA HAS ALWAYS BEEN A PIONEER IN THE LIFE INSURANCE BUSINESS, HAVING YEARS AGO VOLUNTARILY INTRODUCED NUMEROUS POLICY FEATURES FAVORABLE TO POLICYHOLDER, THAT COMPETITION NOW DEMANDS OF ALL COMPANIES. THE AETNA'S INDIANA GENERAL AGENCY IS LOCATED AT 132 E. BERRY ST., WITH MR. CHARLES W. ORR AS MANAGER.