A Very Racist Christmas

Carolyn Guerard Picot,
"My God, I just can't stand those Negro Spirituals Leonce keeps playing."
Including double-agents of John Berry Yellow Pages who acted as Racist accomplices of Carolyn Guerard Picot and Laura Picot-Sayles
The Removal of Mahalia Jackson from the Picot Idlewyld Mansion
by Michele Picot
This is a terrible Christmas story which cut Leonce's daughter to the core, a difficult Christmas she had at the house of the nouvelle Picots. There she not only had to bear the sight of Kay's furniture reincorporated into an Idlewyld Mansion Leonce had promised Kay, but she had to discover that Leonce had married something of a racist who didn't know or love Leonce at all for the good things which were were being removed from inside him.
This serious statement of Carolyn Guerard Picot's open snobbery could be verified by Laura Picot-Sayles, who surely remembers when Mahalia Jackson went missing in the mansion, once she considers the background of events. But she will never consider anything which proves that the wool was pulled as much over her eyes as was Michele's when they were young and inexperienced with tragedy.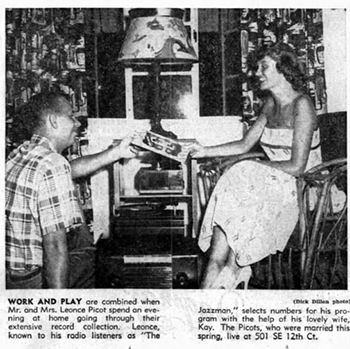 As Music hath charms to soothe the savage breast, Music was an essential part of Leonce's existence. He needed it.
And Kay, as we were growing up was very stern about this rule of etiquette:"Never criticize anyone's taste in music."
When they started their married life together, and before, Kay had no idea Leonce was going to end up in the food and beverage world. He was a concert promoter and concerned with bringing musicians to Fort Lauderdale as the town he thought would grow into a family-atmosphere winter vacation spot. Throughout his life he played his records. Anyone who knew the Down Under never stopped hearing Leonce's music selections. He planned the lunch and dinner music and its sequence as seriously as Planchon planned the menu. Eventually he had Michele's husband create discs of music programs for the restaurant, so Leonce would not have to keep changing records.
Katherine, verified in church and amongst all her acquaintances, could sing like the best of the professional women jazz singers, without ever having taken a lesson. Kay had fallen in through music and Michele fell in love through music.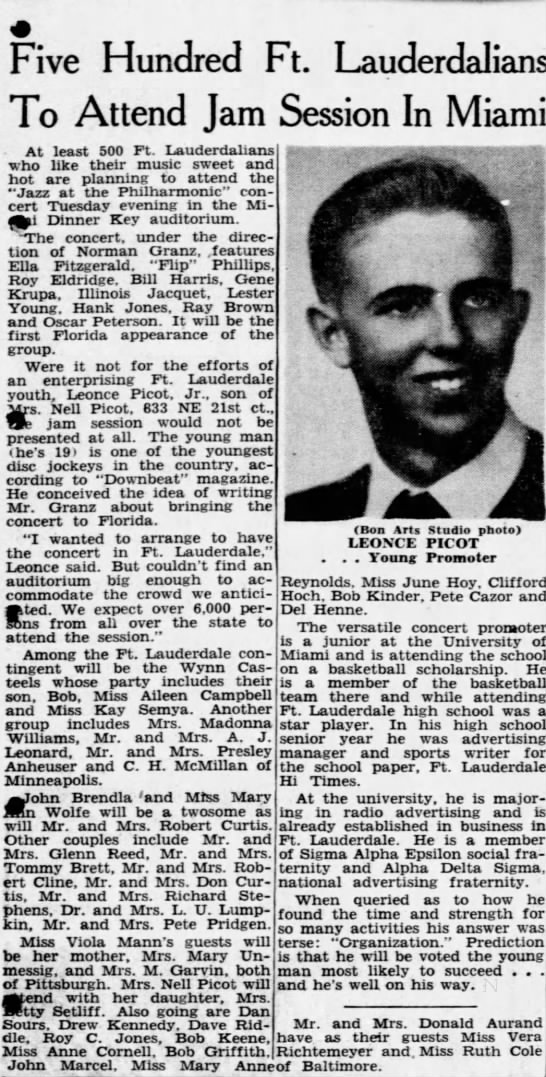 When Kay, Leonce, Laura, and Michele lived in their little house at 1001 (not Nob Hill) but 33rd Street, Leonce had extensive records in the house which he regularly played every minute of being home. But outside, between the carport and the backyard was the utility room with doors on each end. This was where there were shelves and shelves of Leonce's jazz collection he had been collecting since the days he was a DJ. Laura Picot Sayles can surely remember the utility room and the records!
Leonce had one tool, a hammer, and everytime he used it he injured himself. So unlike the rest of the neighborhood, our utility room was filled with old records in paper sleeves, belonging to the only man in town with a beard. Some kids said our dad was a beatnik.
It was Kay's idea that Leonce grow his beard, to balance his pointy nose with a serious overbite. Despite early teasing for this strange look in Oakland Park, Florida, the change worked. His features were harmonized by the beard and he kept it for life.
Like at the restaurants, the music venue in our house changed with seasons, and though by those days in Oakland Park Leonce couldn't make it to church anymore, it wasn't Christmas without Mahalia Jackson filling the house. Of course, he played Limelighters and things for the kids, but Mahalia Jackson did something for his soul and that music was part of our Christmas tradition.
The first year Michele returned to "home" from college, just three months after Kay had died, they had yet to move into the mansion but were living in a smaller house in Idlewyld.
It was a hard enough Christmas.Carolyn whined at Michele one day, "My God, I just can't stand those Negro Spirituals Leonce keeps playing."
A couple years later it was Christmas in the mansion and Leonce was totally freaked out, his forehead beaded with sweat.
"I can't find my Mahalia Jackson records anywhere, and I don't know what happened to my jazz collection."
He was really, really upset about it and Michele was afraid to say what she knew. Leonce had married his nemesis. There was going to be no happy resolution here. It wasn't as if going out and buying a new album would cure what had happened. He wanted his Mahalia Jackson albums, the ones he had been playing for years.
Over the years Mahalia eventually made her way onto the Down Under play list, as did Willie Nelson, a real surprise to Michele.
Carolyn didn't understand or know Leonce at all, and didn't want to. What kind of a person hides their husband's valuable record collection of artists he had cherished since college? What kind of a person takes away their husband's favorite Christmas music because they "can't stand those Negro Spirituals?" It was a HORRIBLE thing to say.
Michele, in whose childhood and neighborhood were people whose speech was never allowed in the Picot household, never, ever heard Leonce use Negro or any other word to distinguish the color of his cherished musicians. Though, Bunny called the lawn men darkies, on which occasions Kay would immediately correct her. Like a Judge says "STRIKE" Kay struck inappropriate speech and ideas she didn't want imposed upon her children.
Leonce never referred to his Mahalia Jackson recordings as Negro Spirituals. She was Mahalia Jackson, who calmed his tortured breast and gave him at least a degree of something Christmas-y to grip. Carolyn didn't like Leonce's Negro music and she didn't like Michele's "tidewater" husband, as she thought of him, in reality a virtuoso guitarist by age 11.
Leonce told Michele about her husband, "He isn't Carolyn's kind of person."
Once, when Leonce invited Michele and her husband to the mansion for dinner, Carolyn slammed a plate down on her burled wood dining table in front of Mr. Strawbery and loudly insulted him in her pinched lost voice,
"Shrimps for Joey,"
as though it were just too good a dinner for him.
But the Picots used Michele's husband for rides to the airport anytime they wanted, to stash their contraband, to watchdog their restaurants, to attend Leonce's mother, to work for less than minimum wage, and to check on Laura when she threatened to cut her face up with a mirror. After all, he was doing it for the whole family, right? The Picots connived 20 years of the man's life for "the family" then left him homeless and without insurance to cover a surgical emergency which nearly took his life, shortly after. The Picots did not even send a Get Well Card.
Carolyn Picot was not only racist, but a social snob, and her over-bearing proclaimed superiority was caught by Laura when she had to move into Carolyn and Leonce's house at age 16. She commenced wearing Carolyn's cocktail jewelry to high school.
Laura could not bear the sight of Michele's husband getting to drink champagne from her Reidel Crystal. When Michele and Laura's husbands were lured with a trust promise for their children to watchdog the Down Under in the Picots' absence, there was a customary camaraderie Leonce had established for the front desk personnel to have a glass of champagne after closing.
After Laura had dumped her husband, or rather, was caught committing adultery in the marital bed with youngsters present, she had to blackmail Leonce for Power in the Restaurant because no one would hire her, according to the elder Picots. Naturally her ex-husband ceased being a night watchdog at The Down Under since Laura was carrying-on with a manager she was trying to get Daddy to set up in his own restaurant. As if.
One day a bold note was taped up in the kitchen, written by Laura Picot-Sayles stating that an after-closing beverage on the house was no longer offered, and in any case, only Laura was allowed to drink champagne after closing. All the serving and kitchen staff, to whom it did not apply one iota, saw this poster placed right in their faces, on the cashier's window. Many recognized it as a vicious act redlining Michele's husband and said as much. Laura's imperious and obssessive kitchen posters in the last years of The Down Under of what was allowed and not allowed became an employee's joke.

Woe, woe woe!
Carolyn Guerard Picot is UNFORGIVEN for denying poor Leonce his Christmas music and saying she hated Mahalia Jackson to Michele Picot when she was grieving for her mother.
Damned rum talkers!
Much as it hurt at the time, Leonce had made his choice. After Michele's son was grown, she has never celebrated a traditional American Christmas or Thanksgiving again. The former ways are too depressing, and it is best to avoid Holiday Depression.
Christmas of 2021 Michele celebrated by watching the "Christmas at Kings" boys choir on televison. It was enough. It is actually more relaxing and calming to go through the holidays doing nothing.
Michele Picot-Strawberry 2022