Michele's New World Symphony
All the Friends I knew
These are my friends who I never forget and I want it writ somewhere what important and good people they are, and how thankful I am to have their memory to treasure.
I think of them always.
The list is not for relatives, teachers, or other helpful adults throughout life.
These are my friends, my peers, from early life to a point.
They are people who lifted my spirit and made me feel happy. We spent many days in each other's company. We brought out the best in each other
We were together because we freely liked each other. We were not forced to associate.
We chose one another, for like, for fun or for common interest.
The list has been pared down several times, as these are friends who had no vested interest in keeping company with me other than mutual like.
Even young children will use their peers as "friends," to gain access to something else.
By college, I found, as I analyzed my list of perceived friends, there were too many "friends" than normal. Someone finally told me they were trying to get invited home for Spring Break, since I was in a northern school, but lived in Fort Lauderdale. With that there were the simply horny boys who didn't care who I was.
Once I was back in Fort Lauderdale, I had acquaintances time to time, but no friends. I was raising a child, trying to finish college, and work.
Thus those I think of as friends were made when I was still Michele Picot.
I have listed them as I knew them, somewhat chronologically in time.
Names have changed, some are dead, and others have moved to Lord knows where.
But I think about them constantly, and I will always appreciate them most, and look forward to seeing them in The New World.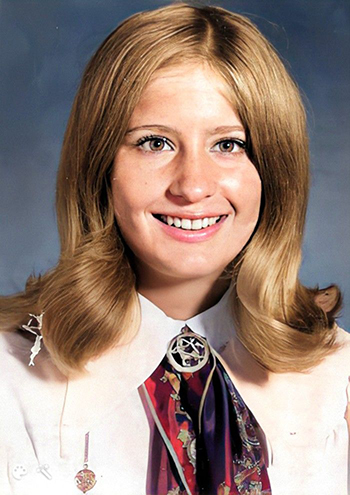 Here I am at barely 17, learning the truth as I stepped into my future of great Promise.
Michele Picot in Spring 1970
Northeast High School Junior Class Photo
Fort Lauderdale, Broward County FL
I took the SAT early and was admitted to St. Mary's Jr. College for Women, Raleigh, NC in 1971 as a freshwoman, skipping my senior year of high school. That is why I am not in the fun year book of my graduating class, nor do I have an elegant senior picture.
In this last school photo I had just had Dr. Sanderson's braces removed. In those days Debbie Sanderson , future state representative, cleaned our teeth.
My eyes are actually green, not brown, but the other colors are fairly true considering the age of the photo. I am wearing Yardley of London Pink Pancake Eye Shadow, my favorite highlighter, with Bonnie Belle Mascara and Revlon liquid makeup to cover my freckles.
Influenced heavily by Pam Faber in my fashion choices, I am wearing a wide pointed collar eggshell crepe- like blouse with full long sleeves and button cuffs.
It is accessorized with a long golden chain bearing intermittent faux coins, a paisley burgundy and navy polyester scarf, and a Sagittarius brooch.
Sisters: Margy and Janet McCoskey
I always wanted a sister, and in high school, a time when we become more socially mobile, there were never two sisters like my friend Margy McCoskey, and her older sister Janet. They were the most All American Girls Next Door happening. They had a mother and father, a normal middleclass house, their father had been a barber. Like me, the girls always worked for teenage perks, mainly clothes and make-up. We liked female independence.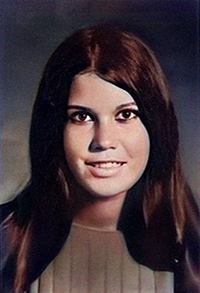 Margy was a girl the most popular girls at school would come to with all their secrets and troubles alike. She listened solemnly to every word, like Mohammed perched on her always perfectly made up pink ruffled bed, and she never gave anyone away.
Margy and Janet were real sisters. They cared more about each other than they did about themselves singly, and had an iron bond between them. Janet was lively and bubbly, Margy was serious and pensive. They had an anchored grip on teen living, re-inforced by their companionship with each other.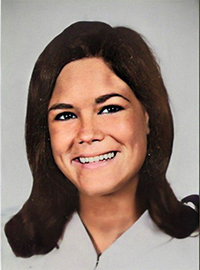 They took me up without a second thought into their sisterhood, like a third sister when I needed it most. If I had a certain dress, Janet would insist I borrow a certain pair of shoes she had that were perfect with it. If Janet needed help to finish sewing a dress, because she was busy cashiering at Publix, Margy and I would do it. The three of us shared the same baby-sitting clients.
Years later, I was approaching the date of my courthouse wedding to Mr. Strawberry and I asked Margy if she would give me a little shower. A girl thinks most her young childhood about being a bride and having a shower. Well, many of them do. I had no mother or sister to care if I was getting married. I hadn't seen Margy for a few years, but she didn't think twice. I had a darling shower, in the house where we had shared so much, her parents' home. She made canteloupe wrapped with thin ham. I never felt so appreciated and happy. Janet was working, of course, by then a stewardess, but her present was there
When our son was born the sisters each sent baby gifts.
The sisterhood of these two girls improved the lives of each other, moreover of their friends in ways they never knew.
Their friendship was a life raft for me when I was treading water and I will love them forever.

Commemorated New World Friends
by fka Michele Picot
More than just another list of friends, I have described the bond we shared in our time together. As these are friends from age 5- 17, fairly chronologically listed, there is nothing lurid to be read into any term. My friends know/knew I have a completely literal mind. I interpret everything literally, which is not also in step with language as it is used casually.

We were all innocents.

Deborah Baukney experimentation; books
Gary Rodenbaugh adventure; cards
*Claire Rindinello music study; breath control
Nancy Collins St.Marks; Father Styles
Linda Little shared adored teachers; we liked school
Jill Kent everything that was becoming cool once the Beatles landed
Gayle Bush St Mark's Childrens Choir; Father Styles
*Debbie Newton being best; Faith of Our Fathers
Mickie Bennett landscape and architecture of pioneer Oakland Park; bravery
Steve Woodbrey Rescue the Perishing, Care for the Dying
Susie Powell invention, creative writing; books; Methodism
Debbie Rivers a magnetic attraction we just called, "Friends to the End"
Diana Helcher a friend in need is a friend indeed
Don Hoffman image archiving
Margy McCoskey working for our own money ; sisterhood
Janet McCoskey working for our own money ; sisterhood
Pam Faber artistic rebellion
Florence D'Andrea grace to accept what we cannot change
Joyce Patterson flowers
Steve Van Nus what we did for love (of others); the art of story-telling

Some of my friends knew I wrote my own poetry and lyrics, but to All the Friends I Knew, I can't do better than this:

Going Home
(Dvořák / Fisher)

Going home, going home, I'm jus' going home
Quiet like, some still day, I'm jus' going home.

It's not far, yes close by, through an open door
Work all done, care laid by, going to fear no more.

Mother's there 'specting me, Father's waiting, too
Lots of folk gathered there- all the friends I knew.

Nothing lost, all's gain,
No more fret nor pain.
No more stumbling on the way,
No more longing for the day,
Going to roam no more!

Morning star lights the way, restless dream all done
Shadows gone, break of day, real life, yes begun.

There's no break, ain't no end, jus' a livin' on
Wide awake with a smile going on and on.

Going home, going home, I'm jus' going home.

I'm jus' going home.

Going home, going home.











*Missing from Gallery:

Claire Rindenello, Harvard, Mass. She was a winter person and studied flute. She now has a related career in breathing.
Deborah Newton, Lexington, KY and Camp Sparta. Our Dads were both great basketball players, but C.M. Newton was his Coach, and Debbie and I clicked like Amos and Andy at Camp Sparta, Sebring, FL.
See ya' there, kids.
fka Michele Picot 4/13/2022