PANAMA PAPERS
11/12/1993 FIDUCIARIA MOSSFON, S.A. (en español) o MOSSFON TRUST CORPORATION (en inglés) Connected to 1 intermediary  Incorporated: 12-NOV-1993  ACTIVE
The Kryder Recorded Trust F.S. 58070 expired 12-NOV-1993, according to its rules. The corpus and interest was never distributed to all the legal heirs.
Is the Fort Wayne Moss-Evans Trust, originally named The Charitable Trust of James Irwin Evans (an associate and Standard Building contemporary of the Frank Kryder family), but re-named Moss-Evans late in time by Fort Wayne lawyers, related to Moss-Fon?
EXPLAINING FORT WAYNE

10/12/2017 BOTANICALLY, A GRAPE IS A BERRY
"I have read His fiery gospel writ in rows of burnished steel!
As ye deal with my condemners, so with you My grace shall deal!"
As promised in the upper left column, the Will is now being written about in real Time, us having all examined the hundreds of arrangements of time lines and so forth describing that portion of the Will which was that of Clarence Frank Kryder, which part Berry Street has concealed much too long, and those portions of other Wills, Patents and Grants which Berry obfuscates, failing to heed or even humble themselves to the physical consequence of OBSTRUCTED INTENT.
All Wills of the righteous come under the umbrella policy of the world's most powerful insuror- the one which keeps its promises according to the original Will.
I might have made an entry or two earlier, about Houston and Minnie's Funeral records, or Cudjoe Key, where two Fort Wayne shaded estates crossed paths, but I held back, 'til now.
Rums of Puerto Rico has washed away. (see Restaurants of Puerto Rico 1961 written by Kay Daniel Picot aka Katherine Ann Kryder, available on Amazon). Former things which made me sick, daiquiris, Hefner, Hollywood shame, sucked into a vortex lined with the pleas of dirty old men and cigarette butts, are dissolving like old nylon in a Kenmore.
The vineyards are burned to the ground. Nothing to swill in the Baccarat! Ah, sinful nation! Alas for you lawyers!
This is the foretold trampling, ye Berry Beagles. Come clean! Or are you willing to take a chance none of this has anything to do with you, thwarters of truth, art and nature for counted generations, every hair upon every head counted? Will you stand by idly mute till San Francisco and the City of Angels fall ? How many more must suffer for your dark deeds and dank bank charters?
This is your Vintage. Consider each drop of gall you have served a century and a half of Allen orphans, widows, and feeble-minded defectives, not to mention the heirs of Frank Kryder, when the Cup passes to you.
8/1/2017 OBSTRUCTED INTENT: Granny and the Poor Farm
Hal Roach dressed Granny in Minnie Kryder's make-up (see 1935 photo below left column) in an episode of Li'l Rascals. Granny was being sent to the Poor Farm by her step son-in-law who concealed her fortune in old shares of Imperial Steel he told her were worthless. The Gang had to rescue Granny from this terrible fate, as she was their best playmate, and Stymie, whose Pappy was always in jail, showed her the truth through the lens of a goldfish bowl. Granny was loaded- $150,000.
In 1960 when Minnie Kryder died, Frank, Jr. used the same 1935 photo, with Katherine cropped, for Minnie's newspaper obituary. It wasn't as if he chose her most flattering picture, but to me it is the dearest in existence, along with the photo of Frank Sr, holding Katherine. These and Minnie's original signature in Katherine's Baby Book are all I have.
Because in 1963 Fort Wayne lawyers, bankers, securities traders, and auditors sent Katherine's precious Granny to the Poor Farm, on totally bogus paper, and proceeded to ravage the lives of orphans they never knew, in terrible ways, while obstructing the intent of Clarence Frank, Minnie V., and Frank H. Kryder for their lineal descendants, that we might have security and sustain good and proper careers and enterprises in the paths of our forefathers.
For the bitter sacrifices the senior Kryders bore throughout the Great Depression and world wars, in a lost dream of completing the beautiful city planned by creative genius and high-minded men of yore, their children were robbed on Berry Street, and the children of others had the Kryders' Day. That is an example of Obstructed Intent.
Other examples of Obstructed Intent are The Hoover Dam and the Lake Okeechobee levee in Central Florida, and the Cedarville Reservoir, those dogs. Oh I have the whole story as to how such environmentally insensitive junk is tied through the Barnett Bankers to the basic Continental Illinois/Lincoln organization, aka Wells Fargo and Bank of America, Morgan, Chase, and Fleming, one and the same under the covers. When you track a large pool of missing assets for twenty-five years you learn a thing or two. Because, ho ho ho ho ho, we're Farmers!
Now has come a new book by Pulitzer Prize winning author Jessie Eisinger. My girlfriends in the Pemiscot County Step Hens Dance Team over near Carruthersville are having a good cackle over the title, The Chickenshit Club. In the first place Pemiscot means "liquid mud" in native language, which just gets our imaginations going when we think what that book is about.
There are many of the Eisinger-type "revolving doors" in Fort Wayne which have existed since before the formal incorporation of Allen County. Forget history. Let's live for now. One revolver is North American Van Lines to Allen County Treasurer to Indiana State Treasurer.
But we won't get boring with exact details of things. This is the age of surfactants. The question is, how long can the tensile strength of an un-natural obstruction hold back the Will of Nature?
I do not want to go to the Poor Farm. This is not what was intended. I started selling loomed potholders at age six, became highly educated, and have toiled ever since, falling lower and lower down the ladder each decade till now. Things just couldn't be more wrong. Kryder's children are penniless renters low on food. Hopefully Honesty is a Policy that pays off when you really need it, since it kills your career these days, a Policy to balance today's aggressing financial products built on ill-gotten gain.
Berry has become arrogant, disavowing Who is mightiest in Land, Air, and Sea and claiming it as their empire. They are my Goldfishfinger. They have done this thing in The City of Churches, building publicly paid-for self-enriching institutions over time from the Poor Farm, The Orphan Home, to the Home for the Feeble Minded, a masterwork of architecture from without, a bare institution within. These great things were built by contractors who were the officers of Fort Wayne National Bank etc. This is the money, along with Indian robbing, fraud, bankruptcy, and war which has obstructed a mighty intent.
Somewhere, obstructed, swirling in stemmed and surging tides, is that large fraction of my life which against the Will was estopped, Stymied, if you will. And with it is mingled a noble community plan of the once upon a time Fort Wayne Board of Realtors. An intention for Fort Wayne is Stymied, too. Lawyers controlling Allen County's famous biggie-sized Charitable Trusts and Estates perpetrate a revised version of a well-planned city, founded on Obstructed Intention. This has been going on a long time. A noble man works, builds and constructs something to leave his town, like its own electric company, and after he is dead his wishes are ignored, his trustees pass his property amongst themselves. The name of the Trustor's original Trust might even be changed decades after death, or left without successsor co-trustees.
Ironically, on 2/25/1999 an Imperial Steel Corporation was formed in Elkhart, IN where my North American half-cousin son of James Bond lives.
On 2/25/1999 Homeowners Loan Corp. formed in Little Rock, AR. Is this a clue? What happened to the Homeowners Loan Corporation Bonds for Waynedale Gardens Second Addition is another big question. Well, not to me- but the issuer of the bonds won't answer it.
and other stuff like 'at.
continued...
7/17/2017- PAY-SON. Me TONTO, You Pay SON, Berry Street
On 7/17/1942, 75 years ago, F.H. Kryder, the only child and son of Frank Kryder, Sr., aka C.F. Kryder and Minnie V. Disler Kryder, applied for a Social Security Number on the same day that the FDIC incorporated an active field office in Indianapolis, IN which was still active on Knue Road when the Frank H. Kryder Estate was opened in 1995.
On 7/17/1942 Frank Jr. was then 47 years old. His parents never had tax payer identification numbers. Nothing strange about that for the pre and post-war major developers of family housing in Wayne Township.
On 7/17/2017, 9 persons were swept away in a river of mud and ash in the Tonto National Forest, 18 miles from Payson, Arizona. Tonto Creek runs through the Hellsgate Wilderness Area ending in Theodore Roosevelt Lake. Kind of like Re-Maxfield and Rob Morrow living in Devil's Hollow in Fort Wayne while Heavensgate swept though Ewing's California Rancho Santa Morgan LeFay neighborhood. Erin for Katherine, Bernie, and don't you forget it.
We return to the pediment of the magnificently restored Allen County Courthouse on Berry which the officers of the court and law in Allen County might take the time to read once and a while.
The Word is with you know who and the Great Spirit controls the weather. Read it here, proven chronicles of real Time, as the reins of Conclusion to the heinous injustices to the orphans and widows of Allen County are taken over by that which is greater than that in which Berry Street has put its trust.
I am the blood that never forgets. I knew the story before I was born. Frank, Jr. and I are partners. Born a dyed-in-the-wool Methodist, uncorrupted by Moorhead Episcopalianism, I already know Frank, Sr. wins in the end.
Pay Son.

2/28/2017 "Those who betray a man's Trust are no better than common criminals." - The Lone Ranger

2/2/2017 A Systematic Demonstration Using the American Bankers Association Numerical System with Taxpayer ID Numbers of How the Concealed Estates of Minnie Kryder 14518 and of Jean Baptiste de Richardville 14627 Assisted Donald J. Trump for President ** *** 9578
The essentials of underground banking, such as takes place with Old National 7119, liquidated 1930, are the identifiction numbers of assets as they exist on the Trust Company books, which include ABA post office, bank and trust company identification numbers, the last four digits of Trustor taxpayer numbers, Birth Certificate Numbers, FDIC accounts assigned to a particuar bank, Federal Reserve RSSID numbers, and any official number on a concealed asset stamped by a Superior Court, such as Probates, Deeds, Trusts, and Mortgages. All such numbers are used in underground banking to namelessly fence or move about concealed, or off-the-radar dough, to avoid detection by anyone, especially by the Department of Justice which has the ability to bring down this whole House of Cards.
In this demonstration the sequence of numerical identifiers are:
14518 (Superior Court) Estate of Minnie V. Kryder, Allen County, Indiana (concealed) Fort Wayne, Allen County , Indiana
14627 (Superior Court) Estate of Jean Baptiste de Richardville, Fort Wayne, Allen County, Civil Chief of the Miami Tribe
3612 Frank H. Kryder as Taxpayer on Estate of Minnie V. Kryder (concealed) Fort Wayne, Allen County , Indiana
2812 Fort Wayne National Corporation as holder of untaxed assets of 3612 Fort Wayne, Allen County , Indiana
9519 Raytheon, Fort Wayne Indiana as receiver of untaxed interest of 3612 through
7119 defunct Old National Bank, Fort Wayne, Indiana
9578 Donald J. Trump for President Taxpayer as receiver of 14518 untaxed interest
8887 The Trump Corporation as receiver of 14627 untaxed interest, New York
5231 Boston Safe Deposit and Trust Compangy as Mortgagee of Mar-a- Lago
3231 Deed indicating the Plat of Kryder's Addition was paid for "Gold Coin in Hand" by C.F. and Minnie V. Kryder
59 Hawaii ABA Regional ID- Taking of Lands, began 1983
50 New York ABA Regional ID
109 Federal Reserve Prefix for German American Bank, Continental Illinois (Bank of America) and a designated Florida State Record of Birth File on those Certificates belonging to devisees of interest from the corresponding F.R. Identified Banks or Trust or Finance Company
For Your Eyes Only
Immediately we note that 13 identification numbers exist in this particular rotation of "goodies," 12 Reserve Banks + 1, or Frank, the 13th Bank. At a glance, or under scrutiny, in conjunction with one another these idenifications mean nothing to anyone on the books who does not know the historical origin. Likely, the bookkeeper does not put two and two together when it comes to identities linked from 1846 (Richardville) to the Present. But the Big Cheese know their numbers and who is who, just as I have come to, in the process of tracking and understanding the disappearance of the Kryder tax-exempt securities, part of a huge dominating and influential financial pool which is not only off-the-radar, but too big to exist.
Note that in the 1911 American Bankers Key, the United States was divided into regions 1-99 with two numbers in reserve, 59 and 89 for the future Alaska and Hawaii. Hawaii became banking region 59 and was granted statehood 8/21/1959.
1.

14518 Estate of Minnie Kryder
-9578 Donald J. Trump for President
=4940
2. ( an intermingled unseen step)
8887 The Trump Corporation, New York
+4940
=13827
3.

14627 Estate of Jean Baptiste de Richardville
-13847
= 800
4. 3612 Frank H. Kryder as Taxpayer on Estate of Minnie V. Kryder
-2812 Fort Wayne National Corporation as holder of untaxed 3612
= 800
5. Three Holders Q.E.D. : 800 x 3 =2400
6. 9519 Raytheon, Fort Wayne Indiana as receiver of untaxed interest of 3612 through
-7119 defunct Old National Bank, Fort Wayne, Indiana
=2400
7. 5231 Boston Safe Deposit and Trust (ABA ID)
-3231 Gold Coin Deed for land replatted as Kryders Addition
=2000
8. 9578 Donald J. Trump for President
-8887 The Trump Corporation, New York
=400 +2000= 2400

9. 14627 Estate of Jean Baptiste de Richardville
-14518 Estate of Minnie Kryder
= 109
10. 50 New York ABA ID
+59 Hawaii ABA ID
=109 Federal Reserve Prefix for German American Bank, Continental Illinois (Bank of America)
11. 9578 Donald J. Trump for President
-9519 Raytheon, Fort Wayne Indiana
=59 Hawaii ABA Regional ID
12.14518 Estate of Minnie V. Kryder
-5231 Boston Safe Deposit and Trust
=9469 (Unseen intermediate)
13. 9519 Raytheon taxpayer
-9469 (Minnie-Boston Safe)
=50
50 +59 =109
Summary and Analysis continued:
1/22/2017 Not One of the Berry Cluster?
One thing for certain is that men love to build towers, rightly called erections, in the building business.
Since the American Bankers Association numbers are all in stone, and the Federal Reserve, or original "Erie-35" Partners can't erase their path once found, and since no one is giving back Frank Kryder's securities until the end of time, it may be useful to pause and wonder, since Pence, a "poor" Indianan teamed up DT, is Trump and his Towers in sync with the Lincoln Organization Towers (or SAFECO Towers), or has he always been an outsider now planning a showdown with the real establishment? Is he tight with Chicago and Indianapolis, or was he just showing off in Gary, rebuilding that land of carnage with a beauty pageant?
continued...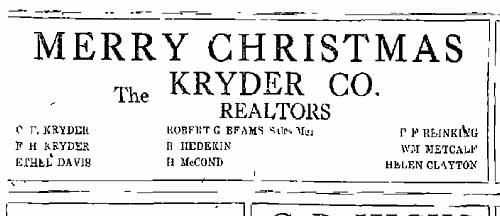 Fort Wayne Journal Gazette December 22, 1923
Merry Christmas from The KRYDER CO. REALTORS: C.F. Kryder, F.H. Kryder, Ethel Davis, Robert G. Beams, Sales Manager, B. Hedekin, McCond, F.F. Reinking, William Metcalf, and Helen Clayton.
To all who rob the children of Clarence Frank and Minnie Kryder, and their only lineal descendants to whom all rightfully, legally, and equitably belongs now and forever, God Rest Ye Berry Gentlemen.
11/8/2016 Frank and The Miami National Bank of Oklahoma
What with all the earthquakes and so forth, and the fact that Colonial Mortgage securities of the Colonial Pipeline Mortgage Bonds granted the mortgage to the buyer of Minnie Kryder's house when her estate closed, which mortgage was in a Trust for the generational heirs of C.Frank and Minnie V. Kryder, I will detail now the relationship of Frank Kryder, Prescott Bush, and The Miami National Bank of Oklahoma, FDIC #4148, with special concern for the deported portion of the Miami Tribe of Northern Indiana and what happened to their patents in reality.
First we know that C.Frank Kryder was half-breed and his mother was a chief's daughter whose genealogical records were destroyed. She married Harrison W. Kryder who was given her land and assets to control since Indians were not allowed in the 19th Century to control their own property. Some of this was Cedarville, and C.Frank Kryder and Minnie lived on the site of Metea's Village for a time before moving to Fort Wayne for real estating. Originally the homestead was sited on the confluence of the St. Joseph's Branch of the Maumee River and Cedar Creek. This plat has been completely altered on the maps now for the building of the Cedarville Reservoir, now leased to Slentz Grainary, likely for 99 years, till the heirs of C. Frank and Minnie are dead.
Harrison and his squaw had several children, and she died in 1879 when they were minors. What C. Frank's brothers did with their portion, besides hide the squaw's picture away, makes no never mind to me. But C. Frank, my great-grandfather, combined his stakehold with capital of his wife, Minnie V. Disler, and with a small tribe named Brotherton. Clarence Frank was a mover and shaker both in Blackford County and Adams County, gathering his gentleman farmer friends into a National Farm Loan Association, and in the Fort Wayne community of town builders, dreamed of a developing a happy city for families, just like a full-blooded white man.
Despite the deliberate burying and destruction of records, the numerical evidence that Harrison's squaw was a descendant of the Turtle family is mounting. Metea, whose village was Cedarville, or then, Hamilton, after the Indian swindler, Allen Hamilton, was the son of Pacan, Tacumweh's and Little Turtle's brother, children of The Turtle. Pacan was Miami, but Metea was chief of the Pottawatomie, so in the lost record, this would have occured by Pacan siring Metea with a Pottawatomie woman through whom he would have attained chiefdom.
Jean Baptiste de Richardville, the Civil Chief of the Miami in Fort Wayne, was himself half-breed. Tacumweh, his mother, was considered one of the most astute business women the Northwest Territory according to the passages she controlled, necessary to fur traders and loggers. Her marriage to a Canadian trader was a disaster and Richardville, Sr. beat her up then tried to gain both her lands and those of Pacan in court. Richardville, Sr., lost, the lands were restored. Tacumweh nevertheless was responsible for her son Jean de Baptiste to be appointed Civil Chief of the Miami through her bloodline.
It is a blatant lie they tell in Ft Wayne that Richardville was the richest Chief in the United States, with an estate of about $500,000. The estate of Little Turtle, who died in 1812, Allen County, was far richer. His estate was somewhere in the range of $16 million in private wealth which went off the books in Philadelphia and Boston. His direct descendants did not inherit.
The Tribes of Indiana were plastered with interference and propaganda over the issue of deportation, and this is the real way things went down. In Allen County, as much "private" Indian wealth was socked away in the financial institutions, no way Straus Brothers, the pre-Lincoln Trust, et al. were going to let this dough leave their clutches. Natives with private wealth were not deported. They had to marry white spouses to benefit from it, though having money in the Trust Company was dispensation enough.
So, if you were Native and in a Fort Wayne Trust Company, you got to stay. Otherwise, you were torn from your front porch and sent first to a tract in Kansas which was decided to be too valuable, so the Miami were again moved to Oklahoma with their 302 picayune allotments of 200 acres each.
Numbermatics allows us to see behind the curtains with another fantastic example of Frank #3612, the 13th Bank, exposing Prescott Sheldon Bush #5964, and his grave robbers, sequestering hidden Native American Wealth which the Bushmen, not the Natives, enjoy generation after generation. That is why it is called a "gene" + "ration."
A little Indiana chronology of 1832, the founding year of Skull & Bones:

1832 The First Allen County Courthouse was built in the public square.

1832 Large Pottawatomie cessions at Camp Tippencanoe in October, 1832, allowed large sums to be paid FOREVER.

1832 The Wabash and Erie Canal extension in Indiana was begun, with Jesse L. Williams, Fort Wayne chief engineer, though he was not an engineer, and Allen Hamilton in charge of the patents obtained from disenfranchised Indians and half-breeds.
1832 Dupont Incorporated in Indiana with 840,000 shares. Behind shills, Dupont mined the 1,920 acre Richardville Reserve, for those who have heard of Indiana Limestone.
1832 Judges Samuel Hanna, (along with James Barnett, Allen Hamilton and Francis Comparet) were the state of Indiana's financial agents for the construction of the old Wabash and Erie Canal. Samuel Hanna and Jesse Williams were Union Pacific Railroad grantees (Richard B. Cheney, Audit Committee, 1998) ;
Barnett was an ancestor of Frank Kryder's lawyers and the Barnett undertaking and banking family. Example, Bertha Romy and Minnie Disler were women "capitalists." Their family relationships trace back through Ohio to Pennsylvania to Switzerland. C. Frank and Minnie Kryder built their own town residence and purchased several others in R.L. Romy's Subdivision of Hanna's Park Outlots. In platting neighborhoods for Fort Wayne, land tended to be sold in large parcels owned by Judges such as Hanna, Simon, and Hough, all who sold the Kryders land which was replatted.
(The canal project swindled Indians and white settlers without prejudice, bankrupted the entire state, became obsolete before it was partially complete, and then was taken over by Norfolk & Western which became bankrupt, reviving as a Fleming-Harriman railroad in 1901. In 1901 Phoenix Assurance was incorporated, which became the same Swiss Re which purchased Lincoln Re, insuror of the World Trade Center Towers, 9/10/2001).
The assets of Skull and Bones were managed by the Russell Trust which incorpated in 1856. Connecticut banking state 51- arranged for the Trust to be exempt from corporate filings.
In 1856 in Allen County, the Richardville Estate was cast into a twisted Probate, one daughter's land switched for another's whose land was annexed to the desirable Reserve being mined.
In 1856 the Columbus and Lake Erie RR foreclosed. See below for the connection of Reserve City Columbus, Ohio to Connecticut.
The following Numbermatics Chart will be reference for the important arithmetic to follow. I am using Numbermatics because these are the properties of numbers that banking, insurance, and issuers of gold mortgage bonds systematized, before the United States. Against us only is their veiled system of cloning themselves into financial giants, essentially by paying off long term pyramided debt between banks with plunder. The American Bankers Association created the Ponzi to end all Ponzis! This is not the concept of Washington or Lincoln, where out of the bounty, all who worked hard would prosper.
The Systematics I do not go into in full, because I need a way to show what is trending here in a concise manner, supported with the historical scenario.
Assets and tax payers are numbered by the ABA and Federal Reserve, by the U.S. Treasury, and in Deeds and Trusts. Every number has a total number of Divisors (D), and a number of Proper Divisors (PD). Total Divisors includes the number itself, so Total D relationships can be used to identify a clone system. PD are to be thought of Holders of the Number. Abundances and Deficiencies zero out each other when two Entities are one, though the second is veiled.
Entity
Asset Number
Divisors/Proper Divisors
Sum All D
Sum PD
Abundance Deficiency
Wells Fargo
3511
2(1)
3513

3512

-3510

Connecticut ABA
51
4(3)

72

21

-30

Federal Reserve
12
6(5)
28
16
4
U.S. Treasury DC
1551
8(7)
2304
753

-798

Skull and Bones
322
8(7)
576
254

-68

3512 + 636 = 4148
Miami National Bank of Ok
4148
12(11)

7812

3664

-484

Frank Extra SSN
636
12(11)
1512
876
240
Union Pacific, Cheney 1998
1323
12(11)
2280
957
366
Kryder Gold Bond
8262
12(11)
19656
11394

3132

Federal Reserve Branches
300
18(17)
868
568

268

Frank 3612 (-12=3600)
3612

24

(23)
9856
6244

2632

Prescott S. Bush
5964

24

(23)
16128

10164

4200
2400
2400
36

(35)

7812

5412

3012
I have separated 2400 because I began this series with a number of arithmetic problems using taxpayer numbers and mortgages and so forth of the Kryders and their contemporaries which equal 2400. There are many of these problems which explain more in depth the estate and its holders.
First to note that 2400 has 35 PD or Holders, like the 35 Partners of the Wabash and Erie extension.The Miami National Bank of Ok 4148 has 11 PD and like 2400, the sum of all its divisors equals 7812.
Do we see a 3511 here? Do we see the ABA gave the U.S. Treasury Office Washington, DC Reserve City 15-51, where 51- was assigned to Connecticut?
7812 - 3612 Frank = 5964 Prescott Bush Abundance, 4200.
(Both Frank and Prescott have 24 Holders)
Now this one is hilarious:
Wells Fargo, according to the FDIC has 6222 domestic branches in 42 states.
The sum of PD for Frank is 6244. 6244- 6222 Wells Fargo Branches = 22.
Skull and Bones 322 -22 = 300 Branches of the Federal Reserve.
break
11/1/2016 The End of "America's Happiest City- Fort Wayne, Indiana" - Look Magazine, 1950
On 11/1/1950, Kenneth W. Maxfield began his career with North American Van Lines, so it was written by the Greater Fort Wayne Hall of Achievement.
On 11/1/1950 North American Properties,Inc. was incorporated as a 40-year corporation. It expired coincidentally with the unification of Germany in 1990.
On 11/1/1950 The Kryder Company, Inc. Trust Agreement F.S. 58070, Recorded 10/15/1943 in Allen County, Indiana, was re-recorded without change in Superior Court Document 26171. Clarence Frank had died that April. (26171 is a Prime Number, so I will add it below to the Numbermatics Table of Prime Assets)
11/1/1950 General Mortgage of Atlas Pipeline Corp due, interest paid to The Pennsylvania Company for Insurances on Lives and Granting Annuities; first mortgage was issued in 1935.
On 11/1/1950 The Home Insurance Co. of Florida commenced business
On 11/1/1950 FLORIDA KOOLERKOIL CORPORATION 163289 Filed
On 11/1/1950 SOUTHERN PHARMACAL CO 163290 Filed
On 11/1/1950 SOUTH STATE INVESTMENT SECURITIES CORPORATION 163296 Filed
On 11/1/1950 GULF COAST METAL PRODUCTS INC 163299 Filed 11/01/1950 DISSOLVED 04/30/1955
On 11/1/1950 TROPICAL GABLES CORP 163301 Filed 1538 DUPONT BLDG. MIAMI FL
On 11/1/1950 Kaiser Steel Issued first series bonds due 11/1/1970 Bank of America, San Francisco, Tr.
On 11/1/1950 Kaiser Steel Issued second series bonds due 11/1/1970, all held privately.
The end. Now, let's start at the very beginning.
.....
On 1/11/1884 THE QUAKER ORANGE COMPANY ARCHER FL 000253
On 11/1/1892 THE FIRST NATIONAL MINING COMPANY Charter Number: 00006653Creation Date: 11/1/1892 State of Business.: MO Expiration Date: 11/01/1942
On 11/1/1893 Minerva Viola Disler and Clarence Frank Kryder were married in Allen County, Indiana.
On 11/1/1893 The Garrett State Bank 120 WEST KING STREET GARRETT , IN 46738 DeKalb County Certificate #: 8074
On 11/1/1897 A mortgage was given by the Chicago & Northwesten railway company to the United States Trust company, of New York, and John A. Stewart, trustee. It amounts to $165,000,000.
On 11/1/1910 The Royal Bank of Canada acquired Union Bank of Halifax, Halifax
1910 The beginning of the Lincoln Trust Company, merged into Lincoln National Bank and Trust (German American National Bank and Trust) with Straus Brothers Commercial Bank and Trust in 1928.
On 11/1/1916 THE FIRST TRUST & SAVINGS BANK OF CANTON 43819 Nov 01 1916 Canton Stark Ohio ;
On 11/1/1923 THE NATIONAL CITY BANK BUILDING COMPANY 105129 Cleveland Cuyahoga Ohio
On 11/1/1928 Were issued Mortgage Bonds of Ruhr Housing Corp., Dortmund, Germany, due 11/1/1958
On 11/1/1928 File Number: 0245522 11/01/1928 TEXACO-CITIES SERVICE PIPE LINE COMPANY
On 11/1/1929 SOUTHLAND CITRUS FRUIT COMPANY Number 121085 Filed 11/01/1929 State FL
(Farm Loan Bonds always become due 11/1/ any year, according to issue)
On 11/1/1929 11/01/1929 MID Disbanded November 1, 1929, after Secretary of State Henry Stimson withdrew State Department funding of the activity

On 11/1/1931 Issue of Farm Loan Bonds due 11/1/1951.
On 11/1/1933 FLORIDA ORANGE GROVE OWNERS CORPORATION Entity No. 125501 Filing Date 11/01/1933 100 LACLEDE ST PITTSBURGH Pennsylvania
On 11/1/1935 ATLAS HOLDING CORPORATION : PO BOX 210 1300 BROADWAY , GARY, IN 46401Atlas first mortgage, due 11/01/195
On 11/1/1937 Federal Land Bank Bonds due 11/1/1957 and 5/1/1955.
On 11/1/1937 SHAMROCK CO INC Entity No. 325837 204 W CHERRY ST SHENANDOAH Pennsylvania USA County Schuylkill
On 1/11/1938 (INDIANA LUMBERMENS MUTUAL INSURANCE COMPANY (INSURANCE COMPANY) Officers PO BOX 68600 INDIANAPOLIS, IN 46268 ACTIVE
On 11/1/1938 LOUISVILLE AND NASHVILLE RAILROAD COMPANY Officers 500 WATER ST JACKSONVILLE, FL 32202 MERGED; KENTUCKY, MERGED
On 11/1/1941 11/01/1941 Navistar, Inc. incorporated in Illinois
On 11/1/1942 expired THE FIRST NATIONAL MINING COMPANY Charter Number: 00006653Creation Date: 11/1/1892 State of Business.: MO Expiration Date: 11/01/1942; a 50 year Corporation
On 11/1/1943 The 40 year first mortgage bonds of the Philadelphia, Baltimore, and Washington Railroad Company, Pennsylvania Railroad System became due, $10,000,000
On 11/1/1945 11/01/1945 Allied Insurance A.O.I.
On 11/1/1954 FLORIDA GAS TRANSMISSION COMPANY 1331 LAMAR ST, SUITE 650 HOUSTON TX 77010-1331 Number 810061 FEI Number 590808672 Filed DE Status ACTIVE NAME CHANGE 03/23/1962 OLD NAME WAS : HOUSTON TEXAS GAS AND OIL CORPORATION
On 11/1/1955 SOUTHLAND OIL COMPANY Number 188735 Filed 11/01/1955 State FL
On 11/1/1957 LAKE SEBRING DEVELOPMENT COMPANY INC Number 207235 Filed
On 11/1/1958 Mortgage Bonds of Ruhr Housing Corp., Dortmund, Germany became due.
On 11/1/1959 Norfolk & Western Ry Co. acquired Indiana Northern Ry Co
On 11/1/1960 BOSTON TRUST & INVESTMENT MANAGEMENT COMPANY: UNITED STATES TRUST COMPANY on 10/2/2003 The name was changed from: BARCLAY BANK AND TRUST COMPANY OF BOSTON on 12/31/1971 The name was changed from: BRIGHTON BANK & TRUST COMPANY on 11/16/1967 Identification Number: 042273811 Date of Organization in Massachusetts: 11/01/1960: ONE BEACON STREET: BOSTON State: MA Zip: 02108
On 11/1/1961 Church Bonds issued: "Anderson Herald 6/16/1962 EXECUTIVE CHURCH BONDS, Inc. Announces That after floating a $30,000.00 Bond issue for the First Free Will Baptist Church, Anderson, Indiana, they have a few $1,000.00, $250.00 and $100.00 Bonds left. SERIES "A" BONDS FROM 1 - 14i YEARS PAY 6% INTEREST interest Paying Dates Nov. 1 and May 1 All Bonds dated 1
On 11/1/1962 The Denver & Rio Grande RR equipment lease became due in principal ; Salt Lake & Salt Lake Western RR merged with Denver & Rio Grande = Robert Fleming + Harriman Union Pacific.
On 11/1/1964 PEPSI COLA BOTTLING CO OF FLORIDA INC Filed 11/01/1964
On 11/1/1966 11/01/1966 Articles of Merger Certificate Issued for May Stores Shopping Centers and A-M & F Realty, an Oregon Corporation
On 11/1/1969 Lincoln Tower Corp., formerly Satisfactory Finance Company, acquired the assets of Lincoln National Bank and Trust, Fort Wayne.
On 11/1/1970 11/1/1950 Kaiser Steel Issued first series bonds due 11/1/1970 Bank of America, San Francisco, Tr.
On 11/1/1970 11/1/1950 Kaiser Steel Issued second series bonds due 11/1/1970, all held privately.
On 11/1/1975 The Norfolk & Western Ry Co took possession of the Wabash Ry Co. Note here the NWRy took over the bankrupted Wabash and Erie Canal project of the Original 35 Erie Partners (EP) in the 19th century and was then bankrupted twice before coming under control of Michael Valentine Fleming.
(1975- End of Lincoln Trust Company- see 1910 beginning)
On 11/1/1989 KRUPP GOVERNMENT INCOME TRUST incorporated 470 ATLANTIC AVENUE : BOSTON State: MA Zip: Country: US
On 11/1/1995 Registered in MA: FORT WAYNE RISK MANAGEMENT SERVICES, INC The name was changed from: LINCOLN RE RISK MANAGEMENT SERVICES, INC. on 8/15/2006 The name was changed from: UNDERWRITERS & MANAGEMENT SERV on 2/9/2000 Identification Number: 351571900 Date of Registration in Massachusetts: 11/01/1995 Nov 1 1995 1700 MAGNAVOX WAY, P. O.B OX 7808 City or Town: FORT WAYNE State: IN Zip: 46801 Country: USA
On 11/1/2001 TRANSTAR CAPITAL VENTURES, LLC Officers #450, 3333 PEACHTREE RD. NE ATLANTA, GA 30326 ACTIVE/COMPLIANCE 11/01/2001
K?
10/31/2016 Minnie Ha- Ha
"there are 1, 2, 3, 4, 5, 6 pockets in a Pool Table-" Harold Hill, The Music Man, 1962
And these add up to Black Jack, 21.
There are 6 Divisors of 12 Federal Reserve Banks including Itself (12). There are 5 Proper Divisors. In the Federal Reserve System, 12 Banks created 5 square branches, for a total of 300 Branches + 12 Banks.
We call it Maze- They call it The Federal Reserve "System." Like the American Bankers Association Numerical System, there were contemporaneously The Flagler System, The Key System (toll bridges and rails of San Francisco and stuff like 'at), The Pennsylvania Railroad System, The Seaboard System Railroad, The Chessie System, The New York Central System. Bankers and Railroads- because railroads made Gold Mortgage Bonds of the proper length to accommodate a bankruptcy and strip off common stockholders before bonds become due.
In 1933 there was The Farm Credit System Act.
Today's representatives of the same financial pools have modernized their nomenclature by dropping the "The" and becoming "systems," such as Raytheon Systems, Magnavox Defense Electronics Systems, Carlyle Mangement Group Systems, Agricultural Financial Systems (Norfolk Southern Corporation) and so on.
My intelligence and vocational testing indicated a knack for systematy; ultimately I was trained as a bio-systematist. Numerical systems are much easier to rank and classify than natural systems.
Fig. 1 Referencing text below.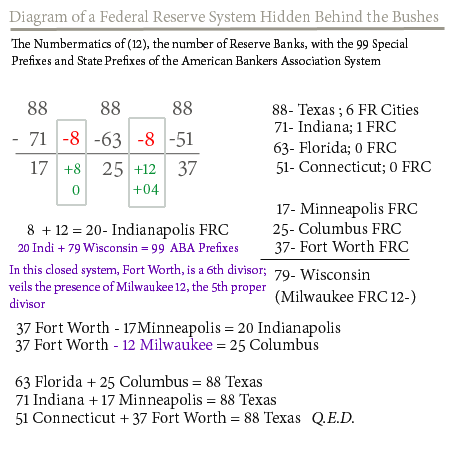 How should the FBI allocate its resources? To find a glitch in a political campaign, or to halt a massive crime against purchasers of guaranteed by the United States government Federal Special Tax Condition securities? Is the integrity of the U.S. Treasury less important than ferreting out the indiscretions of what we already know to be an immoral Washington, DC culture, steeped in inuendo?
What difference does anything make in politics when our banking system runs the government by stealth, crushing the life out of citizens with theft and fraud, which seems to go unrecognized as an ongoing Racket as it gets worse with every hit on the frayed middle class?
While the Department of Justice uses up thousands of employees to examine e-mails, like a Little Red Hen I have toiled 25 years of my life over eye-crossing mazes to find the Proverbial Needle-in-the-Haystack- the heart of U.S. bank fraud by banks, and, I have nailed it with the numbered gold bonds, federal securities, and trusts of Minnie V. Kryder, and her son Frank, my grandfather.
Why is this precious information not begged for- why am I not a paid agent? I live at poverty level, though I have a Master's Degree in Marine Science. I can do much more than thousands of agents, Secret Service or FBI, because I have the plain in your face facts after focusing my data on one investigation for a quarter of a century.
A bonafide forensic accountant can take my work and blow the lid off the cycle of the next mysterious financial debacle that will be treated with a slap and a fine while families are thrust into agony, if not ruined for generations to come. With the truth told, bank-looting of the American people, robbing American heirs, and American financial terrorism can be halted in its crooked track. It does not matter who is in government or who is in the Supreme Court when banks are the Tyrant over all. The Law can stop this. The Secret Service could stop it; The DOJ could stop it; Congress could stop it. So why don't they? Is it because they all have a vested interest, or because they know we are too distracted with just trying to survive, to ask the question, "What the Hell?"
Yesterday's sermon was a reminder that those who see wrong and do nothing are not much better than perps. Looking silently on, withholding information, turning a blind eye- this way of life damages countless innocents. Robbing widows and orphans, perverting justice in the courts, truth stumbling in the market place- people of Fort Wayne, this is some real tidewater you is drinking. And those nested high in the tower thinking you are fortressed, the profits are against you.
Frank is the 13th Bank and now I am able to put in arithmetic what this means.
With so many numerical ways to state a Truth, isn't it lucky I have my own family Numbers which are embroiled in a Scheme. That makes what the American Bankers Association and Fort Wayne banks, trust companies, and officers of the court have done, and what law enforcement hasn't done, my unfinished family business.
Consider above Figure 1.
For (63-) is the state of my Birth Certificate which I have shown to be used somehow like an asset of Fort Wayne National Bank Realty and Fort Wayne National Corporation (holder of Exchange Bank 71706). 63- is the state where two of Frank's daughters lived at the time of Clarence's, Minnie's, and Frank's deaths, and so did I live there.
(71-) is Indiana, (20-) Indianapolis, a Reserve City. Note here that federal securities have to be exchanged through Federal Reserve Banks.
20 is the difference between (71-) Indiana and (51-) Connecticut, Senator Prescott Bush's state. That is the same Prescott Bush who in 1942 (when Frank was, at age 47, assigned taxpayer ID 3612 the day the FDIC incorporated in Indiana) was caught Trading with the Enemy, while working at Brown Brothers & Harriman.
20 is the difference between (17-) Minneapolis Reserve City and (37- )Fort Worth Reserve City.
2 is the difference between (37-) Fort Worth and (35-) Houston.
The 12 banks of the Federal Reserve can be expressed as 10 + 2
20 can be expressed as 10 x 2.
2 is the only even Prime Number. It has a deficiency of -1.
2 x (-1) = -2 + 2 = 0.
In Figure 1. we see 10 x2 twice in the closed system, and one veiled bank, behind the curtains of Numbermatics, Milwaukee( 12-). Milwaukee was made a Reserve City because it was the founding place of Milwaukee Harvester which merged with Cyrus McCormick & Co. to become International Harvester.
Note that (25-) Columbus = 5 squared. The number 12 (Reserve Banks) has 5 proper divisors. Each FR bank created 25 branches to service the country in regions. 25 -12 = 13, a Prime Number which is the troll 13th Bank, or Duplicate Bank System to be accurate.
Now add the sum of ABA prefixes, from the system of 99, gives a result of subtracting Indiana, Florida, and Connecticut from (88-) Texas.
17 + 25 + 37 = 79

if we add 20 + 79 we may have 99 American Bankers Association Prefixes.
Now 100 - (the deficiency of 2) is 99.
The Federal Reserve can be represented as 3 x 10 square branches (300) + 12 (Reserve Banks) = 312
In a proposed system of 13 Federal Reserve Banks there would be 13 x25 = (325) branches + 13 = 338.
Add the banks and branches of both systems 312 + 338 = 650; 650/25 branches/bank = 26 or 2 x 13.
And consider that 12 + 13 = 25. Or, 25 Banks x 25 Branches = 625 + 25 (5 square) Banks, keepng in mind that the number twelve has 5 proper divisors and 12 is the deficiency of 13.
In this fashion we can have two duplicate Systems, one completely shadowed.
As shown previously, Frank, assigned 3612 in '42 = 3612-312 = 3300 or 33 x 10 square. That is also equal to 11 x the 300 branches of the 12 banks.
11 is a Prime Number with a deficiency of 10. 11 square=121. Minus 99 prefixes = 22 or 2 x 11.
Following is a Table of the Numbermatics of all Prime Number entities or numerals concerned with the Kryder Estate
Entity
ID Number
Divisors
Sum Proper Divisors
Deficiency
Wells Fargo (5208 Minneapolis merged)
German Am. National Bank FW
German American Trust FW
Estate of Chief Richardville
Est. Richardville- Est. Minnie 14518
First Ntl (Fort Wayne Ntl Bank)
Re-record F.S. 58070
Mtg. Principal/% Minnie's House in Trust
Howard Hughes Medical Inst. (Raytheon)
11 banks in FW in 1911
A 13 th Bank which is Frank
Allen Co Bank Leo;Failed; JPM Chase
First Ntl Columbus (Reserve City 25)
The only even prime number
3511
7127
7129
14627
109
7121
26171
5791
5717
11
13
15
17
19
20533
5393
2

2
2
2
2
2
2
2
2
2
2
2
2
2

3512
7128
7130
14628|
111
7122
26172
5792
5718
312
14
20534
5394
3

-3510




-7126




-7128


-14626
-110
-7120
-26170
-5790


-5716




-10




-12




-20532




-15392




-1
This is the first section of a Table I am constructing for 2 - 54 divisors. 54 is the most divisors I have thus far on any asset ID, which is for 99 Prefixes x 100, or 9900- an important calculation to be seen.
The next largest number of divisors is PNC, NA- the final destination of Fort Wayne National Bank. PNC, NA has 48 divisors, the original number of states in the union in 1911 when the ABA Numerical Key of 99 Prefixes was published for adoption.
The next level up is 40 divisors
Entity
ID Number
Divisors
Sum of Proper Divisors
Abundance
Tower Trust Fort Wayne
Straus Commercial Bank (UBS)
PNC, Washington DC, LLC
(13 is a Divisor) of PNC,DC
6960
7128
3481712



40
15360
14652
417408



8400
7524
692336

Yet, the government better spend our time and money checking those e-mails. Thousands of agents should be used for that.
While they do that, I'm fixin' to have me a pig roast with these numbers- starting with 8400 the abundance of Tower Trust which is 2 x 4200, 4200 being the abundance of Prescott Sheldon Bush Taxpayer ID 5964.
break
10/25/2016 3612: The Secret Agent Man
"A sad man with a moustache who always paid his newspaper subscription on time," is the last description I have of my grandfather, Frank H. Kryder, near the end of his life, between 1960-1963 when he moved into his mother Minnie Kryder's house after her death, to clear away a half-century of broken dreams and lost family. Such is the man who sacrifices for patriotism- whether life, limb, dollar, mind or heart, what one gives for "country" is not sufficient against its internal tyrants and citizen traitors. That is the final realization of patriots. Love of country does not rank near love of kin.
By now I have enough intel to be FRANK, and because I love him, I am going to finish what he and his father started, what he was used to accomplish, because his daughter, my mother, was killed for Lincoln Financial Corporation 9/17/1972, and after three generations of the Bush Family tinkering with Central Intelligence, while God knows what happened to the Secret Service, my internal chip has become activated.
We have no protective intel anymore, one hardly has to guess at that, only Wells Fargo, The FDIC, and the Carlyle Group. This is the USA, Treasury and Defense in an Azar Nuts-hell. Every protective check and balance of the righteous forefathers has been castrated, bi-furcated, blindfolded, and spun around a thousand times before being pointed in the wrong direction.
So I will be FRANK.
Frank is the 13th Bank. Frank is Old 100, or the 99 Prefixes of the ABA+ 1, the One which is Unseen.
The number 12 is the deficiency of 13, a prime number.
Wells Fargo with the Original "35 Erie Partners," or FDIC, has cloned 11 x 33 copies of the Reserve Branches, or 3300 banks, to be seen.
11 is a prime number whose deficiency is 10.
Frank 3612-3300 =312. There are 312 Federal Reserve Banks (12) each with 5 x 5 branches (300).
12 is also expressed as 10 + 2.
The ABA designed a System in 1911 of 11 x 9 = 99 prefixes to serve then 48, but ultimately 50 states.
2 x 2 = 4, or the abundance of the number 12.
The FDIC Certificate Number for WF is 3511 and for Bank of America, 3510.
3511 is a prime number. The sum of its divisors is 3512. (Remember this number for discussion of the Miami National Bank of Oklahoma #4148= 3512 + 636 Frank). The deficiency of 3511 is 3510.
These are the basic numbermatics which will show the clones, illuminated by Frank the 13th Bank. Though I should insert the numbermatics of 3300.
Like 2400 (see below, 10/11/2016), 3300 has 36 Divisors, or 35 Proper Divisors, which shall be considered the 35 Erie Partners who originally bankrupted the State of Indiana.
The sum of the Total Divisors of 2400 is 7812, the same number of Total Divisors of the Miami National Bank of Oklahoma #4148.
When we subtract Frank 3612 from 7812 we arrive at 4200, the abundance for Prescott Bush 5964. (more on this below)
There is no such thing as an actual paper FDIC Certificate which can be generated from a Master Record. I established this with FDIC lead counsel, Fred Fish, in 2008, that the Certificate Numbers are just Numbers. Makes no never mind to me who has gone back on the trail and found the earliest "number" assigned to a "Norwest" in 1934 was the 19th Century Box Number of Allen Hamilton's pilched Indian Land Patents. So don't be thinking just because the FDIC calls numbers "certificate numbers" that there is any actual certificate attached to the number. The Numbers are Asset Identifiers, which accounts are of course managed for the benefit of the stockholders of the Corporation, and to the detriment of its bondholders.
Frank's mid-life Application for a Social Security Number July 17, 1942 is dated the same date the FDIC is seen rarely filed as a foreign corporation in a state. Indiana is one of the unique States in the union whose Secretary entered the FDIC on the Master Corporation File as a foreign corporation. This was done by Secretary James Tucker. Tucker was an attorney and in 1939 became the youngest Indiana Secretary of State elected to date. So he was no flibberty-gibbet. Eight days after he entered the FDIC on the State Master File, he resigned as Secretary and joined the Navy.
If the FDIC needs an agent for service of process in each state, as a federally chartered organization, it is not required to file as a corporation or to file annual reports with states. Look about and you will see this is the case.
In 1978, Page E. Gifford, Director of Corporations Divsions in the Indiana Secretary's office, apparently argued that the FDIC Charter should be revoked for not filing Annual Reports. This generated a firm filed statement on official stationery from State Secretary Larry Conrad, which can be seen in Indiana Corporation records under the year 7/17/1942 miscellaneous filings, that in 1942 the Secretary "accommodated" the resident agent requirement by placing the FDIC on the Master Roll as a foreign corporation authorized to do business in Indiana, though it is not required to file annual reports.
How other states accommodate the FDIC Resident Agent is an amusing question.
Ohio State Corporations, for example, has no listing at all for the Federal Deposit Insurance Corporation, so how would one find the FDIC Agent for Service of Process in Ohio?
In Delaware, there is 2085103 Incorporation Date: 3/6/1986 Entity Name: FEDERAL DEPOSITORY INSURORS CORPORATION Entity Kind: Corporation Entity Type: General Residency: Domestic State: DELAWARE REGISTERED AGENT INFORMATION Name: UNASSIGNED AGENT
In Missouri the original 1951 corporation was renewed in 1978 then dissolved, but in Dick Cheney's State, Wyoming, it is filed as an active foreign for-profit corporation, exempt from annual reports but which pays a license tax.
In 1978, the Shamrock Pool of Funds, including Disney family funds which merged with Central Soya in Fort Wayne, consolidated. Tomato wages became fixed for the next almost 30 years, until slavery was discovered in the tomato fields of Immokalee, Fl.
Gifford's 1978 raising a somewhat absurd issue such as revoking the charter of the FDIC and Conrad's response created a stamped document for the Indiana Corporations Master File, filed under 7/17/1942 which calls attention to the date and the anomaly. Who in '78 was thinking of 1942, and why?
Who would ever request Frank Harry Kryder's Application for Social Security dated 7/17/1942, and why?
Let's just work a few equivalencies to demonstrate the non-coincidentality of Kryder's Addition, so to speak. (Lot 11, BTW of Hough's Outlots).
Both presidential candidates throw out the number $20,000,000,000,000 as the national debt. Numbermatically, this unfathomable number has 210 Total Divisors.
Wells Fargo 3511 cloned 11 x 300 = 3300 banks.
(the deficiency of 3511) Bank of America 3510 - 3300 = 210
Now dig this, please, because Frank is the 13th Bank.
Frank 3612 x 11 = 39732
Kryder Trust F.S. 58070 - 39732 = 18238

18238- Estate of Minnie Kryder 14518 = 3720
3720 - Bank of America 3510 = 210
If we divide 210/12, or the number of Reserve Banks, the quotient is 17.5. That is 1/2 the Original 35 Erie Partners.
10/27/2016 Masonic Banking
Fort Wayne, Indiana, Banking State Prefix 71-, had 11 banks listed in the 1911 American Bankers Association Key.
11 is a prime number, the sum of whose Divisors is 12 with a deficiency of 10.

In the Key, the proven hidden Old National 7119 + 2 = 7121 First National, which changed its name after the ordered liquidation of Old National 7119, to Fort Wayne National Bank.
2 is difference between countless linked entities in the veiled clones of the 12 Reserve Banks. to be shown.
There are 12 Reserve Banks.
12 can be expressed as 10 + 2.
12 has 5 proper divisors. 5 squared = 25, the number of branches for each Reserve bank.
10 + 25 = 35, the number of Erie Partners , EP. Therefore, in the numbermatics of 12, 35 is a "hidden" number, though it pops out as FDIC prefix identifiers for Wells Fargo, NA, WF, and Bank of America, BA.
Principals of the law firm of Frank Kryder's lawyers were long been intermarried with the banking Barnetts, whose banks in Florida ABA State Prefix 63-merged into BA.
10 squared = 100, the number of prefixes the ABA designated for (25 x2) or (5 x 10) for 50 states of the union, + 1.
100 also = 25 x 4. The number 4, 2 squared, is the abundance of the number 12.
Fort Wayne National Bank merged ultimately into Pittsburgh National Corporation. Pittsburgh is a Reserve City with special prefix 8-.
So what do our American Bankers Association identification numbers say with regards to First National Bank, Old National Bank, and Fort Wayne National Bank?
Indiana (71) - Florida (63) = Reserve City Pittsburgh (8). Makes perfect sense.
8= 4(the abundance of 12) x 2.
In the ABA System, New York is Reserve City 1-; New York State is prefix 50-
Indianapolis is Reserve City 20-; Indiana State is pefix 71-
20 + 1 = 21; 71 -50 = 21. Black Jack.
21 x 10 =210.
We have now seen 2 halves of the 35 Erie Partners expressed through 210, the number of Divisors of The National Debt, with 210 = 17.5 x 12, the number of Reserve Banks.
All Perfect Sense in this world attracts Perversion and its followers. Perfection is our free choice. We are free to use numbers for good or for bad. In America, numbers were used by bad bankers to eliminate good bankers and cast a sleeping spell. Until we see that our daily lives and futures at this time in history are wholly manipulated by what amounts to to a closed game of Casino Black Jack, we will continue to sleep and dream, in danger of losing our heads at the command of tyrants.
coming next....Frank H. Kryder and Prescott S. Bush
There are 49 Reserve City Prefixes and 50 State Prefixes. At the time of the adoption of the System, there were 48 States.
Now there are 49 Reserve Cities serving 48 + 2, or 5 x 10 States.
5 is the sum of Proper Divisors of 12; 5 squared is the number of branches of each of the 12 Reserve Banks. The sum of total Divisors of 12 is 6.
What are the numbermatics of 99, the total number of bank prefixes?

99 has 6 Divisors and 5 Proper Divisors, the same as 12. The sum of all its Divisors is 156, its Proper Divisors = 57.
99 is a deficient number with a deficiency of 42.
The first 99- year lease was constructed in Omaha in the year 1912. It matured in 2011, 100 years from the publication of the ABA Key and dissolution of Standard Oil.

In 1911, 6 Reserve Cities were designated in Texas:

30-San Antonio
32- Dallas

35- Houston
37- Fort Worth

46- Galveston
48- Waco
These prefixes sort out in pairs with a difference of 2 between each prefix.
Texas is State Prefix 88.
(Connecticut is State Prefix 51. There are no Reserve Cities in Connecticut.)
Other states with more than one Reserve Bank are prefixed as follows:
1- New York, NY
10- Buffalo, NY
29- Albany, NY

50- NY state prefix

4- St. Louis, MO,
18- Kansas City, MO
36- St. Joseph, MO

80- MO state prefix

33- Des Moines. IA
45- Dubuque. IA
47- Cedar Rapids, IA

72- IA state prefix

3- Philadelphia, PA
8- Pittsburgh, PA

60- PA state prefix

11- San Francisco, CA
16- Los Angeles

90- CA state prefix

13- Cincinnati, OH
25- Columbus, OH

56- OH state prefix


23- Denver, CO
42- Pueblo, CO

82- CO state prefix


39- Oklahoma City, OK
49- Muskogee, OK

86- OK state prefix
Therefore, amongst (11) of 50 states there are 25 Reserve Cities
1 state has 6 Reserve Cities
3 states have 3 Reserve Cities
5 states have 2 Reserve Cities
There are amongst (39) of 50 states 24 Reserve Cities.
break
---
10/20/2016 Fort Wayne's Original 11
The Federal Reserve System Has 12 Reserve Banks which regionally serve the United States. The Reserve Banks are located in in Boston, New York, Philadelphia, Cleveland, Richmond, Atlanta, Chicago, St. Louis, Minneapolis, Kansas City, Dallas, and San Francisco. Cities in a region with Reserve branches are called Reserve Cities with "Special Prefix Numbers" which are different than the state the bank is in.
Example:

Indianapolis is a Reserve City and its prefix numner is 20-
while the prefix number for Indiana is 71.
Each region of a Reserve Bank has 25 branch banks.
There are 12 x 25 = 300 branches + 12 Banks for a total 312 Federal Reserve Banking institutions
continued...
10/20/2016
Why did the Federal Reserve partners decide upon 12 banks for a nation of 48 states, as it was in 1913?
First, The American Bankers Association published their Key in 1911 with two slots out of 99, prefix 59 and prefix 89 left blank, obviously for the territories of Alaska and Hawaii which were to be annexed.
The Key, then, provided for 99 pre-fixes for 50 states.
The number 12 can be manipulated in a number of ambiguous ways for purposes of dividing shares, holding shares, and mulitplying shares which at the end of the day are all expansions of the properties of 12.
| | | | | |
| --- | --- | --- | --- | --- |
| Entity | Number | Divisors/ Proper Divisors | Sum of Divisors/Proper Divisors | Abundant |
| Federal Reserve | 12 | (6) 5 | (28) 16 | +4 |
Considering the table, here are a few ways of considering the tallying and sharing out the United States:
1. The FR created branches for each of the 12 by squaring the number of Proper Divisors. 5 squared = 5 x 5 = 25
2. 12= 10 + 2.
3. 50 states = 5 x 10; or 25 x 2
4. (100-1) prefixes/ 50 states = 2; or 100 = 10 squared; 100/4 =25;
5. 10 + 6 = 16, the SPD
6. 12 + 4 = 16
7. 4 squared = 4 x 4 =16
8. 2 squared = 2 x 2 = 4
I think this makes it very interesting that the United States of America was clearly planned by the banking establishment to be divided into 50 states.
Another interesting property of 12 is that the sum of all its Divisors = 28, a perfect number which equals the sum of its Proper Divisors- it is neither abundant nor deficient. The number of Divisors= 6, is also a perfect number. 6 and 28 are the only perfect numbers between 1-100.
The sum of the numbers squared in the properties of 12 = 21, or Black Jack.
continued...
What are the properties of the number 312, the number of banks and branches in the Federal Reserve?
| | | | | |
| --- | --- | --- | --- | --- |
| Entity | Number | Divisors | Sum of Divisors/Proper Divisors | Abundant |
| FR + Branches | 312 | 16 (15) | (840) 528 | +216 |
continued...
---
10/9/2016 The Family Van Trap
Who owns North American Van Lines?
Is this any of my business? Yes, unfortunately it is- my birthright by Deed was taken by stealth in Allen and Exchange Banked for the devil's children. My maternal kin, Frank, Frank and Minnie V. Kryder are owed a terrible debt. Their goodness to Fort Wayne has been denied. Their only descendants have been robbed and orphaned. Their works have been thwarted and wasted by lawyers, justice has been perverted. Woe, Woe, to the City whose Streets Run Green with Corruption. We have heard the end of the story- all ships sink as the Dragon is thrown into the Sea.
In North American Van Lines Allen County history can be nailed that precious moment when secret funds were layered into "legitimate" commerce; NAVPAC, Inc. was the first act of burying the estate of Minnie V. Kryder in 1963. Minnie was the bait. How greedily they snatched it! How confidently they entangled themsleves in a deep cover 1930's intelligence snare- to catch a whopper.
8/8/1963 Closing of Minnie Kryder Estate = 0
8/8/1963 NAVPAC, Inc. AOI.
Let's start at the very beginning...
1. Kenneth W. Maxfield was Frank Kryder's something of a cousin-in law. Maxfield's sister or aunt Daisy, married Frank, Sr's. brother, Clyde Kryder. She died in 1931.
2. Kenneth W. Maxfield, who became president of North American Van Lines, selling it once to Pepsico and once to Norfolk Southern corporation, was also an attorney "of counsel" in the Fort Wayne Law Firm of Beers, Mallers, Backs, and Salin. His neighbors in Leo, Indiana, such as Dick Kryder, did not know Kenny Maxfield was an attorney. All the Leo people insisted he was "just North American," or so I was told. Kenneth W. Maxfield was also an emergent director of Fort Wayne National Corporation, when they came out of the closet in 1982.
3. Frank Kryder's attorney since 1921, Thomas Gordon Moorhead, was assigned a taxpayer id *****5789
4. North American Van Lines was assigned a taxpayer id *****5653
5. Before Minnie V. Kryder's estate closed in 1963, Glen W. Bordner, attorney for the estate granted himself and Thomas M. Moorhead, attorney of record for the estate of Minnie V. Kryder, power to encumber every asset of The Kryder Company, Inc., a 50-year real estate corporation which expired in 1982.
This document was generated in Minnie's Probate estate and was numbered 5789.
Thomas Gordon Moorhead was still alive in 1963. He died in 1966 before Frank Kryder. Thomas M. Moorhead was Minnie V. Kryder's Estate Lawyer and VP of record of The Kryder Company, Inc..
6. When the Kryder Company, Inc. expired in 1982, Fort Wayne National Corporation, a multi-bank holding company incorporated with no tax ID in 1969, was founded with taxpayer id *****2812.
7. The Federal Reserve assigned the German American Bancorp in Jasper the number 8620 in 1983.
If we add North Amerian Van Lines Taxpayer to any number of encumbered assets of the Kryder Company, Inc. tied up neatly under one number, 5789, we see, in 1983, two logical holders of those aspects of 5789 which were never distributed to the all the designated heirs of Frank, Frank, and Minnie V. Kryder.
5789 Kryder Asset
+5653 North American Van Lines
=11442 from which we remove
-8620 German American Bancorp, Jasper
= 2812 Fort Wayne National Corporation
NAVPAC marked the fundamental first layering, holding, and distribution of the Kryder Estate in 1963 before the closing of Minnie's Estate, and before the death of Frank H. Kryder, Tr.
K.
For continuing reference, Numbermatics easily clarifies the significance of various numerical phenomena, espcially when considering a layered distribution of shares or interest as being held by "divisors." It's just arithmetic, high school education only needed to understand. In Fort Wayne, it is amazing how far you can go with just a High School Education. You can become VP of General Dynamics and Carlyle Management CEO with just a High School education- all you need is Numbermatics and a secret bank.
10/11/2016 Putting the "Van" Back in Evansville
One point must be crystal clear. Neither The Old National Bank in Washington State nor the Old National Bancorporation and subsidiaries in Evansville, Indiana have any historical connection of record with Old National Bank 71-19 in Fort Wayne, a 19th Century name change of the originally chartered Fort Wayne National Bank which was also variously First National Bank, Fort Wayne, and Old-First National, all operating under a re-charter of the original State Bank of Indiana Branch 11 at Fort Wayne, which after the National Bank Act became Fort Wayne National Bank. In 1884, Fort Wayne National Bank changed its name to Old National Bank.
Old National Bank 71-19 was ordered liquidated by the U.S. Treasurer and Comptroller in 1928. As of 1930 Old National Bank was published in Moody's as liquidated, and ordered to pay some 22 million to the Tri-State Bank (see 1969- Maxfield sells NAVL for 22 million in Pepsico stock), which simply closed. First National Bank changed its name to Fort Wayne National Bank, and after the bank holiday, Fort Wayne National Bank started over with a 2 million dollar RFC Loan.
When the U.S. Treasurer and Comptroller have to step in, re-distribute assets and reorganize the town banks with Official Orders, something is up. This was Treasury Cause 3285 in 1928.
That a Kryder Asset was deposited by Kryder attorney Glenn Bordner into Fort Wayne National Bank in 1982, and that that check was re-endorsed by Fort Wayne National Bank to Old National Bank 71-19 indicates someone did not follow through with the U.S. Treasurer's 1928 Order.
Therefore, we know and can prove with a stamped checked that as late as 1982, when the check was deposited and re-endorsed, Fort Wayne National Bank had a secret depository for concealed assets of the dead. That is 52 years after the published liquidation of Old National Bank 71-19.
Many looming questions about Wells Fargo, Bank of America, and the Federal Reserve can be answered quite clearly with Numbermatics, but my purpose above all is to publish the Secret Service missing links which can only come from me, the only person who would be able to gather and rank the Treasury Asset Numbers of the Frank Kryder Family, Deed by Deed. These are intelligence links in Fort Wayne, Allen County, dating from from Roosevelt's administration, deliberately buried and concealed. Those buried numbers representing an undetectable by ordinary means U.S. Treasury securities holding matrix, are indicated below in RED.
Today's set of Matrixed Taxpayer and/or Numbered Asset Numbers:

8262 Kryder Gold Mortgage Interest $12,000 gold coin in hand paid to re-plat Lots 1-60, Kryder's First Addition to FW
5789 Kryder Buried Encumbrance filed by Glenn Bordner
8620 German American Bank, Jasper
9260 Wells Fargo & Co., Omaha
6860 Tower Trust Company, Fort Wayne
6960 Old National Trust Company, Evansville
9519 Raytheon, Fort Wayne
7119 Old National Bank (Fort Wayne National Bank) Liquidated 1930
4302 Pepsico, Purchase, NY
5390 Walt Disney Co., Glendale
9032 Shamrock Partners, LP, Burbank or Glendale
67681 Fort Wayne Bank Realty, Federal Reserve ID
70671 Kryder Legitimate Heir Birth Certificate Number
I have never lived in Fort Wayne, but those have been moving and shaking there since at least 1982 know that Directors of Fort Wayne National Corporation, a multi-bank holding company (??), through Baker and Daniels and Shoaff, merged Central Soya with Shamrock Capital and Roy E. Disney in 1985, including FWNC Director David Heath Swanson against whom the USDOJ later obtained a conviction under pressure by an Ohio Farmer's Co-operative; that Fort Wayne National Corporation shared Directors with North American Van Lines; that North American Van Lines was sold by a relative of Frank Kryder who has no estate work filed in Allen County; and K.W. Maxfield, this relative and Director of Fort Wayne National Corporation in 1969 sold NAVL to Pepsi for 22 million in stock shares, later becoming President of NAVL; and in 1985 NAVL was sold again for 369 million to Norfolk Southern Corporation by Maxfield; that the Lincoln National Bank Tower was foreclosed 2 million in arrears to American United Life Insurance Company and picked up by the Tower people who are Tower Bank and Trust, and that Lincoln National Bank, the former German American National Bank which occupied the Lincoln Tower, built in 1930, when Old National was liquidated, merged into Wells Fargo via Norwest.
Everybody knows that old stuff.
All fiduciaries need Birth Certificates to identify heirs, especially if they live at a distance from the vault or there is divorce and there are children from more than one marriage at large.
My Certificate is filed in a State file prefixed (109) while the Federal Reserve prefixed the German American Bank, Jasper, Fort Wayne National Bank and Fort Wayne National Bank Realty (109) as well as Continental Illinois National Bank, Chicago, aka Bank of America. The Federal Reserve assigns the RSSID for Indiana Old National Insurance Company in Burlington, VT (109) 8312.
On with the show. We are first considering the number 2400.
1). 9519 Raytheon
-

7119

Old National Bank
=2400

3). 9260 Wells Fargo & Co
-6860 Tower Trust
=2400

Derivation of 2990

70671 Per stirpes Inheritor Birth Certificate
-67681 FW Bank Realty, F.R. ID
=2990

2). 5789 Kryder


This section being edited due to changes in tax id numbers through new incorporation..

4). 5390 Walt Disney Co.


-2990


= 2400
Next part is a little sticky:
4). 8262

Kryder Gold
-4302 Pepsico
=3960
8620 German American Bank
-6960 Old National Trust Co Evansville
= 1660
3960
-1660
=2300

6960 Old N Trust
-6860 Tower Trust
=100

2300
+100
=2400
continued...
K.
10/13/2016 Numerically Authenticating the Relationship of The Kryder Company, Inc. to the U.S. Treasurer's Office, Washington, DC.
I have more elaboration on the number 2400, on the meaning of what I have laid out in the narrative above, which draws in the Miami Bank of Kansas and Native American assets of Frank, Sr., who, unbeknownst to most everyone but the immediate family, was half-breed, his mother being a chief's daughter. First I have to take a little side trip.
In 1995 I met Hazel Gerardot and Dorothy Trammel, her sister, in New Haven, Indiana.They wanted me to convey what family history I knew that would verify whether Harrison W. Kryder was married to a chief's daughter who died before the 1870's census, all previous censuses pertaining to her having been burned, except for a peculiar record of the Cherokee. Hazel and Dorothy were younger cousins of Frank, Jr., at least by fourteen years, and till I came knocking from foreign parts, did not want to believe there was non-white blood in their veins. Though Hazel had a pencil portrait in her parlor of Harrison's beautiful "squaw" dressed with many strands of tiny beads around her long neck. I was shocked when Hazel showed me the portrait of my great-great grandmother, because Harrison's squaw was almost the mirror image of my sister. I was supposed to receive a photograph of this portrait from Hazel, for my sister and I to share, but apparently she changed her mind, then died, and I heard the portrait went to the Fred Kryder and Stapleton branch with specific instructions from (?) that I was NEVER to be allowed to get a copy or be given any information about it. Now is that not strange? That is what tricky Melissa told me, in case anyone wonders. Why would kin who never met me try and block access to an image of my own Native kin, especially when my genealogy has already been confused? This is naughty. 10 for 10, Erin for Katherine. I pray for the Stapleton girls and the remnants of Fred Kryder.
K? Please pass the hot sauce.
With Numbermatics we can, despite generations of fiddling, fooling, keeping secrets, lying, and more lying, elucidate the undercover role I proposed of the Kryder Company, Inc. (owned only by Frank, Frank, and Minnie-) and its associated insurance company, in tracking the fate of assets through Fort Wayne's tangle of banks, two world wars, the Great Depression, and at least three assassinations, for Treasury intelligence. Though at present, only an estimated one in 4,000 bills in circulation are counterfeit, the unanswerable question is how many double-triple issue U.S. Treasury Special Tax Condition Securities have been counterfeited by the best in the business to enable a phenomenal expansion of securities holding organizations holding hot air? How did the Wizard get back to Mutual of Omaha?
Between 1928-1930, when the Treasury and Comproller just had to get into Fort Wayne's historically tainted-by-sheisters banking set-up, the stock market crashed, there was a re-printing of 2.2 million in registered federal securities for Lincoln National Bank, Nebraska, claimed to have been burned by a gangster, the Florida East Coast Railway went bankrupt for the next 40 years, and the Muncie Balls purchased, for $350,000, the 30 billion dollar empire of the Van Swearingen Brothers, who defaulted on a JP Morgan Note.
Numbermatics not only defines what unseen relationships existed, but as well sheds light on the inexplicable incongruity of Indiana's Corporation identification numbers with regards to what should have been systematic and orderly, but instead is a web of confusion sealed by the Indiana's Secretary of State's massive loss of Depression Era Indiana Corporation whole files, lock, stock, and barrel in 1970. (That would be Salin, of Maxfield's Law Firm, now owner of Indiana's largest prvate bank).
Example:
Treasury Cause 3285 commenced in 1928, ordering Old National to give 22 million to Tri-State, and Old National Bank was reported as liquidated in 1930. Tri-State simply closed, in the black.

1).The Kryder Company, Inc. ID 1930007-098 (on annual reports stamped as 3007-98) was not incorporated till 1932, after Roosevelt was elected in 1932. Inactive Date: 01/01/1970.
(The first major act of the Corporation was the purchase of Home Owner's Loan Corporation Bonds in March 1933.)
2). First and Tri-State Corporation ID 192823-098 was incorporated 12/11/1929, three months after the stock market crash. Inactive Date: 01/01/1970. Likewise annual reports are accessioned as 2823-98
3). OLD-FIRST NATIONAL COMPANY I ID: 192876-014 was incorporated 08/19/1931 Inactive Date: 01/01/1970.
So it is seen there is no logical sequence of accession numbers relative to dates of incorporation, and try and find someone in the State House who can explain it. It was not till the 1960's that corporation ID numbers caught up to the system and were prefixed with the year they were incorporated.
However, we can take the -98 relatives, and come up with a logical origin of the funds which became the subject of U.S. Treasury partitioning of funds from Old National 7119 to First and Tr-State.

19300798 Kryder Company
-19282398 First and Tri-State
= 1840
"In 1840, the (Miami) tribe ceded all of its remaining land in Indiana and agreed to move to the land assigned to it within five years. Treaty of November 28, 1840, 7 Stat. 582. The Senate, when ratifying the treaty, set aside a tract of land for the tribe in present day Kansas." Wiki.
As we know, the Miami became divided when those with private wealth did not leave Indiana, but remained either by white marriage or by being hidden inside white families, or by virtue of having a lot of patent land they were granted, but not allowed to control. This was manna for the trust companies, who set up mining leases. The non-deportees were kicked out of the tribe and the Miami Tribe of Northern Indiana is no longer recognized.
Our First American Masonic Bankers set everything up according to the properties of Prime Numbers, Divisors, Factors, and Squares, the basis of Numbermatics. Now we all know about the good Masons and the bad Masons and we all know some very strange things have transpired between Bank of America FDIC#3510 and Wells Fargo FDIC#3511, which I will thoroughly make interesting with Numbermatics.
It is one thing to in the sight of all, Square well-gotten gain for the prospering of all within a geographic range; and it is another thing to in the dark Square the wages of sin with banks no one knows exist to grow more banks to Square.
We have three intimately related PERMANENT ID numbers to crunch:

1551 U.S. Treasurer's Office in Washington DC (as of 1911 ABA)

3285 Treasury Cause in Fort Wayne Ordering the Liquidation of Old National Bank 7119 with payment of 22 million to First and Tri-State.

0798 The Kryder Company, Inc. corporation identification number attached to a small empire of residential and hotel/motel mortgages + recorded possession of Tax-exempt U.S. Securities guaranteed to the registrants, Clarence Frank and Minnie V. Kryder, which were never redeemed and taxed.
These are financially intimately related entities of record. There is no obvious relationship of their three ID numbers generated from three agencies.
Numbermatics shows that both 1551 and 3285 are "deficient" numbers, both having a deficiency of 798.
How clear is that?
I can't resist FDIC#3511 and FDIC#3510. Long ago I did ascertain with the Lead Counsel at FDIC during the Powell Millenium that THERE ARE NO SUCH THINGS AS FDIC CERTIFICATES. There is no Receipt Book from which the Original can be obtained like other government things which are called "Certificates."
If the Numbers have no Certificate, they must be Account Numbers in Mutual Funds, is the best scenario. As a private and unregulated corporation, the FDIC can invest in anything- mining leases, oil leases, the kinds of things that get mingled with the royalties of Native Americans, Hollywood Actors and Rock Stars. That is yet another tale.
Meanwhile, puzzling over air certification, I always found it very weird that, both having ther FDIC Certificate numbers issued in 1934, how did Bank of America get 3510 and Wells Fargo 3511? Were their attorneys next to each other in the line?
3511 is a Prime Number. It has 2 Divisors, 3511 and 1. But it is a Prime Number because it has only 1 proper Divisor, itself.
(For purposes of securities holding, we will consider Divisors as either Bank Holding Companies or Trust Companies.)
Numbermatics elucidates for any number, the sum of all Divisors, which for 3511 would be 3511 + 1 = 3512
There is also a number which is the sum of all proper Divisors, or the sum of all Divisors excluding the parent number.
For 3511 the sum of proper Divisors, 1, is less than the number 3511 itself.
3511 (like the 798 deficient Treasury Numbers) is a deficient number. 3511-1 = 3510 is the deficiency.
To introduce the Miami Bank of Kansas issue, I will first point out the following equivalency:
3612 Frank Kryder SSN (Fort Wayne)
-

3512

Sum of all Wells Fargo Divisors
= 100
6960 Old National Trust Co. EIN (Evansville)
-6860 Tower Trust EIN (Fort Wayne)
=100
636 is a second handwritten number on Frank Kryder's Application for Social Security.
4148 is the FDIC Certificate Number for the Miami Bank of Kansas.

4148 Miami Bank
- 636 Frank
=3512
K>
continued...
10/16/2016 A Sum of All Holders
The First National Bank and Trust Company of Miami is an active bank FDIC Certificate#: 4148 Headquarters: 2 North Main Street Miami, OK 74354 Ottawa County Locations: 4 domestic in 1 states, 0 in territories, and 0 in foreign locations Established: January 1, 1900...
#4148 has the same amount of Divisors as the Number 2400. (see above on division of civil and private native American wealth).
The number of Divisors of both 4148 and 2400 (see above, Raytheon-Old National 7119 etc.) is 7812.
Having laid out an introductory close up on Fort Wayne, because these Kryder problems are extensive, to really dig into the nitty gritty, I think the best next course is to use Numbermatics to explain the 12 Banks of Federal Reserve and the logical number of holders there are of the 12, and whether it is probable that Tower Trust in Fort Wayne and Straus Commercial Bank aka UBS, harbor an extra set of shadow Federal Reserve Banks, holding other "liquidated" banks we don't know about, like Old National 7119, in duplicate.
What is really going on?
K?
continued...
---
*Kryder Estate Database, begun in 1993.
According to the Panama Papers Offshore leaks, Mossfon Trust Corporation was created EXACTLY on the day that the Kryder Superior Court REIT, Trust F.S. 58070 had to be liquidated, according to its rules, 11/12/1993- 20 years after the death of Trustee Lauren Otis King, in Sebring Florida, 11/12/1973. The terms of this Trust and its liquidation date are Recorded in Allen County Records and were affirmed in an Affidavit recorded along with the granting of a banking certificate to Anthony Wayne (Summit) Bank in 1943, and RE-RECORDED on 11/1/1950 following the death of C.F. Kryder, the day before North American Properties, Inc. (North American Van Lines) was incorporated in Indiana.
PANAMA PAPERS
11/12/1993 FIDUCIARIA MOSSFON, S.A. (en español) o MOSSFON TRUST CORPORATION (en inglés) Connected to 1 intermediary  Incorporated: 12-NOV-1993  ACTIVE

This accounting is written in descending reports as dated, from the present moment as facts are compiled. The Flow Map will remain pinned at the top this page. For all the background information on the map, begin bottom's up in the Blog Archives to read the supportive facts of the Mossack-Fonseca domestic asset flow map, and why the Kryder estate is trackable as part of a concealed pool of mingled tax-exempt assets derived from old Native American, war industry and New Deal securities estates, which in Fort Wayne, Indiana were consolidated for control of Raytheon.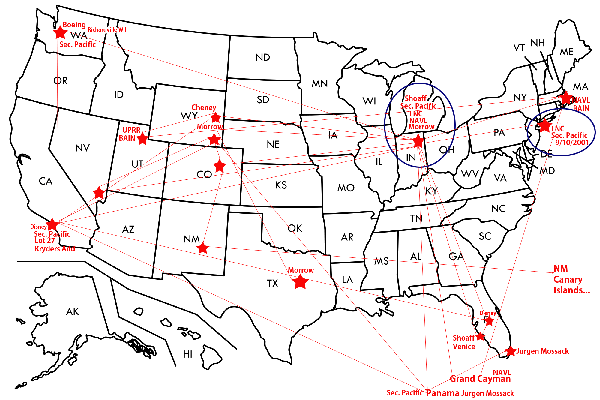 Please Click Map for Large Image and further details: Internal Asset Flow 9/10/2001 and preceding.

---
Story starts here: BLOG ARCHIVES :
1> 4/05/2016 to 5/29/2016 |
2> 6/28/2016 -8/14/2016
---