(Yearbook Frontispiece: Frank H. Kryder graduated from Indiana University, Bloomington. He was then for a time Principal of Spencerville High School)
HAPPY NEW CENTURY, FORT WAYNE!
This page is written in real time as time marches on. I am fairly positive it is not at all mobile friendly, by design. Don't miss the archives.
Friends, please read freely and in comfort! This story goes down great with your morning coffee. There are no annoying ads on this website, only annoying truth.
MATHEMATICAL, Retrievable, Indelible TRUTH
Site Map- Updated 2016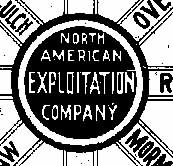 North American X-ploitation Company, Fort Wayne, Indiana.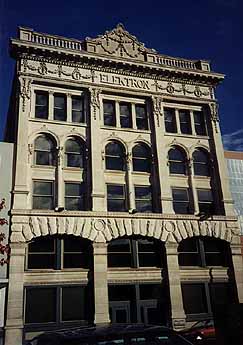 Robert S. Walters and James M. Barrett III Offices succeeding The Kryder Company Inc., rm 225 Standard Building,
215-217 East Berry St., Fort Wayne, IN;
aka Lincoln National Life Insurance Building, The Elektron Building, Anthony Wayne Bank, The Standard Building: Offices of the Kryder Company Inc. succeeding Farmer's Trust office of Secretary Harley Somers Rm 225;
Home of the Wabash RR;
On the register of historic places, designed by Wing and Mahurin, Masons of the 32°.
All of East Berry street in Fort Wayne was platted in an easement of the Pennsylvania RR.
Frank H. Kryder 1894-1966, Last Kryder Company, Inc. President and Trustee.

Last officers were Federal Income Tax Specialist
Glenn W. Bordner Secretary and Treasurer, 1907 Fort Wayne Bank Building;
and Thomas M. Moorhead, Vice-President, Minnie V. Kryder's Estate Lawyer, of Shoaff, Simon, Keegan, and Baird, retired from Baker and Daniels and Shoaff, 1969 VP of the Allen County Bar.


Minnie Viola Disler Kryder and her grandchild, Katherine Ann Kryder who was plundered by 200 year old Fort Wayne cooperating lawyer and judge associations, banks, and trust companies.
Clarence Frank Kryder (C.F.) with his grand-daughter Katherine Kryder, a real estate developer who sacrificed heavily to make Fort Wayne America's Happiest City by 1950, the year he died; robbed by those who keep secrets and silence, as well as his securities. Kryder had assured the correct descension of his estate by living entirely on his United States Treasury guaranteed to the registrant tax-exempt securities, which have never been cashed out as he never had a taxppayer number. He deeded in Allen Superior Court the family-owned Kryder Company, Inc. interest in a large chunk of Fairfield Terr. Sec. B. to his only child, granchildren, and unborn undescendants.
But Fort Wayne, Indiana is historically described by Indian Agent John Tipton as being too far from the federal arm of Washington, DC to be a safe place for families.


Robert Beams, Fort Wayne City Controller, father of George Beams of Helmke, Beams and Boyer. Helmke denies ever knowing any Kryders though their offices were right under his.

Mostly Fort Wayne History & the Kryder Estate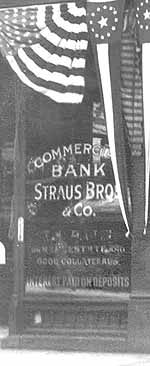 Fort Wayne Straus Commercial Bank, correspondent of Commercial Bank of Basle, now UBS. The Chief Jean Baptiste de Richardville Estate was transferred to Straus by Senator Stephen Bond Fleming in 1902, despite restrictions requiring Presidential approval. This was done for the benefit of the International Agricultural Corporation so the DuPonts could strip Indiana of limestone to build New York City erections, and with the Balls, mine the state of Florida for phosphate fertilizer.
All merged with the German American National Bank into Lincoln National Bank and Trust Company, now Wells Fargo.
BLOG ARCHIVES :
1> 4/05/2016 to 5/29/2016 |
2> 6/28/2016 -8/14/2016
5/2/2018 To Steal a Birthright
Since we are right here on Berry Street where everything is tidy and legal, let's go directly to legal definitions:
per stirpes Hereafter shall refer to a Superior Court Filed Birthright Bequest of an estate whose interest is "held by generation" of direct descendancy, as designated by the first Trustor(s) in recorded documents attached to real estate owned in fee by the Trustor(s).
That is the nature of my birthright in the Superior Court Records as it exists in Fort Wayne, Allen County, Indiana. Armed with paper, I may speak out too on the issue of molestation, interference, terrorism of women, for purposes of keeping money out of their hands on the world stage. My mother, Katherine Ann Kryder, born May 25, 1931 in the Vital Records of Indiana, was stalked from the 1966 death of her father, Frank Kryder, Jr., to her death in 1972, the day Lincoln Financial Corporation was conceived in Cuyahoga , Ohio.
Keeping money out of the hands of native women in the 19th century was but a facet of the work of estate and trust company lawyers, bankers, and politicians, long engaged in cultivating their moguls and tycoons to devise an estate so that women would not have to shoulder the burden and reponsibility of great wealth.
Flipping through the Allen County Bar list of those who structured the Kryder Company, recorded their Trust, and entered Frank, Sr.'s Will to Probate, we have Vesey & Vesey, Lloyd Hartzler, and Charles E. Dare, an impeccable team. The late Judge Vern Sheldon wrote that Frank, Sr. taught his father, Vern, Sr., "everything he knew about insurance and real estate."
I will not now go into Frank, Jr.'s black mass of bloody bent counterfeiting lawyers who took over after the senior Kryders died, them what stole the life of me mum, and hence my share which was Ordered to sustain a direct bloodline.
Instead I will jump to my compelling 1994 meeting with Frederick R. Tourkow whose face did undoubtedly "wax pale" when I handed him a paper copy of my stolen birthright. At the time, I had no knowledge of B'Nai Jacob, the early financial organization of Ligonier Strauses, Hitlers, Pancakes, and Bechtels, and surely no clue I had walked into the heart of the Temple.
The Lord promised the House of Jacob, despite Jacob's former trespasses, if the covenants were kept, their faces would never wax pale.
In the autumn of life, Mr Tourkow was a virile man, and straight. He saw straight through to a Stolen Birthright belonging to a line which had done right in the eyes of the Lord. Elsewise he would have hemmed and hawed like so many of his peers and tried to make me seem a silly girl. He could have controlled his countenance.
A Legal Birthright has been stolen in the House of Jacob, and a strong man's face waxed pale before my eyes. I think this ends the deal with the Lord as long as secrecy perpetuates the offense, especially after the offense has been brought to the attention of the Congregation by a Methodist.
To Steal a Birthright is like killing a mockingbird, right, Atticus?
Until next time, from the Pemiscot County Step Hens Dance Club, KAK and me, "Here's liquid mud in yer eye."

2/25/2018 "Lives Will Be Ruined!"
What do we know about Law, age to age?
We know that Law and Order are not consequential.
"Order" has limited human jurisdiction.
It is just as possible to have Law and Chaos, as it is for the truth to be stranger than fiction.

2/3/2018 (Ligonier Leader, 1923 )
He Looka Like a Ligonier Straus to Me
On 1/4/1923 Clarence Frank and Minnie V. Kryder recorded their 1922 Deed for Lots 1-60 W.H. Simons Addition, re-platted as Kryder's Addition for $12,000.00 from Mary L. Meyer, Willie H. Johnston and Emma J. Johnston; gold coin in hand.
In those days, this type of purchase noted an exchange for payment of gold mortgage bond principal or interest in exchange for railroad lands being held by county judges.
On 1/24/1923 Kryders Addition Extended Plat and 1/26/1923 Kryders 2nd Subdivision Plat were recorded for Wayne Township.
Five days later, was the filing of corporation articles for The STANDARD BUILDING COMPANY INC., 215 E Berry Street, FORT WAYNE, IN 46802
According to its Articles, The Standard Building Company, Inc. was incorporated to hold Title to Lot 95 Original Plat and to lease the building on Lot 95, Original Plat, or 215 E Berry St.. The original paid in capital was $350,000.00.
There are no Annual Reports or any filings after 1967 with the Indiana Secretary of State. The 60-year corporate rental account was unaccounted for in 1983 when Walter P.Helmke paid off stockholders. It was hidden from IRS in the accounting of the Evans Estate Tax.
The majority of the Standard Building stock shares were said to be owned by an expired 1931 corporation which was then said to be owned by Walter P. Helmke, accountant Clem Drees and Lincoln National Bank Trust Department. Though the corporation was liquidated in 1983, it did not dissolve till 1987.
The Standard Building was sold to attorney Robert S. Walters by Walter P. Helmke for about $250,000 in 1982.
In 1923, The Ligonier Leader published and admired the first official photograph of Adolph Hitler. This must have related to the clear resemblance to the mighty Straus Bros. who established themselves in Ligonier in the mid- 19th century.
An assortment of Hitlers in Ligonier had settled and married prosperously in and around Noble County about thirty years prior to the banking Straus migration there, in the 1850's. Although, Mina Straus, wife of M. Straus, was born in 1828 Ligonier.
"A Jewish synagogue was established in the Hostetter building in 1867 by the election of the following officers: Mathias Straus, President; Isaac Ackerman, Vice President; Jonas Decker, Treasurer; H. B. Faulk, Secretary; Solomon Mier, Leopold Schloss and F. M. Straus, Trustees. A small building was erected in September of the same year. Mr. Jacob Straus presented the society with a Jewish Bible valued at $200." - from History of Noble County, 1882, Goodspeed and Blanchard, editors
These bankers and merchants in the temple became so huge in little Ligonier, they came to Fort Wayne and their particular enterprise was folded into into the German American National Bank with Allen Hamilton's Indian Deeds of treachery, which became the forgotten Lincoln Trust Company (1910-1975), folded into Lincoln National/Wells Fargo Bank.
This makes perfect sense when one sees this relationship originates with Warren Bechtel, Stephen Bechtel and other Bechtels, Hitlers married to Pancakes, Isaac D. Straus and so on placed as directors throughout the first banks of Indiana.
1/24/2018 EXPLAINING FAINTING vs " WHITE AS A SHEET"
How does the expression " turn white as a sheet," distinguished from physically "fainting," and Mr. Fred R. Tourkow, totally explain Fort Wayne?
The theatrical faint, once occurring in refined ladies who have had a terrible shock, is not seen much anymore, because now we know, fainting is caused by physiological events, not by surprises or assaults upon the psyche. If you are looking at a person on the verge of fainting, it is a good description to say, "I saw the blood run out of her face before she went down," with respect to the weaker sex.
This pallid skin tone heralding a dead faint appears maybe a minute or more ahead of time, sometimes with disorientation and cold sweat, before the afflicted drops. It is caused by blood leaving the head and pooling by gravity lower in the body. I have seen it a time or two, especially on hot days.
Mr. Tourkow showed me the difference between loss of facial color due to fainting, and what makes a pale face turn literally white as a sheet due to the Great and Terrible. I think Mr. Tourkow was not the sort of gent many people ever saw turn white as a sheet.
I moseyed over to Mr. Tourkow's office from the Allen County Courthouse one day, after hours in the basement, my heart racing likely. I came through his door as he happened to be on his way to something. Surprise and curiosity, maybe, caused him to stop what he was about, and meet with me.
This is remote sensing. I came to Frederick R. Tourkow directly without foreknowledge or contact, from 2,000 miles away.
I asked him to explain the meaning of per stirpes in Clarence Frank and Minnie V. Kryder's Trust F.S. 58070, since in my stacks of copies I had not yet sorted, that doc seemed to have the most realty devised in one place.
"Let me take a look at what you have," Mr. Tourkow boomed. He told me he had been in Fort Wayne a long while and worked for Solly Frankenstein, buying up tax deeds.
"Perfect," I thought.
If the Kryders were paupers, as their estate and federal tax lawyers/corporate officers insisted, a good start is to verify the fiduciary alibis by digging up the proof the Kryder Company land was lost in tax sales, bankruptcies, lawsuits- the kinds of things that leave a paper trail in one's county. A lawyer who worked in tax deeds would know the history and the territory. You can lose paper assets off the record, but real estate has to obey the Law of Conservation of Mass-Energy.
And so, I handed the distinguished lawyer a copy of the Kryder's 1943 and 1950 Recorded Trust, which did not include lateral kin or institutions or banks or foundations, and in three seconds at the most, for the first and maybe only time ever, I saw a man turn White as a Sheet. It is a stunning thing to see- something I always thought was just an expression.
"This is most unfortunate."
He knew.
I sort of knew, but Mr. Tourkow knew something more.
"Lives will be destroyed," I believe was his next comment.
Not because of me- but by what worse treachery brought me to Fort Wayne. It is the why of the why which is so deeply buried.
"And if a house be divided against itself, that house cannot stand."

1/22/2018 DEAR MR. TOURKOW (FRT)
P.S. Dear Mr. Tourkow,
I knew I needed America's Best to get Frank Kryder's estate open in Allen County. But I came to you in your golden days...a time for enjoying the harvest. The afternoon I walked into your office, your wife was getting an award at a dinner.
Once the paperwork was done, it would not have been polite of me to come from out-of-town and dump my old pile of rotten junk on your desk.
Thus I changed counsel outside of Allen to one lawyer who resigned from the bar, then to another who absolutely disappeared along with my court notifications.
Now, these many years later, I de-classify the file you returned to me with my communications to you about my mother's family and their enterprises. I am sure this was your gift in return- in your hand, with your pencil, direct from Fort Wayne, Indiana, original FRT graphite code:
Thank you, Mr. F.R. Tourkow for circling these items so that I could wonder for 22 years why you would commit to doing this for a stranger. No one else had the grace to do so.
Shalom.
10/12/2017 BOTANICALLY, A GRAPE IS A BERRY
"I have read His fiery gospel writ in rows of burnished steel!
As ye deal with my condemners, so with you My grace shall deal!"
As promised in the upper left column, the Will is now being written about in real Time, us having all examined the hundreds of arrangements of time lines and so forth describing that portion of the Will which was that of Clarence Frank Kryder, which part Berry Street has concealed much too long, and those portions of other Wills, Patents and Grants which Berry obfuscates, failing to heed or even humble themselves to the physical consequence of OBSTRUCTED INTENT.
All Wills of the righteous come under the umbrella policy of the world's most powerful insuror- the one which keeps its promises according to the original Will.
I might have made an entry or two earlier, about Houston and Minnie's Funeral records, or Cudjoe Key, where two Fort Wayne shaded estates crossed paths, but I held back, 'til now.
Rums of Puerto Rico has washed away. (see Restaurants of Puerto Rico 1961 written by Kay Daniel Picot aka Katherine Ann Kryder, available on Amazon). Former things which made me sick, daiquiris, Hefner, Hollywood shame, sucked into a vortex lined with the pleas of dirty old men and cigarette butts, are dissolving like old nylon in a Kenmore.
The vineyards are burned to the ground. Nothing to swill in the Baccarat! Ah, sinful nation! Alas for you lawyers!
This is the foretold trampling, ye Berry Beagles. Come clean! Or are you willing to take a chance none of this has anything to do with you, thwarters of truth, art and nature for counted generations, every hair upon every head counted? Will you stand by idly mute till San Francisco and the City of Angels fall ? How many more must suffer for your dark deeds and dank bank charters?
This is your Vintage. Consider each drop of gall you have served a century and a half of Allen orphans, widows, and feeble-minded defectives, not to mention the heirs of Frank Kryder, when the Cup passes to you.
8/1/2017 OBSTRUCTED INTENT: Granny and the Poor Farm
Hal Roach dressed Granny in Minnie Kryder's make-up (see 1935 photo below left column) in an episode of Li'l Rascals. Granny was being sent to the Poor Farm by her step son-in-law who concealed her fortune in old shares of Imperial Steel he told her were worthless. The Gang had to rescue Granny from this terrible fate, as she was their best playmate, and Stymie, whose Pappy was always in jail, showed her the truth through the lens of a goldfish bowl. Granny was loaded- $150,000.
In 1960 when Minnie Kryder died, Frank, Jr. used the same 1935 photo, with Katherine cropped, for Minnie's newspaper obituary. It wasn't as if he chose her most flattering picture, but to me it is the dearest in existence, along with the photo of Frank Sr, holding Katherine. These and Minnie's original signature in Katherine's Baby Book are all I have.
Because in 1963 Fort Wayne lawyers, bankers, securities traders, and auditors sent Katherine's precious Granny to the Poor Farm, on totally bogus paper, and proceeded to ravage the lives of orphans they never knew, in terrible ways, while obstructing the intent of Clarence Frank, Minnie V., and Frank H. Kryder for their lineal descendants, that we might have security and sustain good and proper careers and enterprises in the paths of our forefathers.
For the bitter sacrifices the senior Kryders bore throughout the Great Depression and world wars, in a lost dream of completing the beautiful city planned by creative genius and high-minded men of yore, their children were robbed on Berry Street, and the children of others had the Kryders' Day. That is an example of Obstructed Intent.
Other examples of Obstructed Intent are The Hoover Dam and the Lake Okeechobee levee in Central Florida, and the Cedarville Reservoir, those dogs. Oh I have the whole story as to how such environmentally insensitive junk is tied through the Barnett Bankers to the basic Continental Illinois/Lincoln organization, aka Wells Fargo and Bank of America, Morgan, Chase, and Fleming, one and the same under the covers. When you track a large pool of missing assets for twenty-five years you learn a thing or two. Because, ho ho ho ho ho, we're Farmers!
Now has come a new book by Pulitzer Prize winning author Jessie Eisinger. My girlfriends in the Pemiscot County Step Hens Dance Team over near Carruthersville are having a good cackle over the title, The Chickenshit Club. In the first place Pemiscot means "liquid mud" in native language, which just gets our imaginations going when we think what that book is about.
There are many of the Eisinger-type "revolving doors" in Fort Wayne which have existed since before the formal incorporation of Allen County. Forget history. Let's live for now. One revolver is North American Van Lines to Allen County Treasurer to Indiana State Treasurer.
But we won't get boring with exact details of things. This is the age of surfactants. The question is, how long can the tensile strength of an un-natural obstruction hold back the Will of Nature?
I do not want to go to the Poor Farm. This is not what was intended. I started selling loomed potholders at age six, became highly educated, and have toiled ever since, falling lower and lower down the ladder each decade till now. Things just couldn't be more wrong. Kryder's children are penniless renters low on food. Hopefully Honesty is a Policy that pays off when you really need it, since it kills your career these days, a Policy to balance today's aggressing financial products built on ill-gotten gain.
Berry has become arrogant, disavowing Who is mightiest in Land, Air, and Sea and claiming it as their empire. They are my Goldfishfinger. They have done this thing in The City of Churches, building publicly paid-for self-enriching institutions over time from the Poor Farm, The Orphan Home, to the Home for the Feeble Minded, a masterwork of architecture from without, a bare institution within. These great things were built by contractors who were the officers of Fort Wayne National Bank etc. This is the money, along with Indian robbing, fraud, bankruptcy, and war which has obstructed a mighty intent.
Somewhere, obstructed, swirling in stemmed and surging tides, is that large fraction of my life which against the Will was estopped, Stymied, if you will. And with it is mingled a noble community plan of the once upon a time Fort Wayne Board of Realtors. An intention for Fort Wayne is Stymied, too. Lawyers controlling Allen County's famous biggie-sized Charitable Trusts and Estates perpetrate a revised version of a well-planned city, founded on Obstructed Intention. This has been going on a long time. A noble man works, builds and constructs something to leave his town, like its own electric company, and after he is dead his wishes are ignored, his trustees pass his property amongst themselves. The name of the Trustor's original Trust might even be changed decades after death, or left without successsor co-trustees.
Ironically, on 2/25/1999 an Imperial Steel Corporation was formed in Elkhart, IN where my North American half-cousin son of James Bond lives.
On 2/25/1999 Homeowners Loan Corp. formed in Little Rock, AR. Is this a clue? What happened to the Homeowners Loan Corporation Bonds for Waynedale Gardens Second Addition is another big question. Well, not to me- but the issuer of the bonds won't answer it.
and other stuff like 'at.
continued...
7/17/2017- PAY-SON. Me TONTO, You Pay SON, Berry Street
On 7/17/1942, 75 years ago, F.H. Kryder, the only child and son of Frank Kryder, Sr., aka C.F. Kryder and Minnie V. Disler Kryder, applied for a Social Security Number on the same day that the FDIC incorporated an active field office in Indianapolis, IN which was still active on Knue Road when the Frank H. Kryder Estate was opened in 1995.
On 7/17/1942 Frank Jr. was then 47 years old. His parents never had tax payer identification numbers. Nothing strange about that for the pre and post-war major developers of family housing in Wayne Township.
On 7/17/2017, 9 persons were swept away in a river of mud and ash in the Tonto National Forest, 18 miles from Payson, Arizona. Tonto Creek runs through the Hellsgate Wilderness Area ending in Theodore Roosevelt Lake. Kind of like Re-Maxfield and Rob Morrow living in Devil's Hollow in Fort Wayne while Heavensgate swept though Ewing's California Rancho Santa Morgan LeFay neighborhood. Erin for Katherine, Bernie, and don't you forget it.
We return to the pediment of the magnificently restored Allen County Courthouse on Berry which the officers of the court and law in Allen County might take the time to read once and a while.
The Word is with you know who and the Great Spirit controls the weather. Read it here, proven chronicles of real Time, as the reins of Conclusion to the heinous injustices to the orphans and widows of Allen County are taken over by that which is greater than that in which Berry Street has put its trust.
I am the blood that never forgets. I knew the story before I was born. Frank, Jr. and I are partners. Born a dyed-in-the-wool Methodist, uncorrupted by Moorhead Episcopalianism, I already know Frank, Sr. wins in the end.
Pay Son.

2/28/2017 "Those who betray a man's Trust are no better than common criminals." - The Lone Ranger

Summary and Analysis continued:
1/22/2017 Not One of the Berry Cluster?
One thing for certain is that men love to build towers, rightly called erections, in the building business.
continued...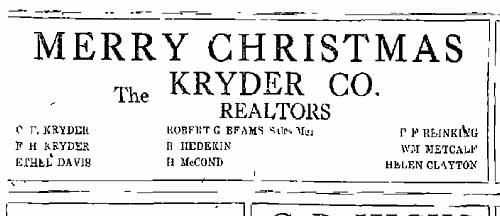 Fort Wayne Journal Gazette December 22, 1923
Merry Christmas from The KRYDER CO. REALTORS: C.F. Kryder, F.H. Kryder, Ethel Davis, Robert G. Beams, Sales Manager, Bernard Hedekin, McCond, F.F. Reinking, William Metcalf, and Helen Clayton.
To all who rob the children of Clarence Frank and Minnie Kryder, and their only lineal descendants to whom all rightfully, legally, and equitably belongs now and forever, God Rest Ye Berry Gentlemen.
---